Since the enactment of the Violence Against Women Act (VAWA), groundbreaking work has taken place in communities as victim advocates, police officers, prosecutors, and judges forge relationships with each other to address violence against women.
VAWA has fundamentally changed the way that criminal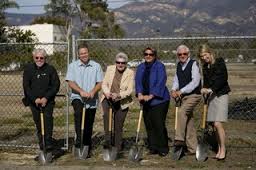 credit: Hasbarco - Pescadero Lofts
justice agencies, victim advocacy organizations, and service providers within local communities address victim safety and offender accountability.
Grants to State Sexual Assault and Domestic Violence Coalitions Program (State Coalitions Program) State coalitions have played a critical role in advancing the goals of VAWA, serving as a collective voice to end violence against women through collaboration with Federal, State, and local organizations, including faith-based and community organizations.
Statewide sexual assault coalitions provide direct support to member rape crisis centers through funding, training and technical assistance, public awareness activities, and public policy advocacy (e.g., state coalitions might work with law enforcement, prosecution, faith-based and community organizations to enhance their responses to victims of sexual assault).
Statewide domestic violence coalitions provide comparable support to member battered women's shelters and other domestic violence victim service providers.
For approximately one-third of States and Territories, these support services are provided through a single or dual sexual assault and domestic violence coalition.
For the small number of States where more than one State sexual assault and/or domestic violence coalitions exist, only those who meet statutory eligibility requirements will be eligible (See OVW's website for a current list of eligible State sexual assault and dual coalitions, http://www.ovw.usdoj.gov/statesexual.htm, and eligible State domestic violence and dual coalitions, http://www.ovw.usdoj.gov/statedomestic.htm).
The Sexual Assault Services to State Coalitions Program The Sexual Assault Services to State Coalitions Program (SASP) was created by the Violence Against Women and Department of Justice Reauthorization Act of 2005 (VAWA 2005) 42 U.S.C.14043g, and is the first Federal funding stream solely dedicated to the provisions of direct intervention and related assistance for victims of sexual assault.
The SASP encompasses five different grant programs for States and Territories, Tribes, State sexual assault coalitions, Tribal sexual assault coalitions, and culturally specific organizations.
Overall, the purpose of SASP is to provide intervention, advocacy, accompaniment, support services, and related assistance for adult, youth, and child victims of sexual assault, family and household members of victims, and those collaterally affected by the sexual assault.
Congress, OVW, and victim advocates recognized the need to focus on sexual assault in order to address the national prevalence of sexual assault, lack of available direct intervention and related assistance services, and the unique aspects of sexual assault trauma from which victims must heal.
The SASP will support such services through the establishment, maintenance, and expansion of state and territorial sexual assault coalitions and other programs and projects to assist those victimized by sexual assault.