Organic Agriculture Research and Extension Initiative
Facilitate the development of organic agriculture production, breeding, and processing methods.
Functionally identify soil microbial communities and ways to manage microbial dynamics to enhance nutrient cycling and disease suppression; Develop systemic approaches to weed, insect and disease management;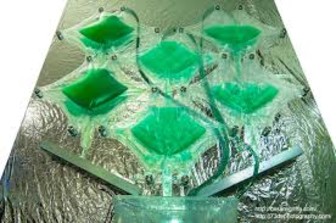 credit: Cesare Griffa Official Website
Prevent, control, and treat internal and external parasites in various livestock species; and Breed crops for disease and insect resistance, good yield in a biologically diverse system, compatibility with intercrops, good response to organic fertility sources, horizontal resistance (traits determined by multiple genes).

Evaluate the potential economic benefits to producers and processors who use organic methods.

Analyze potential economic costs, returns and risks of organic production systems; Use environmental valuation tools to quantify externalities of producing food, and compare externalities of producing organic and conventional food; - Analyze price and market structures, including ability of small, medium-, and large-scale growers to access different markets, in order to frame policies that minimize concentration within the industry; and Analyze marketing channels to document how organic food is distributed, what share of the organic food dollar is returned to the farmer, and the implications of large-scale manufacturers entering the organic market.

Explore international trade opportunities for organically grown and processed agricultural commodities.

Compare compatibility of certification standards used in different parts of the world, with the ultimate goal of harmonization and reciprocity; Undertake marketing studies of international consumer demand for U.S.

produced organic goods; and Perform Welfare analyses (quantified gains and losses for producers and consumers) of trade policies affecting international competitiveness, including implementation of the National Organic Program, domestic support programs such as the Conservation Security Act, country of origin labeling, GMO labeling, etc.

Determine desirable traits for organic commodities.

Examine relationships between nutrients in the soil and nutrients in the food grown on that soil, including long-term soil nutrient and crop nutrient profiles under conventional and organic management; Perform comparisons of nutrient levels between organic and conventional crops and relationship, if any, between taste and nutrient profile; Investigate the role of post-harvest handling and treatment in the maintenance of quality in fresh market organic products; and Determine the reasons for consumer preferences for organic goods.

Identify marketing and policy constraints on the expansion of organic agriculture.

Analyze opportunities and constraints to organic agriculture resulting from provisions of the Farm Security and Rural Investment Act of 2002; Investigate specific barriers to markets, such as scale-based regulations that restrict family farm access to processors and/or markets; Study negative lender perception of organic farming and ways to change this; and Analyze regulatory barriers, such as lack of access to Federal farm programs, and developing solutions to these challenges.

Conduct advanced on-farm research and development that emphasizes observation of, experimentation with, and innovation for working organic farms, including research relating to production and marketing and to socioeconomic conditions.

(Note: Many topics from other goal areas can be conducted on working farms.) Develop rigorous on-farm systems research designs; and Conduct long-term, interdisciplinary systems research.
---
Agency -
Department of Agriculture
Established in 1862, the Department of Agriculture serves all Americans through anti-hunger efforts, stewardship of nearly 200 million acres of national forest and rangelands, and through product safety and conservation efforts. The USDA opens markets for American farmers and ranchers and provides food for needy people around the world.
---
Relevant Nonprofit Program Categories
---
Program Accomplishments
None. This is a new program.
Uses and Use Restrictions
The Integrated Organic Program is particularly interested in proposed projects that emphasize research and outreach that assist farmers and ranchers with whole farm planning and ecosystem integration.

Projects should plan to deliver applied production information to producers.

Fieldwork for both program areas must be done on certified organic land or on land in transition to organic certification, as appropriate to project goals and objectives.

Refer to the USDA National Organic Program (http://www.ams.usda.gov/nop) for organic production standards.
Eligibility Requirements
Applicant Eligibility
Applications may be submitted by State agricultural experiment stations, all colleges and universities, other research institutions and organizations, Federal agencies, national laboratories, private organizations or corporations, and individuals.

For both ORG and OREI, all award recipients may subcontract to organizations not eligible to apply provided such organizations are necessary for the conduct of the project.
Beneficiary Eligibility
State agricultural experiment stations, all colleges and universities, other research institutions and organizations, Federal agencies, national laboratories, private organizations or corporations, and individuals.
Credentials/Documentation
Curricula vitae for all project directors and sub-contractors.
Aplication and Award Process
Preapplication Coordination
All proposal solicitations are published on the Agency's Web site.

This program is excluded from coverage under E.O.

12372.
Application Procedures
Formal proposals are solicited and should be submitted to the Proposal Services Unit, Competitive Programs, CSREES, USDA, as outlined in the guidelines and/or requests for applications. Application procedures are contained in the guidelines or request for applications.
Award Procedures
Proposals are reviewed by a peer panel of qualified scientists and other appropriate persons who are specialists in the field covered by the proposal. Proposals are funded in order of merit to the extent permitted by available funds.
Deadlines
applications must be received 60 days after publication of the Request for Applications.
Authorization
The Farm Security and Rural Investment Act of 2002, Section 7218, as amended; The Food, Agriculture, Conservation, and Trade Act of 1990, Section 1672B, 7 U.S.C. 5925b).
Range of Approval/Disapproval Time
Notice of action taken on proposals will generally be within 90 days of final date of submission dateline.
Appeals
Not applicable.
Renewals
Not applicable.
Assistance Considerations
Formula and Matching Requirements
If a grant provides a particular benefit to a specific agricultural commodity, the grant recipient is required to match the USDA funds awarded on a dollar-for-dollar basis from non-Federal sources with cash and/or in-kind contributions. CSREES may waive the matching funds requirement for a grant if CSREES determines that: (1) the results of the project, while of particular benefit to a specific agricultural commodity, are likely to be applicable to agricultural commodities generally; or (2) the project involves a minor commodity, the project deals with scientifically important research, and the grant recipient is unable to satisfy the matching funds requirement.
Length and Time Phasing of Assistance
None.
Post Assistance Requirements
Reports
Grantees must submit Annual Progress Reports to CSREES that detail progress toward achieving goals and objectives of the project and a Final Performance Report that includes a brief project impact statement written in lay language.

These reports should be succinct and no longer than five (5) pages, single-spaced, using 12-point font.

They should include the following information about the project: (1) basic information (i.e., project title, name(s) of PD(s), award number, and reporting period); (2) a description of the stakeholder needs identified, problems addressed, and results of the project (including publications); (3) plans for the upcoming year; and (4) a description of subaward activity, including the process used to select recipients.

Any students who work on a project should be listed in the project reports (i.e., report graduate degrees awarded and under graduates trained, as applicable).

A budget summary should be attached to each report to provide an overview of all monies spent during the reporting period.

Grantees also are required to submit annual and summary progress reports via CSREES.

Current Research Information System (CRIS).

CRIS is an electronic, Web-based inventory system that facilitates both grantee submissions of project outcomes and public access to information on Federally-funded projects.
Audits
Audits will be conducted in accordance with guidelines established in the revised OMB Circular No. A-133, "Audits of States, Local Governments, and Non-Profit Organizations," and implemented in 7 CFR Part 3052, "Audits of States, Local Governments, and Non-Profit Organizations."
Records
Grantees shall maintain separate records for each grant to ensure that funds are used for authorized purposes. Grant-related records must be retained at least three years; records must be retained beyond the three-year period if litigation is pending or audit findings have not been resolved.
Financial Information
Account Identification
12-1502-0-1-352.
Obigations
(Grants) FY 07 $2,836,820; FY 08 est $2,880,000; and FY 09 est not reported.
Range and Average of Financial Assistance
Not applicable.
Regulations, Guidelines, and Literature
Not applicable.
Information Contacts
Regional or Local Office
None.
Headquarters Office
Plant and Animal Systems, 1400 Independence Avenue, SW; STOP 2220; Washington, DC 20250-2220. Telephone: (202) 401-3356.
Criteria for Selecting Proposals
The evaluation criteria below will be used in reviewing applications submitted in response to this RFA: Proposal Relevance (50%): (a) Documented need. Application includes documentation substantiating that project is directed to current and likely future potential problems/challenges in organic agriculture; (b) Stakeholder involvement; (c) Potential for project to contribute to profitable and sustainable organic production or marketing systems; (d) Importance of the commodity or production system or importance of marketing constraints and resulting impacts on the production system; (e) Potential for project to make a difference, to have an impact; (f) Potential for project to contribute to long-term improvement and sustainability of organic agriculture and (g) Feasibility, probability of success. Proposal Quality (50%): (a) Conceptual adequacy. Application clearly states objectives which are potentially attainable within project time, scope and budget; (b) Design. The application's methodology and analytical approach are appropriate to project objectives; (c) Involvement of appropriate, relevant expertise; (d) Experience of key project personnel; (e) Appropriateness of budget; and (f) Adherence to guidelines.