Quality Samples Program
The Quality Samples Program is designed to encourage the development and expansion of export markets for U.S.
agricultural commodities by assisting U.S.
entities in providing commodity samples to potential foreign importers to promote a better understanding and appreciation for the high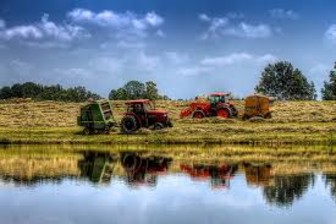 credit: Flickr
quality of U.S.

agricultural commodities.
Related ProgramsExamples of Funded Projects
(1) Shipment of samples of peanut flour to China for a technical assistance activity; (2) brown rice sample shipped to Russia that was used to train rice millers to mill U.S.

brown rice; and (3) a sample of orange and grapefruit concentrate shipped to China for a processing seminar.
---
Agency -
Department of Agriculture
Established in 1862, the Department of Agriculture serves all Americans through anti-hunger efforts, stewardship of nearly 200 million acres of national forest and rangelands, and through product safety and conservation efforts. The USDA opens markets for American farmers and ranchers and provides food for needy people around the world.
---
Relevant Nonprofit Program Categories
---
Program Accomplishments
For the 2005 program year, allocations were made to 20 organizations. Example: The U.S. Wheat Associates, through the use of QSP funded technical assistance activities, successfully introduced U.S. Desert Durum into the Venezulen market. As a direct result of the QSP funded programs, Venezuela, who exclusively imported Canadian durum wheat, imported 18,200 tons of U.S. wheat.
Uses and Use Restrictions
Quality Samples Program funds are authorized through project agreements that include the maximum amount that may be reimbursed and identify terms and conditions pursuant to which CCC will reimburse costs.

Under the QSP, participants may be reimbursed for certain costs of purchasing and transporting commodity samples.

Although providing technical assistance is required for all projects, costs of providing the actual technical assistance is not reimbursed under the QSP.
Eligibility Requirements
Applicant Eligibility
To be approved, an applicant must be a U.S.

private or government entity.
Beneficiary Eligibility
The Quality Samples Program is intended to benefit a represented U.S. industry rather than a specific company or brand.
Credentials/Documentation
Applicants must submit a written proposal which includes, but is not limited to, the following: a description of the organization and its membership; a description of the organization's prior export promotion experience; a description of the organization's experience in implementing an appropriate trade/technical assistance component; an assessment of the market; a long-term strategy in the market; amount of funding requested; a brief description of the specific market development trade constraint or opportunity to be addressed by the project; a sample description; and the importer's role in the project regarding handling and processing the commodity samples. This program is excluded from coverage under OMB Circular No. A-87.
Aplication and Award Process
Preapplication Coordination
None.

This program is excluded from coverage under E.O.

12372 and OMB Circular No.

A-102.
Application Procedures
Each year the availability of funds is announced in a Federal Register notice. At that time, proposals should be submitted to the Director, Marketing Operations Staff, Foreign Agricultural Service (FAS).
Award Procedures
Proposals are reviewed against the allocation criteria and factors specified in the Federal Register notice. CCC notifies each applicant of the final disposition of its application and also issues a public announcement concerning the allocation of resources among the applicant organizations. Each approved applicant receives a program agreement and allocation approval letter that specifies any special terms and conditions applicable to a participant's program. Final agreement occurs when both the participating organization and the Deputy Administrator for Commodity and Marketing Programs, FAS, sign the program agreement.
Deadlines
Application deadline is announced in the form of a Federal Register notice.
Authorization
The Quality Samples Program is authorized by Section 5(f) of the Commodity Credit Corporation (CCC) Charter Act, 15 U.S.C. 714c(f).
Range of Approval/Disapproval Time
Approximately 30-90 days.
Appeals
Not applicable.
Renewals
Not applicable. Program commitments are made on a program year basis.
Assistance Considerations
Formula and Matching Requirements
Although highly encouraged, financial and in-kind support from the participant is not required. Such contributions may be in the form of cash or goods and services.
Length and Time Phasing of Assistance
Agreements generally include a twelve-month promotional effort and a requirement for program evaluation. Funds awarded in any given fiscal year may be made available for a longer period.
Post Assistance Requirements
Reports
Reimbursement claims are submitted to claim reimbursement of costs associated with completing approved projects.

Evaluation reports are submitted within 90 days of expiration of the agreement.
Audits
Participant projects are reviewed by representatives of the Compliance Review Staff (CRS) of FAS. Audits and reviews may be conducted sporadically by representatives of the Office of the Inspector General and the General Accounting Office. Accounts and records must be available for inspection and audit at any reasonable time.
Records
Records must be maintained for not less than 3 years after completion or termination of the agreement or not more than 5 full calendar years following the year the transaction that is evidenced by such an account or record that took place, whichever is sooner.
Financial Information
Account Identification
12-4336-0-3-999.
Obigations
(Direct Payments) FY 07 $2,500,000; FY 08 est not available; and FY 09 est not reported.
Range and Average of Financial Assistance
Projects funded on a project by project basis for up to $75,000.
Regulations, Guidelines, and Literature
None.
Information Contacts
Regional or Local Office
Not applicable.
Headquarters Office
Director, Marketing Operations Staff, Foreign Agricultural Service, Department of Agriculture, Washington, DC 20250. Telephone: (202) 720-4327.
Criteria for Selecting Proposals
FAS uses the following criteria when evaluating QSP proposals: (1) the ability of the organization to provide an experienced staff with the requisite technical and trade experience to execute the proposal; (2) the extent to which the proposal is targeted to a market in which the United States is generally competitive; (3) the potential for expanding commercial sales in the proposed market; (4) the nature of the specific market constraint or opportunity involved and how well it is addressed by the proposal; (5) the extent to which the importer's contribution in terms of handling and processing enhances the potential outcome of the project; (6) the amount of reimbursement requested and the organization's willingness to contribute resources, including cash and goods and services of the U.S. industry and foreign third parties; and (7) and how well the proposed technical assistance component assures that performance trials will effectively demonstrate the intended end-use benefit.