Forestry Research
To extend fundamental research activities of the Forest Service by awarding grants to nonprofit organizations, institutions of higher education, and organizations engaged in renewable resources research.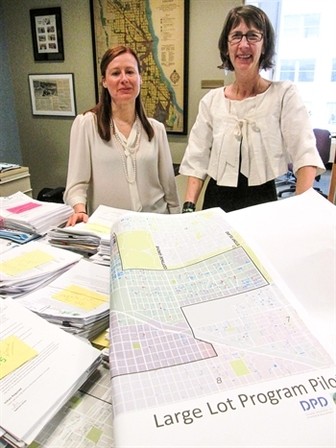 credit: JOHN MCCARRON
Related ProgramsExamples of Funded Projects
Examples of executed grants are: effects of prescribed fire on nutrient cycling in ponderosa pine forests; design and test of a proposed experimental system for continuous press drying of paper; and biological decay of logging residues.
---
Agency -
Department of Agriculture
Established in 1862, the Department of Agriculture serves all Americans through anti-hunger efforts, stewardship of nearly 200 million acres of national forest and rangelands, and through product safety and conservation efforts. The USDA opens markets for American farmers and ranchers and provides food for needy people around the world.
Office - Initial contact for grants shall be made to the Directors of the Research Stations, or the Forest Products Laboratory as listed in Appendix IV of the Catalog.
---
Relevant Nonprofit Program Categories
---
Program Accomplishments
Not available.
Uses and Use Restrictions
Grants will be used for research in the fields of forest management, watershed management, forest range management, wildlife habitat management, forest recreation, forest fire protection, forest insect and disease protection and control, forest products utilization, forest engineering, forest production economics, forest products marketing, forest survey, urban forestry, wilderness, and social/cultural influences.

Indirect expenses, when permitted by statute, will be reimbursed according to the negotiated indirect cost rate established by the Government's cognizant audit agency.

Grants are limited to 5 years duration.
Eligibility Requirements
Applicant Eligibility
Grants for basic or applied research may be made to State Agricultural Experiment Stations, universities and colleges, State and local governments, U.S.

Territories, nonprofit research institutions or organizations, international organizations, individuals, and for-profit organizations.
Beneficiary Eligibility
Organizations and scientists involved in basic and applied research activities related to forest and rangeland renewable resources.
Credentials/Documentation
The principal investigator must document competence in the field of the research proposed. Costs will be determined in accordance with OMB Circular No. A-87, A-21, or A-122, Cost Principles for State and Local Governments, Cost Principles for Educational Institutions, or Cost Principles for Nonprofit Organizations.
Aplication and Award Process
Preapplication Coordination
Standard Form 424 (SF-424) will be used.

This program is excluded from coverage under E.O.

12372.
Application Procedures
A complete research proposal must be submitted following guidelines available in each of the offices referred to below. The proposal must explain in detail the work to be undertaken, the qualifications of key personnel involved in the work, other resources such as equipment, facilities, and services available or needed, and a proposed budget for each fiscal year during the life of the proposed grant. A short biographical sketch of the principal investigator and a list of his or her principal publications should be included. This program is subject to the provisions of OMB Circular No. A-110, Uniform Administrative Requirements for Grants and Agreements with Institutions of Higher Education, Hospitals, and Other Nonprofit Organizations, 7 CFR 3015, and 7 CFR 3019.
Award Procedures
All research grant proposals must compete for priority, showing technical competence and demonstrating the ability to meet national or regional needs. Research grants are made only in support of forestry research. Unsolicited proposals can be awarded for innovative or unique approaches to the proposed project.
Deadlines
Applicants may contact the Research Stations for deadlines.
Authorization
Forest and Rangeland Renewable Resources Research Act of 1978, Public Law 95-307, 92 Stat. 353, 16 U.S.C. 1643.
Range of Approval/Disapproval Time
120 days.
Appeals
Contact the Research Station for guidance.
Renewals
Requests for continued support will be considered as equal in importance and in competition with pending proposals. Applications submitted for continued support should be identical to a new proposal, except that a resume of progress to date must be added.
Assistance Considerations
Formula and Matching Requirements
The applicant's contribution is negotiated. The proposed budget by fiscal year shows the estimated cost of the complete project from grant funds and value of resources to be contributed by the applicant. Salaries of academic personnel for periods when they receive salary for teaching should not be included for payment from grant funds.
Length and Time Phasing of Assistance
One to 5 years. Billings for expenses incurred may be submitted monthly, quarterly, or semi-annually.
Post Assistance Requirements
Reports
Technical reports of progress are required annually; a technical final report is also requested upon completion of project.

Fiscal reports are required at least semiannually.
Audits
The Comptroller General of the United States, his representative, or auditors of the cognizant audit agency for the educational institution involved shall have access at any reasonable time to the laboratories, offices, or other facilities of the recipient for purposes of review and observation of the status and progress of the sponsored project. Periodic audits should be made as part of the recipient's system of financial management and internal control to meet terms and conditions of grants and other agreements. OMB Circular No. A-133, Audits of States, Local Governments and Non-profit Organizations, is applicable.
Records
All related data, information, records, and accounts shall be retained for 3 years beyond the expiration date of the grant unless other disposition is specified in writing by the awarding agency.
Financial Information
Account Identification
12-1104-0-1-302.
Obigations
FY 07 $14,000,000; FY 08 est not available; and FY 09 est not reported.
Range and Average of Financial Assistance
$2,000 to $300,000. Average: $35,000.
Regulations, Guidelines, and Literature
OMB Circular Nos. A-102 and A-87, as implemented by USDA Regulation 7 CFR Part 3016, are applicable to State and local government grantees. OMB Circular Nos. A-110 and A-21 are applicable to educational institutions. OMB Circular Numbers A-110 and A-122, as implemented by USDA Regulation 7 CFR Part 3019, are applicable to nonprofit organizations.
Information Contacts
Regional or Local Office
Initial contact for grants shall be made to the Directors of the Research Stations, or the Forest Products Laboratory as listed in Appendix IV of the Catalog.
Headquarters Office
Deputy Chief for Research and Development, Forest Service, Department of Agriculture, P.O. Box 96090, Washington, DC, 20090-6090.Telephone: (202) 205-1075.
Criteria for Selecting Proposals
Criteria are established on a program-by-program basis by Research Station Directors to meet Regional or National Research needs.