Housing Opportunities for Persons with AIDS
To provide States and localities with the resources and incentives to devise long-term comprehensive strategies for meeting the housing needs of persons with AIDS or related diseases and their families.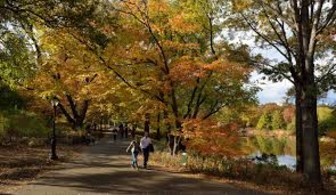 credit: Flickr
Related ProgramsExamples of Funded Projects
AIDS Alabama, Inc., of Birmingham was awarded a 2007 HOPWA renewal grant of $879,963 to continue the Alabama Rural AIDS Project.

This permanent housing support reaches 27 households through the use of small housing facilities operated by local providers in the state's 35 most rural counties.

The Delaware HIV Consortium was awarded a HOPWA 2007 renewal grant of $749,291 to continue Women's Space, involving the operation of a permanent housing facility which provides 10 units of housing and on-site supportive services to assist women with HIV/AIDS address co-occurring substance use and/or mental health disorders.

Broward House, Inc., Recently Incarcerated Substance Abuse Housing (RISAH) in Fort Lauderdale, Florida was awarded a new 2007 HOPWA Special Project of National Significance grant of $1,339,000.

RISAH will provide nine units of double occupancy transitional housing and substance abuse treatment to 36 post incarcerated individuals annually.

Contact: Greyston Health Services Inc., 23 Park Avenue, Younkers, NY 10703.

Steven Brown, President and CEO, Telephone: (914) 376-3900; Fax: (914) 376-1333; and E-mail: sabrown@greyston.org.
---
Agency -
Department of Housing and Urban Development
The Department of Housing and Urban Development's mission is to increase homeownership, support community development and increase access to affordable housing free from discrimination. HUD fulfills this mission through high ethical standards, management and accountability, and by forming partnerships with community organizations.
Office - Designated Community Planning and Development staff in each HUD Field Office.

HUD Field Offices are listed in Appendix IV of the Catalog.
---
Relevant Nonprofit Program Categories
---
Program Accomplishments
HOPWA program addresses the housing needs of low-income persons with HIV/AIDS and their families. Assistance enables these special needs households to establish or maintain stable housing, reduce their risks of homelessness and improve their access to health-care and other support. Housing also serves as a base from which to participate in advances in HIV treatment and related care. HOPWA funds have helped many communities establish strategic AIDS housing plans, better coordinate local and private efforts, fill gaps in local systems of care, and create new housing resources. In assisting low-income persons who are living with HIV or AIDS and their families avoid homelessness, grantees have provided for a wide-array of housing with social services and engage in program planning and development activities in connection with health-care, AIDS drug assistance and other support offered through community-wide efforts. Formula and competitive grantees are reporting that 67,850 units of housing have been supported through HOPWA funds in program year 2006-7. Grantees also report that about 91 percent of HOPWA's beneficiaries have family incomes of less than $1,000 per month and all families are low-income (less than 80 percent of area median income), including 77 percent with extremely low incomes (less than 30 percent of area median incomes).
Uses and Use Restrictions
Grantees and project sponsors may use HOPWA funds to provide for any of the following eligible activities, subject to certain standards and limitations provided in the regulations: (l) Housing information services including, but not limited to, counseling, information, and referral services to assist eligible individuals to locate, acquire, finance and maintain housing; (2) Resource identification to establish, coordinate and develop housing assistance resources; (3) Acquisition, rehabilitation, conversion, lease, and repair of facilities to provide housing and services; (4) New construction (for single room occupancy (SRO) dwellings and community residences only); (5) Project- or tenant-based rental assistance including assistance for shared housing arrangements; (6) Short-term rent, mortgage, and utility payments to prevent the homelessness of the tenant or mortgagor of a dwelling; (7) permanent housing placement assistance; (8) Supportive services including, but not limited to, health, such as uncompensated costs subject to limitations at 574.310(a)(2), mental health, assessment, drug and alcohol abuse treatment and counseling, day care, nutritional services, intensive care when required, and assistance in gaining access to local, State, and Federal government benefits and services except that health services may not be provided to family members (Per the HOPWA regulations, health services may only be provided to an individual with HIV/AIDS (not family members) and payments for health-care costs are limited by 574.300(b)(7) to items and services that are not made or reasonably expected to be made under compensation programs, insurance policy, or health benefits programs.

HUD issued guidance on the restricted use of HOPWA funds for AIDS Drug Assistance and other health-care costs).

(9) Operating costs for housing facilities including maintenance, security, operation, insurance, utilities, furnishings, equipment, supplies, and other incidental costs; (10) Technical assistance in establishing and operating a community residence, including planning and other pre-development or pre-construction expenses and including, but not limited to, costs relating to community outreach and educational activities regarding AIDS (and the fiscal year 2004 appropriation act and subsequent acts authorize the use of funds for technical assistance, training and oversight); (11) Administrative expenses: 3 percent for grantees and 7 percent for project sponsors, including costs of staff necessary to carry out eligible activities; and (12) For competitive grants only, any other activity proposed by the applicant and approved by HUD.

Restrictions: Appropriate supportive services must be provided as part of any HOPWA assisted housing.

General standards for housing activities are established, including minimum use periods for structures (10 years for new construction, substantial rehabilitation or acquisition and 3 years for other non-substantial rehabilitation or repair).

Resident rent payments are required for rental assistance and for residing in rental housing.

Additional standards for rental assistance, short-term supported housing, and community residences are provided.
Eligibility Requirements
Applicant Eligibility
(1) Entitlement grants will be awarded by formula to States and qualifying cities for eligible metropolitan statistical areas (EMSAs) with the largest number of cases of AIDS.

The most populous city will serve as the applicant/grantee for the EMSAs award; and (2) competitively awarded grants will be awarded to: (a) States, local governments and nonprofit organizations for special projects of national significance; and (b) projects submitted by States and localities in areas that do not qualify for HOPWA formula allocations.

Nonprofit organizations are eligible to apply for projects of national significance, but may also serve as a project sponsor for other types of grants.

As required by the Appropriation Act, HUD gives priority to the renewal of permanent supportive housing projects.
Beneficiary Eligibility
Eligible beneficiaries are low income persons with HIV or AIDS and their families. However, regardless of income, persons living with HIV/AIDS may receive housing information. Persons living near community residences may receive educational information.
Credentials/Documentation
Costs will be determined in accordance with OMB Circular No. A-87 for State and local governments and No. A-110 and A-122 section report to private nonprofit organizations. Governmental entities will certify to their eligibility.
Aplication and Award Process
Preapplication Coordination
An environmental assessment is required for this program.

Any activity provided in an application that HUD determines would have a significant adverse impact on the human environment would not be eligible for funding.

All components of this program are excluded from coverage under E.O.

12372.
Application Procedures
Government recipients must have submitted a Consolidated Plan, an annual action plan and certifications to HUD. The Consolidated Plan and annual action plan cover four major formula-distribution HUD community development programs, including HOPWA. The annual action plan must describe how funds will be used. Ten percent of HOPWA funds and the technical assistance funds are awarded on a competitive basis through a national competition, under the SuperNOFA, a Notice of Fund Availability. Application packages prescribing the specific information that applicants must submit will be available from HUD when the SuperNOFA is published in the Federal Register. The fiscal year 2008 appropriation act authorizes the Secretary to renew all expiring contracts for permanent supportive housing that were funded under section 854(c)(3) of AIDS Housing Act that meet all program requirements before awarding funds for new contracts and activities authorized under this section: Provided further, That the Secretary may use funds under this heading for training, oversight, and technical assistance activities, and amounts will be adjusted based on approved appropriations for this program.
Award Procedures
HUD reviews Consolidated Plan submissions and competitive applications under the SuperNOFA. HUD prepares a Grant Agreement for formula applicants and for those applications selected on a competitive basis.
Deadlines
A Notice of Funding Availability (NOFA) for competitive grants announces deadlines for applications. For formula grants, action plans associated with the Consolidated Plan must be submitted based on the grantee's operating year, but no earlier than December 1 or no later than August 16 of the fiscal year for which funds are allocated.
Authorization
AIDS Housing Opportunity Act, Public Law 101-624.
Range of Approval/Disapproval Time
Processing of Consolidated Plan submissions will take place in HUD Field Offices and selection of successful competitive applicants will take place in HUD Headquarters with post-selection technical submissions processed in HUD Field Offices. HUD will make its final selections and obligate funds as soon as the applications are processed.
Appeals
None.
Renewals
None.
Assistance Considerations
Formula and Matching Requirements
The formula for entitlement grants is found at 24 CFR 574.130. Ninety percent of appropriated amounts are to be distributed by formula entitlement. Seventy-five percent of this 90 percent is distributed to qualifying cities for eligible metropolitan statistical areas (EMSA) and eligible States for are as outside of EMSAs, based on each metropolitan area's or State's proportionate share of the cumulative number of AIDS cases in all eligible metropolitan areas and eligible States. The remaining twenty-five percent is allocated among the qualifying cities in eligible metropolitan statistical areas, but not States, where the per capita incidence of AIDS for the year (April 1 to March 31) preceding the fiscal year of the appropriation is higher than the average for all metropolitan areas with more than 500,000 population. The EMSAs allocation is based on its proportionate share of the incidence of AIDS cases. The high incidence factor is computed by multiplying: (1) the population of the metropolitan area; and (2) the difference between its twelve-month-per-capita-incidence rate and the rate for all metropolitan areas with more than 500,000 population. HUD will use data collected by the Department of Health and Human Services, Public Health Service, Centers for Disease Control and Prevention (CDC), National Center for Infectious Diseases, Division of HIV/AIDS, definition of metropolitan areas issued by OMB, and population data provided by the Census. The CDC data utilized will be as reported as of March 31 of the fiscal year immediately preceding the fiscal year of the appropriation. Some adjustments to allocations are made in the annual appropriations acts.
Length and Time Phasing of Assistance
Funds should be expended in a timely manner or may be subject to deobligation after 3 years from the date of the signing of the grant agreement or operating start date established in a grant agreement for a competitive grant, with an allowance for a one-year extension, if approved by HUD.
Post Assistance Requirements
Reports
Annual performance reporting requirements are applicable to both competitive and formula grantees which will provide information, including the number of persons assisted, the types of assistance provided, and any other information that HUD may require, to assess the overall performance and accomplishments of the grantees program activities under approved goals and objectives.

Grantees must complete the annual report for each operating year in which HOPWA funds were expended, including the planned housing output by type of housing assistance, and report on this with actual accomplishment, including results for client outcomes in maintaining stable housing, reducing risks of homelessness and improved access to care.

Recipients jurisdiction file a consolidated Annual Performance and Evaluation Report (CAPER)which are required and are due to HUD 90 days following the completion of the grantee's operating year along with data elements to be provided in HUD's information technology system for Consolidated Plan programs (IDIS).

Information is collected periodically in the Department's Integrated Disbursement and Information System (IDIS) to provide complete annual information on the use of program and other funds.
Audits
The financial management systems used by governmental entities that are grantees or project sponsors of other grantees must provide for audits in accordance with 24 CFR 85. A nonprofit organization serving as a grantee or project sponsor for a grantee is subject to the audit requirements set forth in 24 CFR part 84.
Records
Grantees will ensure that records are maintained for a seven-year period to document compliance with the program. Grantees must maintain current and accurate data on the race and ethnicity of program participants.
Financial Information
Account Identification
86-0308-0-1-604.
Obigations
(Grants) FY 07 $286,110,000; FY 08 est $300,100,000; and FY 09 est $300,100,000. (NOTE: Amounts reported reflect allocation of new budget authority rather than obligation amounts.)
Range and Average of Financial Assistance
The range of Fiscal Year 2008 formula allocations is $56,811,000 to the largest grant and $115,000 to the smallest grant; Grants selected under the fiscal year 2008 competition are pending selection as renewal or new projects; the FY 2007 selections range in size from $269,278 to $1,424,500.
Regulations, Guidelines, and Literature
Final Rule at 24 CFR 574, as amended; and Consolidated Plan Final Rule at 24 CFR part 91.
Information Contacts
Regional or Local Office
Designated Community Planning and Development staff in each HUD Field Office. HUD Field Offices are listed in Appendix IV of the Catalog.
Headquarters Office
David Vos, Director, Office of HIV/AIDS Housing, Community Planning and Development, Department of Housing and Urban Development, 451 Seventh Street S.W., Room 7212, Washington, DC 20410. Telephone: (202) 708-1934, (1-800) 877-8339 TTY, E-Mail: HOPWA@hud.gov. Information on HOPWA is also available on the HUD home page on the world wide web at http://www.hud.gov/offices/cpd/aidshousing. HOPWA Technical Assistance is available to HOPWA grantees and Project Sponsors through the HOPWA National Technical Assistance program.
Criteria for Selecting Proposals
For competitive grants, the Statute establishes rating criteria with more specific detail outlined within the published in a NOFA and by a CPD notice on renewals.