Strong Cities Strong Communities (SC2) National Resource Network
The purpose of the SC2 National Resource Network is to help strengthen local communities and spur economic growth.
The SC2 Network will provide economically distressed communities with short-term technical assistance in basic operational areas as well as programmatic issues, dictated by local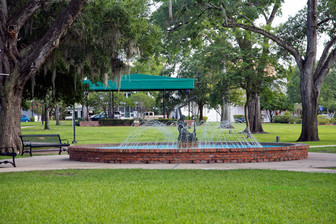 credit: Inside Florida
need.

In addition, the SC2 Network will aggregate public and private resources to serve a wide range of governments and connect them through a peer-to-peer learning network.
The objectives of the programs are as follows:
•Provide communities facing long-term economic challenges with easily accessible and comprehensive technical assistance that can help retool them for future economic growth;
•Build capacity in distressed communities by connecting them with philanthropic organizations, non profits, public and private sector entities to facilitate long-term partnerships and economic investments;
•Develop a set of best practices and policy recommendations that can be disseminated and shared across all communities facing similar economic challenges;
•Improve the alignment of federal resources as well as strengthen federal and local partnerships.
---
Agency -
Department of Housing and Urban Development
The Department of Housing and Urban Development's mission is to increase homeownership, support community development and increase access to affordable housing free from discrimination. HUD fulfills this mission through high ethical standards, management and accountability, and by forming partnerships with community organizations.
---
Relevant Nonprofit Program Categories
---
Program Accomplishments
Not Applicable.
Uses and Use Restrictions
Eligible costs include: salaries for program staff and technical experts, traveling expenses, expenses related to the eligible activities in the NOFA such as providing operational assessments, developing the clearinghouse and Peer to Peer network, tracking performance metrics, building Local Resource Networks, and evaluating the program.

1) Funding will only be provided to applicants who meet the standards for eligible applicants.
2) Funds will not be used to pay for activities outside the scope of the NOFA.
3) Grant funds awarded under this program may not be used to pay for computer hardware.


4) Honorariums cannot be charged against awards under this program.
5) An organization may not provide assistance to itself.


6) An organization may not provide assistance to another organization with which it contracts or sub-awards funds to carry out activities under this award.


7) No fee or profit may be paid to any recipient or contractor of an award under this NOFA.


8) Contractors providing technical assistance/capacity building services/products are not consultants and thus are not subject to the salary provisions applicable to consultants in the FY2012 General Section.

HUD will determine whether the salary rates are reasonable and customary for the skill set provided and the area(s) being served.
Eligibility Requirements
Applicant Eligibility
The grantee of the SC2 Network, will have five categories of eligible activities:
1.Structure Development: Develop the SC2 Network structure that would include a team of expert technical service providers (pro bono or paid) that represent the breadth of relevant expertise needed to address the long-term economic challenges of communities.

This responsibility also includes developing a Peer-to-Peer network to share lessons learned and best practices.


2.Engagement: Develop the engagement strategy for how the network will assist economically-distressed cities.

This responsibility also includes systematizing how cities are engaged, prioritizing the level of assistance for each city, and matching the level of assistance based on the needs of each city.
3.Capacity building: Increase the capacity of participating governments in the area of intervention, not just to provide a one-time service that they cannot replicate.

This responsibility might also include establishing a Local Resource Network (LRN) for communities with potential private and philanthropic resources to sustain local capacity building over a longer term.
4.Evaluation: Carefully document and evaluate interventions to build a series of best practice strategies that can benefit places with similar challenges, and develop forums for sharing this knowledge.
5.Policy Recommendation: Identify for the SC2 Council how federal policy changes could help local governments better achieve their economic development visions, and other policies, systems, and practices that support holistic and sustainable economic development.
In addition to these five categories, the Administrator will also work with the other three components of SC2 (described under I.A.1.

SC2 Components), as well as the SC2 Council (described under I.A.2 Executive Order) to meet the broad goals and objectives of the initiative.
Beneficiary Eligibility
The grantee must also have a demonstrated ability to obtain other community, private sector, and federal resources that can be combined with HUD s program resources to achieve program objectives. In general, an ideal Administrator will have most or all of the following characteristics:
•Place-based: The selected applicant, buoyed by support of agencies and the philanthropic community, will have experience working in many distressed communities, and will be able to match these communities to relevant technical experts quickly and efficiently.
•Resource-maximizing: The selected applicant will have a national scope and will be well-accustomed to the challenge of distributing scarce resources across communities with distinct needs. The ability to effectively evaluate requests for service will be paramount to using the SC2 Network s resources to their greatest potential.
•Nimble, responsive, and service-oriented: The SC2 Network will be designed to provide very timely assistance that can thoroughly understand and adapt to needs on the ground. Therefore, the selected applicant will have, or can quickly pull together a deep team of technical experts, and, when necessary, develop partnerships between experts on issues that require multiple skill sets and excellent customer service skills.
•Objective: In some cases, procedures or regulations may be a barrier to local capacity building. The selected applicant will facilitate local partnering and provide honest feedback to HUD and the other SC2 agencies for relieving burdens on local governments, while retaining accountability for results.
• Sustainable: The selected Administrator will have the nonprofit management expertise required to make the SC2 Network financially sustainable, and as an outside entity, can attract philanthropic funding and leverage HUD s investment several times over.
Credentials/Documentation
The following forms are required:
• SF424
• SF424 sup,
• SF-LL forms. This program is excluded from coverage under OMB Circular No. A-87.
Aplication and Award Process
Preapplication Coordination
Preapplication coordination is not applicable.

Environmental impact information is not required for this program.

This program is excluded from coverage under E.O.

12372.
Application Procedures
OMB Circular No. A-102 applies to this program. OMB Circular No. A-110 applies to this program. A Notice of Funding Availability (NOFA) for the SC2 Network will be published in grants.gov. HUD will evaluate and rate all applications for funding that meet the threshold requirements.


Award Procedures
Applications will be rated and ranked. HUD will announce a grantee when one has been selected. HUD will send written notifications to both successful and unsuccessful applicants.
Deadlines
Contact the headquarters or regional office, as appropriate, for application deadlines.
Authorization
Consolidated and Further Continuing Appropriations Act, 2012: This program is approved by HUD s authority and administered under the Transformation Initiative (TI) account. , Public Law 112-55.
Range of Approval/Disapproval Time
Not Applicable.
Appeals
Debriefings are available by request for a peroid of 60 days after the award is publicly annonuced.
Renewals
Not Applicable.
Assistance Considerations
Formula and Matching Requirements
Statutory formulas are not applicable to this program.
Matching requirements are not applicable to this program.
MOE requirements are not applicable to this program.
Length and Time Phasing of Assistance
The period of performance for this grant is 36 months or (3 years). Method of awarding/releasing assistance: by letter of credit.
Post Assistance Requirements
Reports
Report must be submitted electronically on a quarterly basis, as well as regular reporting requirements to the SC2 Council.

At the end of the grant performance period, a final report must be submitted.

Cash reports are not applicable.

Report must be submitted electronically on a quarterly basis, as well as regular reporting requirements to the SC2 Council.

Finanical reports must be included that reflect the cost incurred by budget line, as well as cumuclative summary of costs incurred during the reporting period.

Performance will be monitored.
Audits
Not Applicable.
Records
Records must be maintained in accordance with the program"s terms and conditions.
Financial Information
Account Identification
86-0402-0-1-451.
Obigations
(Cooperative Agreements) FY 13 $9,879,360; FY 14 est $0; and FY 15 est $0 - This program is approved by HUD s authority and administered under the Transformation Initiative (TI) account.
Range and Average of Financial Assistance
Approximately $5 million will be awarded to one applicant (or a consortium with a lead applicant). This award will be made in the form of a Cooperative Agreement. A Cooperative Agreement means that HUD will have substantial involvement during performance of the grant.
Regulations, Guidelines, and Literature
Not Applicable.
Information Contacts
Regional or Local Office
None.
Headquarters Office
Kheng Mei Tan 451 7th Street, SW, Room 8116, Washington , District of Columbia 20410 Email: Khengmei.tan@hud.gov Phone: 202-402-4986 Fax: 202-708-0573
Criteria for Selecting Proposals
HUD will use the narrative response to the Rating Factors to evaluate, rate, and rank applications. The narrative statement is the main source of information when rating and ranking applications. Therefore, it is very important that the applicant becomes fully familiar with the rating factors for the NOFA.