National Center for Preservation Technology and Training
To develop and distribute preservation and conservation skills and technologies for the identification, evaluation, conservation, and interpretation of prehistoric and historic resources; to develop and facilitate training for Federal, State and local resource preservation professionals, cultural resource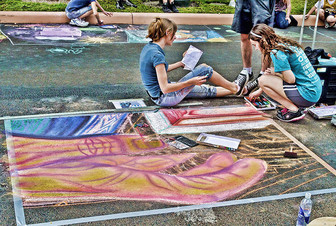 credit: eyecmore on Flickr
managers, maintenance personnel, and others working in the preservation field; to apply preservation technology benefits from ongoing research by other agencies and institutions; to facilitate the transfer of preservation technology among Federal agencies, State and local governments, universities, international organizations, the private sector; and to cooperate with related international organizations for the beneift of curltural resource conservation in the United States and worldwide.
Related ProgramsExamples of Funded Projects
The Powered Parachute as an Archaeological Aerial Reconnaissance Vehicle; Development and Testing of Organic Coatings for the Protection of Outdoor Bronze Sculpture from Air-Pollutant Enhanced Corrosion; Olmsted Online Research Guide; Interpreting Ground Penetrating Radar Data, a User's Workshop; and publications.
---
Agency -
Department of the Interior
The Department of the Interior protects and provides access to the Nation's natural and cultural heritage, including responsibilities to Indian tribes and island communities. Departmental goals include resource protection and usage, overseeing recreational opportunities, serving communities and excellence in management.
Office - Direct inquiries to PTTGrants, NCPTT, 645 College Avenue, Natchitoches, LA 71457.

Telephone: (318) 356-7444; Fax: (318) 356-9119; E-mail: ncptt@ncpti.nps.gov.

Mary Striegel, Environmental and Materials Research Program Director.
---
Relevant Nonprofit Program Categories
---
Program Accomplishments
None.
Uses and Use Restrictions
Support work in archeology, historic architecture, historic landscapes, objects and materials conservation, ethnography, and interpretation through cooperative agreements and the reservation Technology and Training Grants program.

The following types of grants are supported: Applied Research and Technology Transfer in all areas of preservation and conservation; Applied Environmental and Materials Research related to understanding and preventing damage to cultural resources caused by air pollution and other contaminants; Information Management to develop, promote, and disseminate information about preservation technologies; Training and Education to share recent research findings and to promote technology transfer from other disciplines to the field of preservation; Publications to develop books, manuscripts, and articles that focus on collating, synthesizing, reviewing, or interpreting existing preservation knowledge.

Ineligible projects include those whose principal focus is the treatment of a specific site, structure, object or collection; proposals exclusively for undergraduate internships or graduate fellowships; projects that are underway prior to the grant award date; projects that duplicate proposals previously submitted; or proposals for conferences for which equivalent results can be obtained at regular meetings of professional societies.

Detailed use and use restrictions are specified in the applicable Request for Proposals.
Eligibility Requirements
Applicant Eligibility
Eligible applicants include: U.S.

universities and two and four year colleges; U.S.

private nonprofit institution/organization and quasi-public nonprofit institution/organization that are directly associated with educational or research activity; Federal, State, local government agencies, Federally recognized Indian Tribal governments and their Tribal Historic Preservation Offices; Profit organization.

Non U.S.

institutions, organizations or government agencies, or unaffiliated non-U.S.

citizens may submit proposals only in partnership with an eligible U.S.

academic institution, U.S.

non-profit organization or U.S.

government agency.
Beneficiary Eligibility
Individuals involved through their organizations in interdisciplinary efforts to advance the art, craft, and science of historic and prehistoric preservation in the fields of archeology, historic architecture, historic landscapes, objects and materials conservation, and interpretation.
Credentials/Documentation
Grants and cooperative agreements are awarded to eligible public and private sector practitioners who demonstrate institutional capability and commitment to the Center's mission to preserve historic and prehistoric resources; and who evidence the capacity to perform the proposed work successfully. Proof of nonprofit status is required of nonprofit organizations and institutions.
Aplication and Award Process
Preapplication Coordination
The program is covered by E.O.

12372, "Intergovernmental Review of Federal Programs." An applicant should consult the office or official designated as the single point of contact in his or her State for more information on the process the State requires to be followed in applying for assistance, if the State has selected the program for review.
Application Procedures
A Call for Proposals is published annually that includes guidelines for preparing proposals within each project type. The information is available upon request via mail, e-mail (pttgrants@ncptt.nps.gov), or our website http://www.ncptt.nps.gov. Only materials described under proposal requirements for each project type within the annual Call for Proposals will be considered. Standard application forms, as furnished by the National Park Service must be completed.
Award Procedures
Applications are evaluated by NCPTT staff, peer reviewers, and a designated National Park Service grants administrator according to selection criteria for each Project Type stated in the Guidelines for Preparing PTT Grants Proposals. Reviews determine the feasibility of the proposed project, and consistency with National Park Service financial and policy requirements concerning the project's scope and purpose. Final award is by the Director of the National Park Service.
Deadlines
None.
Authorization
National Historic Preservation Act Amendments of 1992, Public Law 102-575, Section 4022, 16 U.S.C. 470x.
Range of Approval/Disapproval Time
From 90 to 180 days.
Appeals
Not applicable. Applicants may reapply if a revised application is submitted in the subsequent competition.
Renewals
Renewal may be requested through a new, competing application. Extensions of time may be requested subject to acceptable work progress and reasons for the delay.
Assistance Considerations
Formula and Matching Requirements
Award amounts are subject to availability of funds. In accordance with Title IV, Public Law 102-575, Section 405(b): (1) Grants shall be allocated in such fashion to reflect the diversity of the historic preservation fields and shall be geographically distributed. (2) No recipient may receive more than 10 percent of the awards allocated within any year. (3) Total administrative costs, direct and indirect, charged for carrying out these grants may not exceed 25 percent of aggregate costs. Matching share is not required by law, but may be a selection criterion as stated in the Guidelines.
Length and Time Phasing of Assistance
Except for Project Type 4, Environmental Effects of Outdoor Pollutants on Cultural Resources - Research and Treatment Development, the period of support is one year. NCPTT's Guidelines specify requirements for Project Type 4 multi-year applications. The Treasury Check method of payment is used for advances or reimbursement. A SF 270, Request for Advance or Reimbursement, must be submitted for each payment requested. Requests for reimbursement or advanced funds may be requested monthly in amounts greater than $500. Expenses charged to the grant or cooperative agreement may not be incurred prior to the beginning date specified in the agreement or subsequent or the grant end date, and incurred only to carry out the approved objectives, scope of work, and budget.
Post Assistance Requirements
Reports
An interim progress report and a final report are required.

If an advance payment is requested, an SF 272, Federal Cash Transactions Report, must be submitted demonstrating that advanced funds have been promptly expended.
Audits
In accordance with the provisions of OMB Circular No. A-133 (Revised, June 27, 2003), "Audits of States, Local Governments, and Nonprofit Organizations," nonfederal entities that expend financial assistance of $500,000 or more in Federal awards will have a single or a program-specific audit conducted for that year. Nonfederal entities that expend less than $500,000 a year in Federal awards are exempt from Federal audit requirements for that year, except as noted in Circular No. A-133.
Records
For programs under OMB Circular No. A-133, financial records, supporting documents, statistical records, and all other records pertinent to an award shall be retained for 3 years from the date of submission of the final expenditure report. If any audit is started before the 3-year period, the records shall be retained until all issues have been resolved and final action taken. For programs under the purview of 43 CFR Part 12, Subpart C, "Uniform Administrative Requirements for Grants and Cooperative Agreements to State and Local Governments," records must be retained at least 3 years; and must be retained beyond 3 years if audit findings are not resolved.
Financial Information
Account Identification
14-1042-0-1-303.
Obigations
(Grants) FY 07 $345,667; FY 08 $165,415; and FY 09 est $250,000.
Range and Average of Financial Assistance
$7,856 to $50,000; $36,000.
Regulations, Guidelines, and Literature
Guidelines for Preparing PTT Grants Proposals are available from NCPTT for each Project Type. The "Common Rule" adopting relevant OMB Circulars governing grants and cooperative agreements implemented by the Department of the Interior is published at 43 CFR Part 12.
Information Contacts
Regional or Local Office
Direct inquiries to PTTGrants, NCPTT, 645 College Avenue, Natchitoches, LA 71457. Telephone: (318) 356-7444; Fax: (318) 356-9119; E-mail: ncptt@ncpti.nps.gov. Mary Striegel, Environmental and Materials Research Program Director.
Headquarters Office
Bob Ruff, Grants Administrator, Heritage Preservation Services Program, National Center for Cultural Resource Stewardship and Partnership, National Park Service, 1849 C St., N.W., MS 2255, Washington, DC 20240. Telephone: (202) 354-2088. Program inquiries should be directed to Andrew Ferrell E-mail: Andrew_Ferrell@nps.gov.
Criteria for Selecting Proposals
Principal criteria for selecting proposals are: (1) Project activity, results, and audience are clearly described. (2) The project contributes substantially to a better understanding or distribution of knowledge in historic preservation. (3) The project is innovative. (4) The project is cost- effective. (5) The project work will reach an appropriate and adequate audience. Selected projects also share these characteristics: The project is based on creative ideas in preservation or conservation; is significant for the national preservation and conservation community; is clear, concise, and complete, with clearly defined goals, objectives, and results that increase access to and dissemination of information; and is proposed by capable principal investigators and organization.