Capital Case Litigation
To provide attorneys and judges who litigate death penalty cases, with specialized legal training and technical assistance on death penalty issues in an effort to improve the quality of representation, produce reliable jury verdicts and minimize post conviction litigation.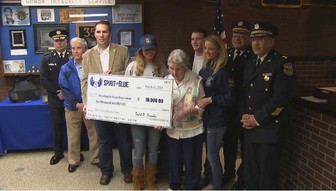 credit: NBC Philadelphia
---
Agency -
Department of Justice
The Department of Justice enforces the law and defends the interest of the United States, ensuring public safety against threats foreign and domestic; providing Federal leadership in preventing and controlling crime; seeking just punishment for those guilty of unlawful pursuits; and ensuring fair and impartial administration of justice for all Americans.
---
Relevant Nonprofit Program Categories
---
Program Accomplishments
In preparation for this initiative, the National Judicial College (NJC), National District Attorneys Association (NDAA), the National Legal Aid and Defenders Association (NLADA) respectively, outlined a strategy defining their constituents' (judges, prosecutors, and defense counsel) need for training and technical assistance. Each group conducted gap analysis, compiled current resources and developed a training curriculum that was piloted at a national level. The developed curriculum has been adapted to include relevant state statutes that will be delivered by State agencies. NDAA conducted pilot trainings in AR and FL; NJC conducted pilot trainings in AR, VA, NC, TX and PA; and NLADA conducted pilot trainings in CA, TX, SC, PA, and IL. The defenders had approximately 34-36 participants per training, the judges had approximately 30 participants per training, and the prosecutors trained 53 students in Florida and 39 in Arkansas.
Uses and Use Restrictions
Priority will be given to States that currently enforce their death penalty statutes.

Funding under this initiative cannot be used for training on the appellate process.

Funds may not be used to supplant State and local funds.
Eligibility Requirements
Applicant Eligibility
Limited to State-based agencies or organizations and units of local government that serve defense counsel, prosecutors and judges; and are located in States that currently enforce their death penalty statutes.

American Indian Tribes and Alaska Native Tribes and/or Tribal Organizations: All tribal applications must be accompanied by a current authorizing resolution of the governing body of the tribal entity or other enactment of the tribal counsel or comparable government body.

If the grant will benefit more than one tribal entity, a current authorizing resolution or other enactment of the tribal counsel or comparable government body from each tribal entity must be included.

If the grant application is being submitted on behalf of a tribal entity, a letter or similar document authorizing the inclusion of the tribal entity named in the application must be included.
Beneficiary Eligibility
Defense counsel, prosecutors and judges in the States, the District of Columbia, the Commonwealth of Puerto Rico, the Virgin Islands, America Samoa, Guam, and the Northern Mariana Islands that currently enforce their death penalty statutes.
Credentials/Documentation
The applicant must submit a completed Application for Federal Assistance (Standard Form 424), including signed assurances that it will comply with statutory and administrative requirements. By certifying on-line, the authorizing signing official is also assuring that all Federal certifications and assurances are being met. The certification and assurance forms (Assurances, OJP Form 4000/3 and Certifications Regarding Lobbying; Debarment, Suspension and Other Responsibility Matters; and Drug-Free Workplace Requirements, OJP Form 4061/6) are provided on-line to allow applicants to review and accept them electronically.
Aplication and Award Process
Preapplication Coordination
No formal preapplication coordination is required.

While informal preapplication coordination is not required, it is encouraged that applicants coordinate with any facilities for which they have responsibility to detain or incarcerate undocumented criminal aliens.

This program is excluded from coverage under E.O.

12372 "Intergovernmental Review of Federal Programs."
Application Procedures
Applications must be submitted through the online, Internet-based Grants Management System (GMS) at: https://grants.ojp.usdoj.gov/. Faxed or mailed applications or supplemental materials will not be accepted.
Award Procedures
All applications will be peer reviewed. The BJA Director will then make award recommendations to OJP's Assistant Attorney General, who will make a final determination.
Deadlines
See the program solicitation or contact the Department of Justice, Office of Justice Programs, Bureau of Justice Assistance, at (1-866) 859-2687 or by E-mail: AskBJA@usdoj.gov. Website: http://www.ojp.usdoj.gov/BJA/index.html. Consult the Application Kit or contact the Bureau of Justice Assistance in the Office of Justice Programs for application deadline.
Authorization
42 U.S.C. Section 14163; 42 U.S.C. Section 14163a.
Range of Approval/Disapproval Time
Applications will generally be approved or denied within 60 days of receipt of a complete application.
Appeals
None.
Renewals
Subject to congressional appropriation.
Assistance Considerations
Formula and Matching Requirements
None.
Length and Time Phasing of Assistance
Awards are made within 90 days of application end date.
Post Assistance Requirements
Reports
Recipients are required to submit quarterly Financial Reports, and semi-annual Progress Reports.

Successful applicants will be required to work with designated national organizations to implement the training at the state level and keep the training current with changing laws.
Audits
Recipients who expend $500,000 or more of Federal funds during their fiscal year are required to submit an organization-wide financial and compliance audit report in accordance with OMB Circular No. A-133, as amended, and as stated in the on-line payment process. Receipt of SCAAP payments is considered in establishing the requirement for an audit under the Single Audit Act. In accordance with the provisions of OMB Circular No. A-133 (Revised, June 27, 2003), "Audits of States, Local Governments, and Nonprofit Organizations," nonfederal entities that expend financial assistance of $500,000 or more in Federal awards will have a single or a program-specific audit conducted for that year. Nonfederal entities that expend less than $500,000 a year in Federal awards are exempt from Federal audit requirements for that year, except as noted in Circular No. A-133. Performance Measures: To assist in fulfilling the Departments responsibilities under the Government Performance and Results Act (GPRA), P.L. 103-62, applicants who receive funding under this solicitation must provide data that measures the results of their work.
Records
Records In accordance with the requirement set forth in 28 CFR Parts 66 and 70, grantees must maintain all financial records, supporting documents, statistical records, and all other records pertinent to the award for at least 3 years following the close of the most recent audit.
Financial Information
Account Identification
15-0404-0-1-754.
Obigations
FY 07 $987,228; FY 08 $2,500,000; and FY 09 est not available.
Range and Average of Financial Assistance
Applicant can request up to $50,000.00. The maximum project period is 18 months.
Regulations, Guidelines, and Literature
Program Application Kit and Questions and Answers posted regularly on the OJP website at: http://www.ojp.usdoj.gov/BJA/. OJP Financial Guide.
Information Contacts
Regional or Local Office
None.
Headquarters Office
Kim Norris, JD., Senior Policy Advisor, Bureau of Justice Assistance, State Policy Office, 810 Seventh Street N.W., Washington, DC 20531. Telephone: (202)616-6500 or (1-866) 859-2687. E-mail: AskBJA@usdoj.gov.
Criteria for Selecting Proposals
See solicitation for selection criteria and required elements.