National Farmworker Jobs Program
To provide job training and other employability development services and related assistance for those individuals, including their dependents, who are primarily employed in agricultural labor that is characterized by chronic unemployment and underemployment.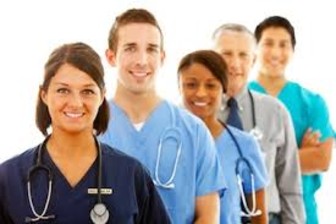 credit: gulfcoasthealthcare
Related ProgramsExamples of Funded Projects
Projects assist farmworkers to complete educational goals and learn specific job skills in order to acquire the qualifications employers require for occupations offering permanent full-time employment, or to advance into other, more stable agricultural employment.

This is accomplished through a case management-driven system that uses customer choice to guide the farmworker customer in the development of a strategy for acquiring the job skills and related education that are needed to qualify for higher-skilled jobs, and consequently the opportunity for earning a better livelihood.

Projects also assist farmworkers seeking to remain in farmwork by providing emergency assistance and other supportive services that promote their continued participation in the agricultural workforce.
---
Agency -
Department of Labor
The Department of Labor fosters and promotes the welfare of job seekers, wage earners and retirees by improving their working conditions, advancing their opportunities, protecting their retirement and health benefits and generally protecting worker rights and monitoring national economic measures.
---
Relevant Nonprofit Program Categories
---
Program Accomplishments
In Program Year (PY) 2005, an estimated 16,907 farmworkers received job training and supportive services. Of those who were provided intensive and job training services, 81 percent were placed in jobs with an average annual wage gain of $6,754 above the level earned prior to participation in the NFJP. Under the competition for the PY 2005, beginning July 1, 2005, there were 68 applications from which 53 grants were awarded. (The most recent prior competition was for the PY 2003.)
Uses and Use Restrictions
In the National Farmworker Jobs Program (NFJP), eligible seasonal farmworkers and their dependents may be offered core services (including initial assessment, One-Stop Center services, job placement, and eligibility determination) intensive services developed under a case management system (such as objective assessment, individual employment planning, basic education, allowance payments, dropout assistance, and work experience) training services (such as classroom training that is occupationally specific and on the job training), and related assistance (such as emergency assistance and other supportive services that allow a farmworker to stay employed or continue his or her participation in program activities).
Eligibility Requirements
Applicant Eligibility
Public agencies and units of government (State and local); and private non-profit institutions/organizations authorized by their charters or articles of incorporation to operate employment and training programs.
Beneficiary Eligibility
The ultimate beneficiaries are low income individuals and their dependents who have, during any consecutive 12-month period in the 24 months preceding their application for enrollment, been primarily employed in agricultural labor that is characterized by chronic unemployment or under employment due to the seasonal or migratory nature of the work. Individuals must also be legally available for work and males must not have violated the Selective Service Act registration requirement.
Credentials/Documentation
Applicants must be able to demonstrate an understanding of the problems of seasonal farmworkers and the capacity to respond to their needs, a familiarity with the local agricultural industry, and the administrative capacity to administer workforce investment programs, including their capacity to be an effective One Stop system partner.
Aplication and Award Process
Preapplication Coordination
The standard preapplication forms as furnished by the Federal agency and required by OMB Circular No.

A-102 must be used for this program.

This program is eligible for coverage under E.O.

12372, "Intergovernmental Review of Federal Programs." An applicant should consult the office or official designated as the single point of contact in his or her State for more information on the process the state requires to be followed in applying for assistance if the state has selected the program for review.
Application Procedures
Grants for operating NFJP programs are awarded under a biennial competitive process. Applications are solicited, normally for each state's service area, through a Solicitation for Grant Applications (SGA) announcement published in the Federal Register and on ETA's Web site, www.doleta.gov. Applicants may be required under the solicitation to provide their proposed plan to operate NFJP services in the areas where they propose to operate. A separate program is funded to serve the geographic area of each State, except as follows: more than one applicant may be selected to serve areas within California and some service areas comprise the geography of two adjoining states. (A provision for waiver of competition for a maximum four-year period may be exercised by the Department).
Award Procedures
Competing applications will be rated according to criteria included in the Solicitation for Grant Application. Awards are made directly to eligible applicants by the Employment and Training Administration.
Deadlines
Contact the headquarters for application deadlines.
Authorization
Workforce Investment Act of 1998; Title I, Subtitle D, Section 167; Public Law 105-220.
Range of Approval/Disapproval Time
Thirty to ninety days.
Appeals
Petition for reconsideration of non-selection as a potential grantee may be made to an Administrative Law Judge within 21 days of notification of the Department's decision.
Renewals
Grants may be renewed without further competition for a third and fourth year provided performance for the first two years has been satisfactory.
Assistance Considerations
Formula and Matching Requirements
A formula is used to distribute funding by state service area based on estimates of each state's share of the nation's eligible seasonal farmworkers. The formula relies primarily on data from the Census of Agriculture and the National Agricultural Workers Survey. This program has no matching requirements.
Length and Time Phasing of Assistance
Awards initially apply for one or two years, with the option of a subsequent two-year renewal if performance is satisfactory and a national competition is not held.
Post Assistance Requirements
Reports
Grantee recipients are required to provide quarterly program and financial status reports and quarterly reporting of individual participant information.

Program performance is calculated from quarterly reporting of individual participant information.
Audits
Programs are subject to financial and compliance audits conducted by the Office of Inspector General (OIG). In accordance with the provisions of OMB Circular No. A-133 (Revised, June 27, 2003), "Audits of states, local governments, and non-profit organizations," nonfederal entities that receive financial assistance of $500,000 or more in Federal awards shall have a single or a program-specific audit conducted for that year. Nonfederal entities that expend less than $500,000 a year in Federal awards are exempt from Federal audit requirements for that year, except as noted in Circular No. A-133.
Records
Grantees are required to maintain complete accounting, personnel, and individual participant records in accordance with OMB Circulars A-102 and A-110. Participant records must support eligibility and the need for services provided.
Financial Information
Account Identification
16-0174-0-1-504.
Obigations
(Grants) FY 07 $80,000,000; FY 08 est $80,000,000; and FY 09 est $0.
Range and Average of Financial Assistance
Grants may range between $100,000 and $7,000,000. The average is not calculated.
Regulations, Guidelines, and Literature
20 CFR 669.
Information Contacts
Regional or Local Office
None.
Headquarters Office
Division of Adult Services, Office of Workforce Investment, Employment and Training Administration, Department of Labor, Room S-4209, 200 Constitution Avenue, N.W., Washington, DC 20210. Telephone: (202) 693-3046. Fax: (202) 693-3945.
Criteria for Selecting Proposals
Selection criteria are described in the Solicitation for Grant Application published in the Federal Register whenever there is a competition for grant awards. (Also, see paragraph 92, above.).