State Cemetery Grants
To assist States in the establishment, expansion, and improvement of veterans' cemeteries.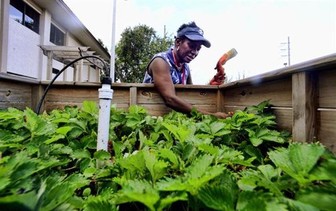 credit: sun-sentinel
Related ProgramsExamples of Funded Projects
1) Construction necessary to convert a tract of land to an operational cemetery; 2) construction of main entrance, roads, committal service shelter, administration/maintenance building, storm drainage system and irrigation; and 3) the expansion of cemetery acreage or building a columbarium.
---
Agency -
Department of Veterans Affairs
The Department of Veterans Affairs strives for excellence in patient care and veteran's benefits for its constituents through high quality, prompt and seamless service to United States veterans.
---
Relevant Nonprofit Program Categories
---
Program Accomplishments
For fiscal year 2008 the State Cemetery Grants Service has received requests totaling $198,497,229. The State Cemetery Grants Service estimates approximately five to ten applications to establish, expand, or improve State veterans cemeteries in fiscal years 2008 and 2009.
Uses and Use Restrictions
Monetary assistance is provided under this program to construct, expand, improve or operate State veterans' cemeteries.

Cemeteries must be State-owned and operated solely for the interment of eligible veterans and their dependents and/or spouses.

Construction cost means the amount found necessary to convert a tract of land to an operational cemetery.
Eligibility Requirements
Applicant Eligibility
Any State may apply.
Beneficiary Eligibility
The cemetery must be used solely for the interment of veterans, their wives, husbands, surviving spouses, minor children, and unmarried adult children who were physically or mentally disabled and incapable of self support: section 38 CFR Part 38.620.
Credentials/Documentation
Costs will be determined in accordance with revised OMB Circular No. A-87 for State Governments, dated May 4, 1995, and further amended August 29, 1997.
Aplication and Award Process
Preapplication Coordination
Consultation or assistance is available from VA Central Office personnel (State Cemetery Grants Service) to aid in the preparation of an application.

The standard application forms as furnished by VA and required by OMB Circular No.

A-102 must be used for this program (Standard Form 424, "Application for Federal Assistance," with attachments).

An environmental assessment is required.

This program is eligible for coverage under E.O.

12372, "Intergovernmental Review of Federal Programs." An applicant should consult the office or official designated as the single point of contact in his or her State for more information on the process the State requires to be followed in applying for assistance, if the State has selected the program for review.
Application Procedures
Submit Standard Form 424, "Application for Federal Assistance for Construction Programs," with attachments, to the Director, State Cemetery Grants Service (401C), Department of Veterans Affairs, 810 Vermont Avenue, N.W., Washington, DC 20420. This program is excluded from coverage under OMB Circular No. A-110.
Award Procedures
Formal notification of the award to the State is made by the Under Secretary for Memorial Affairs, National Cemetery Administration.
Deadlines
A deadline of July 1 is established for the filing of applications in the year prior to the fiscal year in which funding is requested.
Authorization
Veterans Housing Benefits Act of 1978, Section 202, Public Laws 95-476, 98-223, 100-687, 103-446, and 105-368; 38 U.S.C. 2408.
Range of Approval/Disapproval Time
From 30 to 60 days.
Appeals
No application shall be disapproved until the applicant has been afforded an opportunity for a hearing.
Renewals
Not applicable.
Assistance Considerations
Formula and Matching Requirements
The amount of the Federal contribution to a State is up to 100 percent of the cost of establishing, improving or expanding State Veterans Cemeteries. In the case of establishment grants, the cost of operating equipment may also be included. Land value is not included as an allowable cost for reimbursement under the grant.
Length and Time Phasing of Assistance
Funds are provided by electronic transfer of funds and must be used within 3 years.
Post Assistance Requirements
Reports
Outlay Report and Request for Reimbursement for Construction Programs, and Performance Reports are accomplished in accord with 38 CFR Part 43.
Audits
In accordance with the provisions of OMB Circular No. A-133 (Revised, June 27, 2003), "Audits of States, Local Governments, and Nonprofit Organizations," nonfederal entities that expend financial assistance of $500,000 or more in Federal awards will have a single or a program-specific audit conducted for that year. Nonfederal entities that expend less than $500,000 a year in Federal awards are exempt from Federal audit requirements for that year, except as noted in Circular No. A-133.
Records
Financial records, supporting documents, statistical records and all other records pertinent to a grant shall be retained for a period of three years. If any claim or audit is started before the expiration of the three year period, the records shall be retained until all litigation, claims or audit findings involving the records have been resolved.
Financial Information
Account Identification
36-0183-0-1-705.
Obigations
(Grants) FY 07 $45,888,000; FY 08 est $39,838,000; and FY 09 est $32,000,000.
Range and Average of Financial Assistance
$4,305 to $10,965,487. Average: $1,915,488.
Regulations, Guidelines, and Literature
VA Regulations 38 CFR Parts 39 and 43, State Cemetery Grant Program and "Federal Assistance for Establishment, Expansion, and Improvement of State Veterans' Cemeteries (State Cemetery Grants Program)" (VA Pamphlet 40-96).
Information Contacts
Regional or Local Office
None.
Headquarters Office
Director, State Cemetery Grants Service, (41E), National Cemetery Administration, Department of Veterans Affairs, 810 Vermont Avenue, N.W., Washington, DC 20420. Contact: Mr. Frank K. Salvas, Jr. Telephone: (202) 565-4804. Fax: (202) 565-6141.
Criteria for Selecting Proposals
Applications are prioritized and ranked with other projects in the order received. The priority system consists of four groups or categories. Examples: The extent to which States have adequate funds to initiate and complete the design process required for approval for the grant program, and the extent to which a project involves additional gravesites necessary to keep the cemetery open.