Conservation Research and Development
To conduct a balanced, long-term research effort in Buildings Technologies, Industrial Technologies, Freedom Car and Transportation Technologies and Hydrogen, Fuel Cells and Infrastructure Technologies.
Grants will be offered on a competitive basis to develop and transfer various energy conservation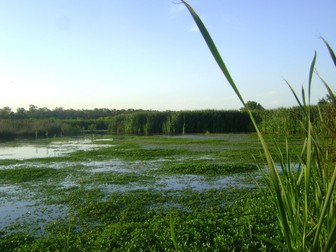 credit: From Wikipedia
technologies to the nonfederal sector.
Examples of Funded Projects
Grants have been awarded to perform: (1) Research on high performance heat pumps; (2) research on thermally efficient commercial buildings; (3) research on vehicle technologies and systems (4) research on high temperature materials; and (5) research on industrial separation processes.
---
Agency -
Department of Energy
The Department of Energy's goal is to advance national, economic and energy security in the U.S.; to promote scientific and technological innovation in support of that goal; and to ensure environmental cleanup of the national nuclear weapons complex.
---
Relevant Nonprofit Program Categories
---
Program Accomplishments
Numerous awards for ongoing research and development projects are made.
Uses and Use Restrictions
Assistance may be used in the form of cooperative agreements, or grants to nonprofit institutions and organizations to develop and transfer energy conservation technologies to the scientific and industrial communities, States, and local governments.
Eligibility Requirements
Applicant Eligibility
Profit organizations, private nonprofit institutions/organizations, State and local governments may apply.
Beneficiary Eligibility
Profit organizations, private nonprofit institutions/organizations, State and local governments benefit.
Credentials/Documentation
Costs will be determined in accordance with OMB Circular No. A-87 for State and local governments.
Aplication and Award Process
Preapplication Coordination
This program is excluded from coverage under E.O.

12372.
Application Procedures
The application forms must be downloaded from the specific funding opportunity announcement posted on the grants.gov website at http://www.grants.gov/.
Award Procedures
All applications which pass an initial review will receive an objective merit review. The objective merit review will be based on evaluation criteria set forth in the competitive solicitation or criteria set forth in 10 CFR Part 600 for Unsolicited Proposals. Evaluations will be conducted by Renewable Energy Technology program personnel at DOE Headquarters in Washington, DC. This responsibility may also be delegated to DOE Field Offices. Final decisions will be made by the EERE Assistant Secretary, Deputy Assistant Secretaries, and the Director of the Federal Energy Management Program.
Deadlines
Deadlines are identified in the solicitation.
Authorization
Department of Energy Organization Act of 1977, as amended, Public Laws 95-911 and 97-377; Federal Nonnuclear Energy Research and Development Act of 1974, Public Law 93-577.
Range of Approval/Disapproval Time
From 60 to 120 days.
Appeals
None.
Renewals
Grants may be modified or extended.
Assistance Considerations
Formula and Matching Requirements
This program has no statutory formula, but cost sharing is encouraged.
Length and Time Phasing of Assistance
Award project periods range from 2 months to 2 years.
Post Assistance Requirements
Reports
Quarterly progress and expenditure reports, and a final report at the conclusion of the grant time period.
Audits
In accordance with the provisions of OMB Circular No. A-133, (Revised, June 27, 2003), "Audits of States, Local Governments, and Non-Profit Organizations," nonfederal entities that receive financial assistance of $500,000 or more in Federal awards will have a single or a program-specific audit conducted for that year. Nonfederal entities that expend less than $500,000 a year in Federal awards are exempt from Federal audit requirements that year, except as noted in Circular No. A-133.
Records
None.
Financial Information
Account Identification
89-0215-0-1-999; 89-0224-0-1-271;
89-0125-0-1-272.
Obigations
FY 07 $71,883,456; FY 08 est $35,000,000 and FY 09 est $39,000,000.
Range and Average of Financial Assistance
Varies.
Regulations, Guidelines, and Literature
The following list represents an overview of regulations, guidelines, and literature: EERE Federal Register notices; EERE Solicitations, which may be accessed through the EERE homepage at: http://www.eere.energy.gov; DOE Financial Assistance Regulations (10 CFR 600); and the DOE Guide to Financial Assistance, both of which may be accessed through the DOE Office of Management home page at www.management.energy.gov/policy_guidance/financial_assistance.htm.
Information Contacts
Regional or Local Office
None.
Headquarters Office
Office of Building Technologies (EE-2J); Office of Industrial Technologies (EE-2F); Freedom Car and Transportation Technologies (EE-2G) and Hydrogen, Fuel Cells and Infrastructure Technologies (EE-2H), Office of Energy Efficiency and Renewable Energy, U.S. Department of Energy, 1000 Independence Ave., SW, Washington, DC, 20585. Telephone: EE-2J - (202) 586-8038; EE-2F - (202) 586-5264; EE-2G - (202) 586-2198; EE-2H - (202) 586-2480.
Criteria for Selecting Proposals
Selection will be based on an objective merit review, program policy factors, the availability of funds, provisions of appropriation law and reports and as otherwise specified in specific solicitation document(s).