Nuclear Energy Research, Development and Demonstration
Provide financial assistance to address key issues affecting the worldwide use of nuclear energy through the research, development, and demonstration of science and technology fields related to nuclear energy and its underlying sciences.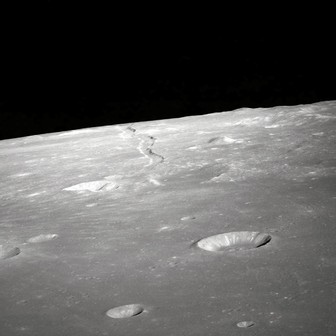 credit: NASA on unsplash
Related ProgramsExamples of Funded Projects
Examples of projects funded with financial assistance can be found on the DOE Office of Nuclear Energy Web Site under the program of interest.
---
Agency -
Department of Energy
The Department of Energy's goal is to advance national, economic and energy security in the U.S.; to promote scientific and technological innovation in support of that goal; and to ensure environmental cleanup of the national nuclear weapons complex.
Office - Idaho Operations Office, 1955 Fremont Avenue, Idaho Falls, ID 83415.

Nuclear Programs Support Division, Contact: Kenny Osborne, Telephone: (208) 526-0805.
---
Relevant Nonprofit Program Categories
---
Program Accomplishments
Results and accomplishments have been made in nuclear energy research and development under these programs and are reported to the greater nuclear community in open scientific literature and at related nuclear conferences.
Uses and Use Restrictions
Financial assistance, in whole or in part, may be provided for the following in support of nuclear energy related research, development and demonstration activities: salaries, materials and supplies, equipment, travel, publication costs, subcontractor and supporting costs required for technical activities, market analyses, financing plans and other activities necessary to achieve the objective.

Restrictions on use of funds depend on solicitation and award provisions.

Notices published in the Federal Register define research, development, and demonstration areas that the Department intends to support such as: advanced reactors, proliferation resistant fuel and reactor concepts, nuclear fuel and fuel cycles, advanced instrumentation, controls, simulation, modeling and analyses, nuclear waste management, construction, manufacturing and fabrication technologies, and related fundamental nuclear science areas in materials, reactor physics, chemistry and thermal hydraulics and fluid dynamics.

Notices published in the Federal Register define development or demonstration projects and study areas activities that the Department intends to support such as: advanced designs, technologies or techniques, new regulatory or licensing requirements, and economic analyses.
Eligibility Requirements
Applicant Eligibility
Federal, State, local governments, universities, consortia, nonprofit institutions, commercial corporations, and individuals may apply.
Beneficiary Eligibility
Any individual, partnership, corporation, association, joint venture, institution of higher education, or nonprofit organization will benefit.
Credentials/Documentation
Costs will be determined in accordance with OMB Circular No. A-87 for State and local governments. Costs will be determined in accordance with OMB Circular No. A-21 for institutions of higher education. Costs will be determined in accordance with OMB Circular No. A-122 for non-profit organizations.
Aplication and Award Process
Preapplication Coordination
The standard application forms as furnished by DOE and required by 10 CFR 600 must be used to apply for financial assistance, as further specified in competitive solicitation(s).

The application forms must be downloaded from the specific funding opportunity announcement posted on the Grants.gov web-site at http://www.grants.gov/.

This program is excluded from coverage under E.O.12372.
Application Procedures
DOE solicitations set forth award procedures. Applications will receive an objective merit review. The objective merit review will be based on evaluation criteria set forth in the competitive solicitation. Evaluations will be coordinated by a Merit Review Chair and conducted by a review board. This responsibility will be performed by the Office of Nuclear Energy or delegated to a DOE Operations Office. Final decisions will be made by the approved Program Officer or the delegated Source Selection Official.
Award Procedures
Not applicable.
Deadlines
As stated in each solicitation.
Authorization
Atomic Energy Act of 1954, as amended, Section 32, Public Law 83-703, 68 Stat. 919, 42 U.S.C. 2051 Energy Reorganization Act of 1974, Title I, Section 107, Public Law 93-438, 88 Stat. 1240, 42 U.S.C. 5817, Department of Energy Organization Act of 1977, as amended, Public Law 95-91, 42 U.S.C. 7101. Section 31 of the Atomic Energy Act, 42 USC 2051.
Range of Approval/Disapproval Time
Normally 6 to 9 months.
Appeals
None.
Renewals
Proposals for renewal are subject to review and acceptance by the Program Director or Source Selection Official.
Assistance Considerations
Formula and Matching Requirements
Cost-sharing requirements may vary and will be specified in competitive solicitations. Where there are no formal requirements, cost-sharing is encouraged.
Length and Time Phasing of Assistance
The period of performance and schedule of DOE payments is arranged at the time of award.
Post Assistance Requirements
Reports
The schedule of reports is arranged at the time of negotiation.
Audits
Costs incurred are subject to audit throughout the period and/or before final payment, with the extent and frequency of audit depending on the size of the grant and on the particular award provisions. In accordance with the provisions of OMB Circular No. A- 133, (Revised, June 24, 1997), "Audits of States, Local Governments, and Non-Profit Organizations," nonfederal entities that receive financial assistance of $300,000 or more in Federal awards will have a single or a program-specific audit conducted for that year. Nonfederal entities that expend less than $300,000 a year in Federal awards are exempt from Federal audit requirements that year, except as noted in Circular No. A-133. Any for-profit recipient that expends $500,000 or more in a year under Federal awards must have an audit made for that year by an independent auditor, in accordance with paragraph (b) of this section. If a recipient is currently performing under a Federal award that requires an audit by its Federal cognizant agency, that auditor must perform the independent audit. The audit generally should be made a part of the regularly scheduled, annual audit of the recipient's financial statements. However, it may be more economical in some cases to have Federal awards separately audited, and a recipient may elect to do so, unless that option is precluded by award terms and conditions or by Federal laws or regulations applicable to the program(s) under which the awards were made.
Records
Award recipient is expected to maintain auditable records to substantiate total costs incurred under the agreement and as required by the financial assistance award.
Financial Information
Account Identification
89-0224-0-1-271.
Obigations
Grants (Cooperative Agreements) FY 07 $143,074,820; FY 08 est $125,000,000; and FY 09 est $150,000,000.
Range and Average of Financial Assistance
The general range of annual funding for a grant or cooperative agreement to a single organization is, $100,000 to $500,000, with an approximate average of $350,000. Grants or cooperative agreements involving multiple research participants or large projects can be funded at higher annual amounts.
Regulations, Guidelines, and Literature
NE Federal Register notices; NE Solicitations; DOE Financial Assistance Regulations (10 CFR 600); and the DOE Guide to Financial Assistance, which may be accessed through the DOE Office of Procurement and Assistance Management webpage at: http://www.management.energy.gov/policy_guidance.htm.
Information Contacts
Regional or Local Office
Idaho Operations Office, 1955 Fremont Avenue, Idaho Falls, ID 83415. Nuclear Programs Support Division, Contact: Kenny Osborne, Telephone: (208) 526-0805.
Headquarters Office
Office of Nuclear Energy, Germantown Building, 1000 Independence Avenue, SW., Washington, DC 20585-1290. Office of the Deputy Assistant Secretary for Nuclear Power Development (NE- 3), Contact: Suibel Schuppner. Telephone: (301) 903-1652.
Criteria for Selecting Proposals
Each proposal will be evaluated based on an objective merit review in accordance with the requirement of "DOE Financial Assistance Regulations" (10 CFR 600) and the evaluation criteria set forth in the competitive solicitations. These criteria will include: appropriateness of the proposal method or approach, competency of research personnel and adequacy of proposed resources, reasonableness and appropriateness of the proposed budget, and other appropriate factors.