Statewide Data Systems
These grants are intended to enable State educational agencies to design, develop, and implement statewide, longitudinal data systems to efficiently and accurately manage, analyze, disaggregate, and use individual student data, consistent with the Elementary and Secondary Education Act of 1965.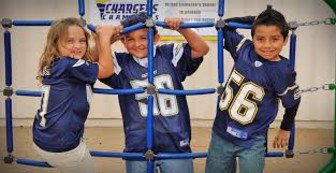 credit: Chargers
---
Agency -
Department of Education
The Department of Education ensures equal access to education and promotes educational excellence through coordination, management and accountability in Federal education programs. The Department works to supplement and complement educational efforts on all levels, encouraging increased involvement by the public, parents and students.
---
Relevant Nonprofit Program Categories
---
Program Accomplishments
Varies by year and competition.
Uses and Use Restrictions
Grants may support salaries, travel, equipment, and supplies as required to carry out the research effort.

Restrictions or limitations are imposed against the use of funds for entertainment, foreign travel, general-purpose equipment, alterations and renovations, and other items not regularly required for the development of data systems.

Grant funds shall be used to supplement and not supplant other State or local funds used for developing State data systems.
Eligibility Requirements
Applicant Eligibility
State educational agencies.
Beneficiary Eligibility
State educational agencies, local educational agencies, non-profit and for-profit organizations, and individuals involved with education will benefit.
Credentials/Documentation
Applicants for these data systems projects must present a plan and furnish evidence that the scientific competence, facilities, equipment, and supplies are appropriate to carry out the project. Applicants must ensure technical quality; provide for the generation of accurate data, and the timely use of such data needed by State and local educational agencies both to comply with the Elementary and Secondary Education Act of 1965 and to facilitate research to improve student academic achievement and close achievement gaps; and, meet voluntary standards and guidelines for linking individual student data.
Aplication and Award Process
Preapplication Coordination
This program is excluded coverage under E.O.

12372.
Application Procedures
Applications must include: ED Form 424, "Application for Federal Assistance" and ED 524, "Budget Information Non-Construction Programs." Specific application and submission procedures, as well as additional information about the specific contents, page limits, and page formatting of applications, are provided in the individual Request for Applications found under "Funding Opportunities" at the Institute of Education Sciences web site: http://www.ed.gov/programs/edresearch/applicant.html.
Award Procedures
All accepted applications competing for grants are reviewed for technical merit by panels of peer reviewers. Official notice of an approved application is made through issuance of a Notice of Grant Award.
Deadlines
See the Institute's web site (http://www.ed.gov/programs/edresearch/applicant.html) or contact the Program Office for application deadlines.
Authorization
Educational Technical Assistance Act of 2002, Title II, Public Law 107-79, Section 208, 20 U.S.C. 9607.
Range of Approval/Disapproval Time
The range of approval/disapproval time is approximately four to six months following the application deadline.
Appeals
None.
Renewals
Recipients of multi-year grants must submit an annual performance report for each year funding has been approved. A review of the annual performance report is used to determine whether substantial progress has been made toward meeting the project objectives. Renewals are subject to the availability of appropriations.
Assistance Considerations
Formula and Matching Requirements
None.
Length and Time Phasing of Assistance
Projects generally may be supported for one to three years. All grantee obligations shall be liquidated within 90 days following the end of the project period. Payments may be made according to a predetermined schedule or by way of reimbursement. Renewals are subject to the availability of appropriations.
Post Assistance Requirements
Reports
Financial reports and program reports must be submitted as required by grant award terms and conditions.
Audits
All expenditures by state governments will be audited by the grantee or at the grantee's direction with reasonable frequency, usually once a year but not less then once every two years. The Secretary of Education, the Director of the Institute, and the Comptroller General of the United States, or any of their duly authorized representatives, shall have access, for the purpose of audit and examinations, to all applicable records and to any other pertinent books, documents, papers, and records of the grantee.
Records
Each grantee will keep intact, and accessible, records relating to the receipt and expenditure of Federal funds and the expenditures of the grantee's contribution to the cost of the project, if any. Records will normally be retained for three years after the date of the submission of the final expenditure report, or for grants that are reviewed annually, three years after the date of the award.
Financial Information
Account Identification
91-1100-0-1-503.
Obigations
FY 07 $24,552,000; FY 08 est $48,293,000; and FY 09 est $100,000,000.
Range and Average of Financial Assistance
Estimated range of new 2009 awards: $2,000,000 to $4,000,000 per year.
Regulations, Guidelines, and Literature
This program is subject to the provisions of the Education Department General Administrative Regulations (EDGAR) in 34 CFR Parts 74, 77, 80, 81, 82, 84, 85, 86 (part 86 applies only to institutions of higher education), 97, 98, and 99. In addition 34 CFR part 75 is applicable, except for the provisions in 34 CFR 75.100, 75.101(b), 75.102, 75.103, 75.105, 75.109(a), 75.200, 75.201, 75.209, 75.210, 75.211, 75.217, 75.219, 75.220, 75.221, 75.222, and 75.230. For more information, see specific Request for Applications available on Institute website http://www.ed.gov/programs/edresearch/applicant.html.
Information Contacts
Regional or Local Office
None.
Headquarters Office
Department of Education, IES, National Center for Education Statistics 400 Maryland Ave. S.W., Washington, DC 20202. Contact: Kashka Kubzdela, E-mail: kashka.kubzdela@ed.gov; Telephone: (202) 502-7411.
Criteria for Selecting Proposals
The criteria for selecting applications are contained in the Request for Applications that announces the competition. The Request for Applications is posted on the Funding Opportunities home page of the Institute web site: http://www.ed.gov/programs/edresearch/applicant.htm.