Food for Peace Emergency Program (EP)
To improve access, availability and utilization of food in food insecure environments abroad.
The priority for Title II emergency programs is to prevent hunger and malnutrition in food insecure areas or countries.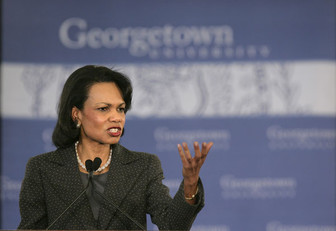 credit: From Wikimedia
Examples of Funded Projects
Funded activities have included: direct food distribution, health, food for work, monetization.
---
Agency -
Agency for International Development
The Agency for International Development is an independent Federal government agency that provides economic and humanitarian assistance in more than 100 countries to ensure a better future for us all.
---
Relevant Nonprofit Program Categories
---
Program Accomplishments
Emergency Programs use Public Law 480, Title II resources to meet the critical food needs of targeted groups, with the mission of saving lives and reducing suffering.
Uses and Use Restrictions
Private Voluntary Organizations may submit proposals requesting commodities and cash to carry out food aid programs in food insecure areas or countries.
Eligibility Requirements
Applicant Eligibility
Private non-profit institutions/organizations are eligible for this program.

Specifically, an organization must be a Private Voluntary Organization (PVO) or cooperative.

If a U.S.

based PVO, the organization must be registered with USAID as of the date of its application.

In order to be awarded a program the organization must also be registered with the Office of Food for Peace.
Beneficiary Eligibility
Private, non-profit institutions/organizations will benefit from this program along with vulnerable and food insecure populations.
Credentials/Documentation
USAID Registration; Evidence of legal capacity, economic feasibility, and financial responsibility relative to the activity for which assistance is required.
Aplication and Award Process
Preapplication Coordination
Not required.

This program is excluded from coverage under E.O.

12372.
Application Procedures
Submission of Application (including SF 424 and 424a) in line with Emergency Proposal Guidelines.
Award Procedures
Unsolicited emergency applications are submitted to the Office of Food for Peace throughout the year to respond to natural disasters, complex emergencies and post-emergency stabilization needs. An emergency appeal or disaster declaration is the "triggering mechanism" that allows FFP to consider requests for emergency food assistance. All applications for assistance are reviewed for completeness and then given a technical review. Awards are negotiated based on a demonstrated need for food aid and the ability of the proposed assistance to respond to the indicated need(s).
Deadlines
Not applicable.
Authorization
Agriculture, Trade and Development Assistance Act of 1954, as amended, P.L. 480, Title II.
Range of Approval/Disapproval Time
Although there is no binding timeframe, emergency situations often require a quick response. Therefore, FFP/EP works with the objective of completing the proposal review within 21 working days of receipt of a complete proposal. Delays may occur when required information is not included in the proposal.
Appeals
Cooperating sponsors are given the opportunity to re-work their proposed programs to effectively meet demonstrated need.
Renewals
Possible.
Assistance Considerations
Formula and Matching Requirements
This program has no statutory formula, though cost-sharing is encouraged.
Length and Time Phasing of Assistance
Emergency Programs are approved for up to one year. The average time frame for an emergency response is six months to a year.
Post Assistance Requirements
Reports
Project reports should be submitted to FFP/EP on a semi-annual basis unless otherwise established in the Transfer Authorization.

Programs are evaluated on the basis of stated objectives agreed to with FFP, as part of the yearly program performance review and USAID Annual Report process.

The reporting format is found in the Cooperating Sponsor's Transfer Authorization.
Audits
In accordance with the provisions of OMB circular No A-133 (Revised June 24, 1997), Audits of States, Local Governments and Non-Profit Organizations, non-federal entities that expend financial assistance of $300,000 or more in Federal awards will have a single or a program-specific audit conducted for that year. Non-federal entities that expend less than $300,000 a year in Federal awards are exempt from Federal audit requirements for that year except as noted in OMB Circular A-133.
Records
The grantee shall maintain adequate records and accounts to assure that grant funds and commodities are used for authorized purposes.
Financial Information
Account Identification
12-2278-0-1-151.
Obigations
FY 07 est not available; and FY 08 est not available; and FY 09 est not reported.
Range and Average of Financial Assistance
Varies.
Regulations, Guidelines, and Literature
Code of Federal Regulations Title 22, 211, 226 and 228 Volume 1 Parts 1 to 299; (Revised as of April 1, 1999); USAID ADS 300 and cross references.
Information Contacts
Regional or Local Office
Not applicable.
Headquarters Office
Office of Food for Peace; Emergency Programs Division; USAID; 1300 Pennsylvania Avenue, NW; Washington, DC 20523.
Criteria for Selecting Proposals
Proposals are selected based upon assessed need, technical and programmatic merit, organizational background, competence and experience, past performance and financial plan. This is not a formula program.