EXECUTIVE SUMMARY The U. S. Mission in Canada through its Public Affairs Section is pleased to announce an open competition for assistance awards (grants) through this announcement.
Canadian non-profit institutions, individuals, and educational institutions are invited to apply to the U. S. Mission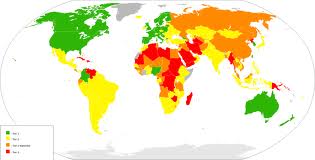 credit: Wikipedia
in Canada American Studies-Community Partnership Program for awards to support collaborative, interdisciplinary community projects utilizing American studies pedagogy, curriculum, research, and other resources to enhance mutual understanding between Canada and the United States.
The awards are intended to engage American studies practitioners in genuine collaborations with community organizations and the constituents they serve to provide new cultural and educational opportunities.
We will award grants to support projects developed in collaboration with community-based organizations, school districts, libraries, historical societies, museums, and other non-profit entities.
Awards will range from US$5,00 0. 00 to $25,00 0. 00 based upon the availability of funds.
Please see full description on US Mission in Canada website.