Variable.
The U. S. Embassy in Belize anticipates that most awards would be between 12-24 months.
All award money must spent by the end of the grant period.U. S. Embassy Belize expects to fund 5 to 7 proposals for a total program value not to exceed $1,500,000 in U. S. Government funding,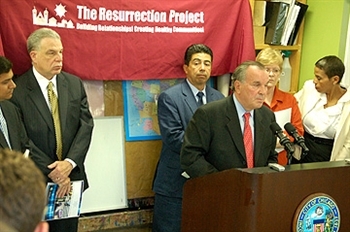 credit: LISC Chicago
contingent upon the availability of funds.
Although U. S. Embassy Belmopan is unlikely to fund proposals for less than $100,000 or for more than $500,000 in U. S. Government funding (total funding for projects can and should exceed the U. S. Government funding through cost-sharing), the Embassy may make exceptions for especially compelling proposals.
---
---
---
---
Obtain Full Opportunity Text:
Not Available
Additional Information of Eligibility:
Eligible applicants are U. S. or overseas-based non-governmental and non-profit organizations (NGOs), Public International Organizations (PIOs) and Educational Institutions.
Grants will be awarded directly to the organization.
Provide documentation of legal status with the grant proposal.
After determining grant recipients, selected organizations may be subject to an audit of financial accounting systems and procedures before receiving U. S. government funds.
This program does not require any financial cost sharing or matching; however, in-kind contributions are highly encouraged.
Applicants may form a consortium with private or public sector involvement or contributions.
The program does strongly encourage partnership with at least one public sector institution or private company which may participate in-kind or with financial support.
Full Opportunity Web Address:
Contact:
Cheryl Dupree or Denise FullerGrants Officer Representatives, U.S. Embassy,Email: belmopangrants@state.gov (Preferred method of communication)Phone: +501 822-4011 x4306Any questions concerning this RFA should be submitted in writing to belmopangrants@state.gov. The deadline for sub
Agency Email Description:
US Embassy, Belize Grant mailbox
Agency Email:
belmopangrants@state.gov
Date Posted:
2014-04-07
Application Due Date:
2014-05-11
Archive Date:
2014-06-20