The Office of Advanced Scientific Computing Research (ASCR) in the Office of Science (SC) at the U. S. Department of Energy (DOE) hereby invites grant applications to address key challenges in developing, exploiting, or operating federated end-to-end terabit networks that support distributed extreme-scale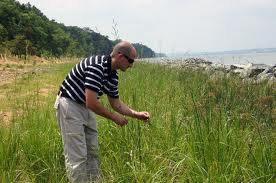 credit: Wikimedia Commons
science.
ASCR contributes to the DOEs science mission by supporting leading-edge high-performance networking facilities, which provides DOE scientists and their national and international collaborators with unfettered access to scientific instruments and supercomputing facilities, and by supporting research into tools and services that enhance the use of these facilities.
A new generation of science facilities (e.g., National Synchrotron Light Source II - NSLS-II, International Thermonuclear Experimental Reactor - ITER, Large Hadron Collider - LHC, Linac Coherent Light Source - LCLS) scientific research communities using globally distributed tera/petascale class computing environments, and leading edge researchers exploiting exascale class supercomputers to simulate physical processes, will all produce and/or consume large amounts of data.
The common element that enables these activities is a federated collection of high-performance networks with unprecedented end-to-end capabilities.
Projections show that DOE?s Energy Science Network (ESnet) will need to support Tb/sec transmission rates by the 2015-201 6. While industry will supply the underlying optical technologies to build the network, DOE will need to develop and deploy the tools and services that will allow scientists to exploit this advanced infrastructure.
This Funding Opportunity Announcement (FOA) calls for innovative approaches to develop federated terabit network tools and services that address DOE?s emerging network challenges.
The major priorities in addressing these challenges include mechanisms that:
allow hosts to create/terminate a dynamic circuit; isolate high-impact science flows from normal traffic flows; allow flows to seamlessly move between shared Internet Protocol (IP) and dynamic circuit infrastructures; allow network operators to effectively manage their part of the end-to-end path; perform fault diagnosis and performance prediction; allow flows to operate across domain boundaries; co-schedule components/resources needed by an application; and predict application behavior notifying users/administrators when it falls below a threshold.
Projects supported by this FOA may be a combination of algorithms, hardware, software, and/or radical concepts that scale beyond what can be achieved over today?s infrastruct ure.
Applications should also address how their solutions could be deployed, tested, and integrated into DOE network infrastructure.