Agency Overview:
The Advanced Research Projects Agency – Energy (ARPA-E), an organization within the Department of Energy (DOE), is chartered by Congress in the America COMPETES Act of 2007 (P.L.
110-69), as amended by the America COMPETES Reauthorization Act of 2010 (P.L.
111-358)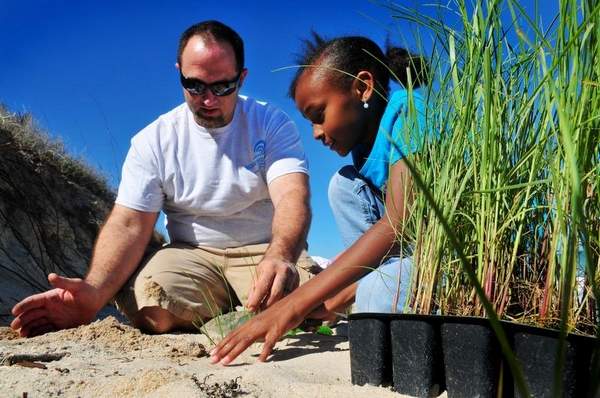 credit: Florida Today
to:
"(A) to enhance the economic and energy security of the United States through the development of energy technologies that result in— (i) reductions of imports of energy from foreign sources; (ii) reductions of energy-related emissions, including greenhouse gases; and (iii) improvement in the energy efficiency of all economic sectors; and (B) to ensure that the United States maintains a technological lead in developing and deploying advanced energy technologies." ARPA-E issues this Funding Opportunity Announcement (FOA) under the programmatic authorizing statute codified at 42 U.S.C.
§ 1653 8. The FOA and any awards made under this FOA are subject to 2 C.F.R.
Part 200 as amended by 2 C.F.R.
Part 91 0. ARPA-E funds research on and the development of high-potential, high-impact energy technologies that are too early for private-sector investment.
The agency focuses on technologies that can be meaningfully advanced with a modest investment over a defined period of time in order to catalyze the translation from scientific discovery to early-stage technology.
For the latest news and information about ARPA-E, its programs and the research projects currently supported, see:
http://arpa-e.energy.gov/.
Program Overview:
The Duration Addition to electricitY Storage (DAYS) program will pursue new long-duration electricity storage (LDES) technologies with discharge durations that range from 10 to approximately 100 hours at rated power.
Such "long" durations are beyond the requirements for intra-day ("daily") energy time shift and many other stationary electricity storage applications common on the grid today.
ARPA-E believes durations at rated power of 10 to 100 hours are relevant for needs that go beyond daily cycling but are short of seasonal energy time-shift applications.
Long-duration storage applications present new forms of technical challenges associated with exceptionally low lifetime cost requirements (including both capital and operating expenses), particularly for the energy storage media and related components.
However, the lower number of cumulative cycles, acceptability of slow ramp rates, and other relaxed performance requirements that are associated with long durations and infrequent cycling provide opportunities for design tradeoffs that may be leveraged to reduce costs and realize economically-viable LDES systems.
The primary objective of the DAYS program is the development of LDES systems that deliver electricity at a levelized cost of storage (LCOS) of 5 cents/kWh-cycle across the full range of storage durations (i.e.
10 to approximately 100 hours).
This requirement results in a target lifetime cost that decreases with increasing storage duration, a marked divergence from many existing storage cost targets that focus on a single duration and thus a single cost metric.
The LCOS target of 5 cents/kWh-cycle likely requires system round-trip efficiencies greater than 50%.
For this focused program, ARPA-E expects chemical, electrochemical, thermal, and mechanical technical approaches to potentially address this problem statement.
The DAYS program requires that all proposed storage systems be charged by electricity alone and produce electricity as the sole output.
If successful, the DAYS program will provide new forms of stationary electricity storage systems that enhance grid resiliency, provide low-cost capacity, support the transmission and distribution infrastructure, enable a greater share of low-cost, intermittent sources of wind and solar in the future generation mix, along with other benefits.
To obtain a copy of the Funding Opportunity Announcement (FOA) please go to the ARPA-E website at https://arpa-e-foa.energy.gov.
ARPA-E will not review or consider notices of intent or full applications submitted through other means.
For detailed guidance on using ARPA-E eXCHANGE, please refer to the ARPA-E eXCHANGE User Guide (https://arpa-e-foa.energy.gov/Manuals.aspx).