The DOE SC program in Nuclear Physics (NP) hereby announces its interest in receiving interdisciplinary applications for open scientific research on Quantum Computing (QC) and Quantum Information Science and Technology (QIST) with a clear line of sight to enable discoveries to explore and understand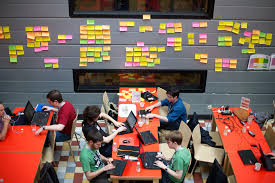 credit: Wikimedia Commons
all forms of nuclear matter, including some that no longer exist.
From the hot dense soup of quarks and gluons in the first microseconds after the Big Bang, through the formation of protons and neutrons beginning the evolution of the chemical elements, to the awesome power of supernovae, the physics of nuclei is fundamental to our understanding of the universe [1] [2].
Quantum Horizons:
QIS Research and Innovation for Nuclear Science is a new initiative to identify, prioritize, and coordinate emerging opportunities in both fundamental research and use-inspired challenges at the interface of NP and QIST.
NP's Quantum Horizons program emphasizes the science-first approach and is informed by the results of NP community research workshops "Opportunities for Nuclear Physics & Quantum Information Science" [3] and "Quantum Computing for Theoretical Nuclear Physics" [4] and the "National Strategic Overview for Quantum Information Science" [5], the Interagency Working Group on Quantum Information Science [6] and the Nuclear Physics and Quantum Information Science report by the Nuclear Science Advisory Committee (NSAC) [7].