BER supports fundamental, interdisciplinary research to achieve a predictive systems-level understanding of Earth, environmental and biological systems.
The overarching goals of the BER Program are to solve critical challenges in energy security and environmental stewardship.
As part of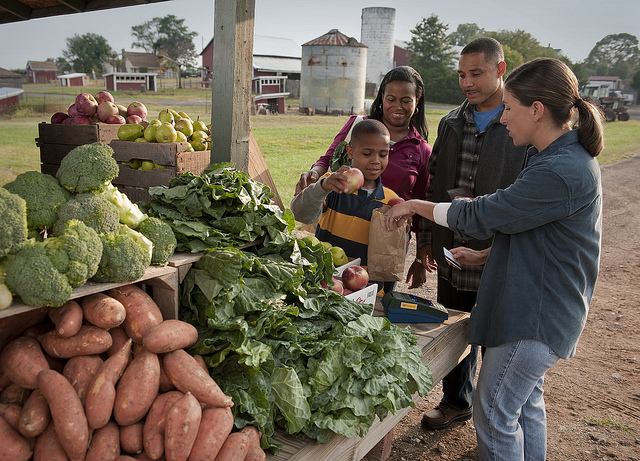 credit: USDAgov on Flickr
its mission, BER invests in crosscutting technologies and programs to enable multi-scale, systems-level research to achieve a predictive understanding of systems biology, biological community function, and environmental behavior.
The GSP supports research in genome biology as it relates to Bioenergy, Biosystems Design, and Environmental Microbiome Research.
These three program pillars are tightly integrated across a portfolio of research projects on bioenergy, biosystems design, synthetic biology, microbiome science, sustainability, computational biology, and related topics that seeks to catalyze omics-enabled discoveries about the functional characteristics of cells, organisms, and whole biological systems.
Supported research aims to enhance the nation's energy and environmental security, and to promote basic research in the environmental and biological sciences in support of DOE's mission.
This FOA is released as part of BSSD's Environmental Microbiome Research program element.
The GSP seeks to understand microbial interactions in natural environments and how such interactions are shaped by environmental change.
Understanding community responses to environmental perturbations and long-term change represents an important frontier for efforts to predict ecosystem behavior at different scales.
BSSD aims at enabling such predictions by discovering how organisms and community behavior can be understood by leveraging omic-based information.
In addition, many environmental microbes harbor genetic potential with relevance to bioenergy and bio-design, and a fundamental understanding of their environmental genomics is likely to have broader impacts across DOE's mission space.
More specifically, this FOA will support projects that enhance our ability to understand microbial interactions dynamically and predictively.
Research should facilitate realistic recapitulations of microbial ecosystems that move beyond the characterization of microbial and genetic diversity.
Of particular interest are projects that will provide insights into microbial processes that enhance the long-term storage of carbon in soils, thereby leading to net carbon removal from the atmosphere.