The goal of U. S. assistance is to help create a peaceful, prosperous, and secure future for the people of Malawi.
Economic growth is essential to that goal and Malawi can reach its potential through education, entrepreneurship, and the creation of opportunities for investment and trade.
This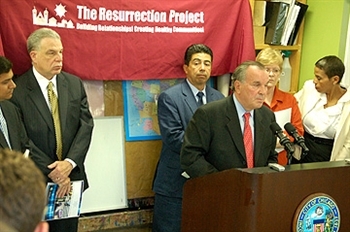 credit: LISC Chicago
program seeks to fund small projects that will expand opportunities for education and marketable job skills.
It will also support the creation or expansion of community business endeavors.
The program is structured to encourage communities to be self-reliant and undertake similar activities on their own in the future.
All projects are community-based, initiated locally, administered at the local level, and include significant community contributions in cash, labor, or materials.
Over the past 50 years, the SSH fund has disbursed over $6 million to 1,463 projects covering all 28 Districts in Malawi.
Projects funded have included classroom blocks, under-five clinics, school libraries, girls' hostels, installation of biogas digesters, eco-stove production, agricultural commercialization, and provision of clean and safe drinking water through boreholes and shallow wells.
Program Objectives:
Objective:
Develop innovative small business endeavors, especially to expand or add value to agricultural production.
Expand access to foundational education, with an emphasis on marginalized and vulnerable populations.
Create or expand educational opportunities for job skills needed in Malawi's private and public sectors.
4. Develop entrepreneurial skills and knowledge, especially to increase profitability of agricultural production.
Expected Results An increase of knowledge, skills, and opportunity that will allow the community to be more self-reliant.
Main Activities To achieve the goals and expected results, the program could include the following:
Development of small to medium size business enterprises (agricultural, horticultural, aquaculture, and extractives) through agricultural value addition.
Construction of hostels, libraries, lavatories, space for vocational activities, or provision of clean water to expand childhood educational opportunity.
Job skills training, or tools/equipment purchase related to specific business and employment opportunities.
Entrepreneurship and business management training.
Other unique and innovative projects.