The U. S. Speaker and Specialist Program Office at the U. S. Embassy Moscow, Russia invites U. S. non-profit/non-governmental organizations to submit proposals to administer the logistical aspects of its program.
Demonstrated expertise in administering financial and logistical arrangements similar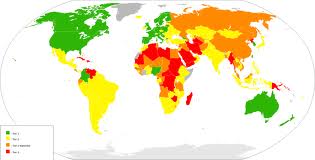 credit: Wikipedia
to those involved in the speaker program will be considered favorably.
The Embassy will have approximately $200,000 available to award in a single grant.
The U. S. Embassy in Moscow, Russia, through the U. S. Speaker and Specialist Program, recruits American experts to travel to Russia to engage audiences through lectures, workshops, and seminars; appearances in foreign media; and in a consultant capacity.
The speaker program proactively promotes understanding of U. S. foreign policy on topics identified by the Embassy and its partner organizations.
Speaker Program expenditures are dispersed through small grants issued to the individual speakers by the administering NGO/Grantee on behalf of the Embassy, in addition to processing vendor payments for travel expenses, interpreters, or other items.
The administering Grantee will maintain current accounting records of funds already dispersed and remaining available under this grant, and will provide updates to the speakers program office upon request.
Description of Responsibilities The cost of each speaker's program varies, depending on the price of the ticket, length of the program, in-country travel, cost of interpretation, etc.
The U. S. Embassy in Moscow, and the U. S. Consulates in St.
Petersburg, Yekaterinburg and Vladivostok together host between two and ten speakers a month.
The length of speaker's program varies between two days and two weeks.
Administering the speaker program involves the following responsibilities:
The Speaker Program Office will send an approved speaker request and budget to the administering Grantee for processing.
The Grantee's financial specialist(s) shall:
-- contact the speaker to get all the necessary information for the grant (i.e.
personal and bank information, etc.); -- prepare a grant covering the speaker's honorarium, hotel and miscellaneous expenses (based on the budget received from the Speaker Program Office) and transfer the money to the speaker; After the speaker's program is completed, the administering Grantee will:
-- make arrangements to pay local interpreter(s), drivers, etc., as needed, in compliance with local laws; -- prepare a financial report for the speaker; -- if necessary, make an amendment to the grant based on actual costs; -- if necessary, contact the speaker and ask him/her to return any unused portion of his/her grant; and -- update the remaining balance available under the grant.
The administering Grantee charge for its administrative fee will be paid from the overall sum of the grant (USD 200,000).