This notice announces the availability of funds and solicits proposals to support training, technical assistance, research and studies that will support the participation of tribal co-regulators in the formulation of federal/tribal environmental policies in Indian country on EPA's Office of Solid Waste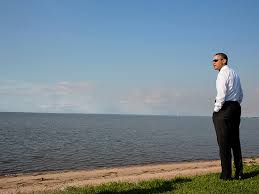 credit: White House Flickr
and Emergency Response (OSWER) related tribal programs.
The recipient will conduct two separate projects that will promote discussion, collaboration and partnership among tribes and federal agency representatives.
Project One will fund training, technical assistance, research and studies that will support the participation of tribal co-regulators, conducted within a "tribal framework" (i.e., a structure such as a council or workgroup composed of tribal co-regulators), to assist in promoting preservation and restoration of lands in Indian country, and addressing policy analysis needs of tribes at the national level.
Funds awarded under Project Two will be used to conduct research on hazardous substance policy and technical issues in Indian country.