The Saginaw Bay to Western Lake Erie Coastal Wetland Initiative (Initiative) is a voluntary-based, collaborative program that provides financial assistance to coastal communities and landowners to restore and protect fish and wildlife habitat on public and private lands.
Funded through the Great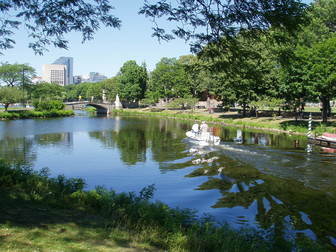 credit: From Wikipedia
Lakes Restoration Initiative (GLRI), the Saginaw Bay to Western Lake Erie Coastal Wetland Initiative is focused on promoting on-the-ground restoration, enhancement, and protection of priority coastal wetlands.
Funding is available for proposed on-the-ground projects within the U. S. portion of the Great Lakes basin in the Saginaw Bay to Western Lake Erie coastal corridor.
The specific geography includes the coastal areas associated with Saginaw Bay (Michigan) in Lake Huron south and east to Old Woman Creek (Ohio) in Western Lake Erie.
This Initiative is part of a regional federal, state, and local partnership effort called the Coastal Conservation Working Group (CCWG) which is focused on coastal wetland conservation across the Great Lakes
---
---
---
---
Obtain Full Opportunity Text:
https://www.grants.gov/
Additional Information of Eligibility:
• All eligible applicants must be community-or faith-based organizations with IRS 501(c)(3) non-profit status, including women's and minority organizations; state or local governments; or any Indian and Native American entity eligible for grants under section 166 of the Workforce Innovation and Opportunity Act (WIOA).
• Eligible applicants may be rural or urban-serving organizations.
For purposes of this FOA, a rural area is any U. S. Census bureau tract that is neither an urbanized area nor an urban cluster, as defined by the U. S. Census Bureau.
The Census Bureau defines urban areas as places of 2,500 or more persons incorporated in cities, villages, boroughs (except in Alaska and New York), and towns (except in the six New England States, New York, and Wisconsin), but excluding the rural portion of "extended cities." Applicants may include current or former DOL grantees; new applicants that have not received previous DOL grants are also encouraged to apply.
Eligible applicants must indicate if they are applying as either an intermediary organization (for the purpose of this Announcement, intermediary organizations are defined as organizations that have an affiliate network or offices in at least three communities and across at least two states) or as a non-intermediary organization (for the purpose of the Announcement, non-intermediary organizations are those with single sites or multiple sites within one state) in their application.
Applicants must then select their target population.
Applicants may propose to serve either adults (ages 25 or older who have been incarcerated in the adult criminal justice system and released from prison or jail within 180 days of enrollment.) or young adults (ages 18-24 who have been involved in the juvenile or adult justice system, including high school dropouts) but may not serve both in the same program.
Applicants may submit up to two (2) applications in response to this FOA, a maximum of one (1) to serve adults and one (1) to serve young adults.
Full Opportunity Web Address:
https://www.grants.gov/
Contact:
Agency Email Description:
Coastal Program Coordinator
Agency Email:
Date Posted:
2018-04-04
Application Due Date:
Archive Date:
2018-06-05