The Service is the primary fish and wildlife conservation agency within the Executive Branch of the U. S. government, tasked with a diverse array of responsibilities related to conservation and societal valuation of public trust resources.
The Migratory Bird and Science Applications programs of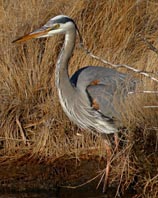 credit: Wikipedia
the Southeast Fish & Wildlife Service seek to maximize the conservation of birds and other trust resources by jointly working to maintain bird populations at prescribed levels, provide leadership in conservation and management of trust species and their habitats, manage data and information for use in decision making, and ensure the meaningful inclusion of multiple partners and stakeholders in landscape-scale planning and implementation of conservation actions
---
---
---
---
Obtain Full Opportunity Text:
http://www.grants.gov
Additional Information of Eligibility:
Proposal activities must be based within the Southeast Association of Fish and Wildlife Agencies geography (AL, AR, FL, GA, KY, LA, MO, MS, NC, OK, PR, SC, TN, TX, USVI, VA, WV).
Projects that extend into other parts of the U. S. or the Caribbean will be considered on a case-by-case basis.
Full Opportunity Web Address:
http://www.grants.gov
Contact:
Agency Email Description:
jerome_barksdale@fws.gov
Agency Email:
Date Posted:
2022-06-01
Application Due Date:
Archive Date:
2022-07-24