The overarching purpose of the HWRC Cooperative Agreement Program is to:
A.
Collect, analyze, and report health workforce program data to the National Center for Health Workforce Analysis and to the public; and B.
Provide technical assistance to local and regional entities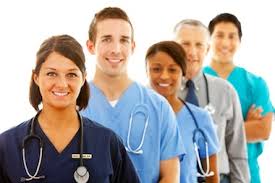 credit: gulfcoasthealthcare
on the collection, analysis, and reporting of health workforce data.
---
Relevant Nonprofit Program Categories
---
---
---
---
Obtain Full Opportunity Text:
http://www.grants.gov/
Additional Information of Eligibility:
An eligible applicant for the HWRC Cooperative Agreement Program is a State, a State workforce investment board, a public health or health professions school, an academic health center, or an appropriate public or private nonprofit entity.
 Faith-based and community-based organizations, Tribes, and tribal organizations may apply for these funds, if otherwise eligible.
 Foreign entities are not eligible for this award.
Full Opportunity Web Address:
http://www.grants.gov/
Contact:
Agency Email Description:
Contact Robin Streeter at (301)443-1304 or email Rstreeter@hrsa.gov
Agency Email:
Date Posted:
2018-01-12
Application Due Date:
Archive Date:
2018-06-11