Background:
BLM is mandated to manage paleontological resources using scientific principles and expertise.
Management includes monitoring and inventorying resources in the field, professionally collecting and documenting resources where warranted, providing professional curatorial services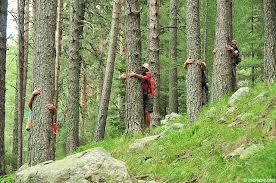 credit: Flickr
in museums, and other tasks that allow for effective resource management.
Objectives:
i.
To provide for the professional collection and documentation of paleontological resources in the field; ii.
To prepare specimens that have been collected but have not been prepped; iii.
To provide professional oversight to staff and volunteers to ensure work is completed in a professional manner and according to the highest museum standards; iv.
To enter curation data into the museumâ¿¿s curatorial system; v.
To Obtain curatorial-grade specimen storage containers and furniture to provide long-term conservation storage; vi.
To provide any other professional services that further the professional management of paleontological resources; vii.
To make records of BLM specimens available and accessible to BLM, qualified researchers, and the public, while protecting sensitive information in compliance with federal law and regulations.
Public Benefit:
The non-renewable paleontological resources managed by BLM for the American people will be professionally collected, stored, and managed for the maximum public benefit through research, exhibition, and public education.