The objective of the NOAA Coastal Resilience Grants program, jointly administered by NOAA's National Ocean Service and National Marine Fisheries Service, is to implement projects that build resilient U. S. coastal communities, economies and ecosystems.
Resilience is the ability to prepare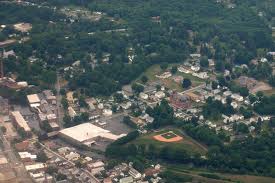 credit: Flickr photo by Rob Colonna
and plan for, absorb, recover from, and successfully adapt.
This program is intended to build resilience by reducing the risk to coastal communities, economies and ecosystems from extreme weather events and climate-related hazards.
Projects that build resilience include activities that protect life and property, safeguard people and infrastructure, strengthen the economy, and/or conserve and restore coastal and marine resources.The NOAA Coastal Resilience Grants Program will support two categories of activities:
1) Strengthening Coastal Communities:
activities that improve capacity of multiple coastal jurisdictions (states, counties, municipalities, territories and tribes) to prepare and plan for, absorb impacts of, recover from, and/or adapt to extreme weather events and climate-related hazards; or2) Habitat Restoration:
activities that restore habitat to strengthen the resilience of coastal ecosystems and decrease the vulnerability of coastal communities to extreme weather events and climate-related hazards.Proposals focused on improving capacity of multiple coastal jurisdictions should identify and describe how the project will address:
1) the vulnerability, issue(s) or problem limiting the resilience of coastal jurisdictions to be addressed, 2) the proposed project's expected outcomes and the actions to be undertaken, and 3) how the proposed actions will enhance resilience within the jurisdictions expected to benefit from the project.
---
Relevant Nonprofit Program Categories
---
---
---
---
Obtain Full Opportunity Text:
CIG National Webpage
Additional Information of Eligibility:
Eligible applicants are regional organizations (see below for explanation), institutions of higher education, non-profit and for-profit organizations, U. S. territories and states, Native American tribes, and local governments as defined at 2 C.F.R.
200.64, which includes counties, municipalities, and cities.
To be eligible under this competition, applicants must conduct projects benefiting coastal communities in one or more of the following U. S. states and territories: Alabama, Alaska, American Samoa, California, Connecticut, Delaware, Florida, Georgia, Guam, Hawaii, Illinois, Indiana, Louisiana, Maine, Maryland, Massachusetts, Michigan, Minnesota, Mississippi, New Hampshire, New Jersey, New York, North Carolina, Northern Mariana Islands, Ohio, Oregon, Pennsylvania, Puerto Rico, Rhode Island, South Carolina, Texas, Virginia, Virgin Islands (U.S.), Washington, and Wisconsin.Applicants may conduct projects in the District of Columbia, however may only submit applications for the Habitat Restoration category, as authorized under the Magnuson-Stevens Fishery Conservation and Management Reauthorization Act, 16 U.S.C.
1891a and Endangered Species Act, 16 U.S.C.
1535.For the purpose of eligibility under this announcement, regional organizations are considered entities that operate at a multi-state, multi-county, or multi-city/town scale, such as regional ocean partnerships or councils of government, for example, provided that they may receive and expend Federal funds.
If a regional organization is not eligible to receive and expend Federal funds as a legal entity, the organization may partner with an eligible legal entity to apply for funding.
Tribal governments include all Native American tribal governments (both Federally-recognized tribes and those tribes that are not Federally-recognized).
For the purposes of this program, coastal areas are defined as those within coastal shoreline counties or coastal watershed counties.
Coastal shoreline counties are directly adjacent to the open ocean, major estuaries, or the Great Lakes.
Coastal watershed counties are located along inland rivers and streams with a significant impact on coastal and ocean resources.
Applications from individuals, federal agencies, or employees of federal agencies will not be considered.
Individuals and federal agencies are strongly encouraged to work with states, non-governmental organizations, municipal and county governments, and others that are eligible to apply.
Involvement of other federal agencies should be clearly described in the project proposal.
Foreign governments are not eligible to apply for funding under this announcement.
Full Opportunity Web Address:
Contact:
Agency Email Description:
Agency Email:
Lisa.S.Warr@noaa.gov
Date Posted:
2017-01-13
Application Due Date:
2017-03-17
Archive Date:
2017-04-14