The Dr. Nancy Foster Scholarship Program provides support for master's and doctoral studies in oceanography, marine biology, maritime archaeology, and all other science, engineering, social science, and resource management disciplines involving ocean and coastal areas, and particularly encourages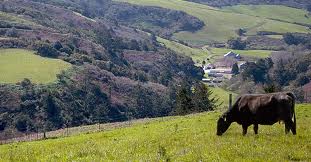 credit: leftcoastgrassfed
women and members of minority groups to apply.
Individuals who are U. S. citizens or permanent residents, or citizens of U. S. territories, and are applying to or have been accepted to a graduate program at a U. S. accredited institution, may apply.
Prospective scholars do not need to be enrolled in a graduate program at the time of application, but must be admitted to a graduate level program in order to be awarded this scholarship.
Scholarship selections are based on academic excellence, letters of recommendations, research and career goals, and financial need.
Applicants must have a cumulative 3. 3 grade point average to be eligible to apply and maintain a minimum cumulative and term grade point average of 3. 3 for every term and for the duration of their award.
Dr. Nancy Foster Scholarships may provide, subject to appropriations, yearly support of up to $42,000 per student (a 12-month stipend of $30,000 in addition to an education allowance of up to $12,000) and up to $10,000 of support for a 4-6 week program collaboration at a NOAA facility.
Completion of one (1) program collaboration is required for every doctoral scholarship award, with a second recommended, but not required.
For master's degree level scholars, completion of a program collaboration is strongly recommended, but is not required.
The Dr. Nancy Foster Scholarship funds cannot be used toward research costs.
Dr. Nancy Foster Scholarship Program recipients will be required to participate in a mandatory NOAA Orientation Training to meet with the NOAA Office of National Marine Sanctuaries staff at a date and location to be determined in the summer of 201 7. If scholarships have not been awarded before this training, recipients may be required to incur pre-award costs that will be reimbursed after award funds have been issued.
As a recipient of the Dr. Nancy Foster Scholarship Program, you become a recognized member of the NOAA community.
NOAA provides significant financial resources to help you pursue your independent graduate studies, as well as the staff expertise to assist you with your research along the way.
All Dr. Nancy Foster Scholarship Program recipients must put together an outreach product (e.g., video, infographic) that communicates their scientific research in a way that the average viewer can understand it and its importance.
Appropriate training in the creation of outreach products will be provided to all scholarship recipients.
The program collaboration opportunity is designed to allow scholars to participate in research or other activities for four to six weeks at a field office of the National Marine Sanctuary System, or other NOAA program offices.
Federal support for the program collaboration may be used toward allowable costs such as:
travel to and from the NOAA facility, housing, per diem, laboratory costs, research vessel support, and consumables while conducting research at the NOAA facility.
Scholars are required to provide their own health insurance coverage during the program collaboration.
More details on allowable costs can be found in 2 CFR part 200, Subpart E – Cost Principles.
If scholars choose to participate in a program collaboration during a specific year, they must notify the Program Officer by December of the academic year in which they intend to participate in the collaboration.
Approval from the NOAA Office of National Marine Sanctuaries is required prior to embarking on the program collaboration.
Additional information about the scholarship can be obtained in the full announcement text of the Federal Funding Opportunity.