PROGRAM DESCRIPTION The U. S. Embassy Suva of the U. S. Department of State announces an open competition for organizations to submit applications to carry out a program to conduct a series of virtual storytelling and filmmaking classes to multiple countries within the Pacific Island Region.
These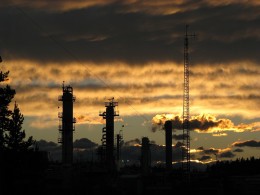 credit: Nautical9 via Flickr
classes will enable participants to chronical the effects of climate change in their communities and enhance their ability to advocate for the security, economic health, and long-term survival of their countries while raising greater regional and global awareness of the already severe impacts of climate change in the Pacific.
Please carefully follow all instructions below.
Priority Region: Pacific Island Countries, to include Fiji, Tonga, Tuvalu, Kiribati, Nauru.
Program Objectives:
Pacific Island Countries (PIC) are the most immediate victims of climate change.
Larger, industrialized countries can pledge to reduce emissions and offer climate change financing, but smaller island-nations cannot meaningfully do the same.
The PIC's best tools against global warming are the thousands of stories of how this threat uproots communities and disrupts livelihoods.
"My Climate Story" will offer virtual filmmaking and storytelling master classes to enable Pacific Islander youth to use their smart phone and tell how climate change affects them, adding a human element necessary to promote a sense of urgency on climate issues.
Posts' American Spaces in multiple Pacific Island countries can join other venues in hosting the virtual trainings and provide internet and computer access for editing of short films.
Towards the end of the project, participants will enter their films into an Embassy-sponsored showcase to both compete for prizes and broaden awareness of rising sea levels on a larger, international platform.
PIC leaders already recognize the region's advocacy power in the fight against climate change.
They are vocal participants at international climate summits, where they routinely cite climate change as an existential threat and the region's greatest security vulnerability.
"My Climate Story" expands this role to ordinary citizens, whose perspective is lost in higher level discussions, but is nonetheless essential to move global warming contributors to act.
Prospective applicants must submit a draft schedule of virtual sessions involving storytelling and filmmaking curriculum, to be conducted over an eight-week period.
The implementing organization will also be responsible for tracking and guiding participant progress through regular assignments and constructive feedback.
Sessions should focus on using smartphone technology for capturing and editing footage and crafting a compelling narrative.
Participants will likely not have access to sophisticated audiovisual equipment.
Participants and Audiences:
The grantee will recruit as many as ten participants per country to take part in the 8-week program, through a competitive application process, and U. S. Embassy Suva will approve the selected participants.
Selectees will show an interest in climate change issues and aptitude in social media and content creation.
FEDERAL AWARD INFORMATION Length of performance period:
Up to 1 year Number of awards anticipated:
1 award Award amounts:
awards may range from a minimum of $25,000 to a maximum of $30,000 Total available funding:
Up to $30,000 Type of Funding:
American Spaces Support Funds and Bureau of Oceans and International Environmental and Scientific Affairs (OES) Anticipated program start date:
October 2022 This notice is subject to availability of funding.
Program Performance Period:
Proposed programs should be completed in 6 months or less.
Cost sharing is encouraged, but not required.
Demonstrated cost sharing can earn a proposal additional points during the selection process, not to exceed 5% of the total maximum possible.
APPLICATION AND SUBMISSION INFORMATION Content of Application · The proposal clearly addresses the goals and objectives of this funding opportunity · All documents are in English · All budgets are in U. S. dollars · All pages are numbered · All documents are formatted to 8 ½ x 11 paper, and · All Microsoft Word documents are single-spaced, 12 point Times New Roman font, with a minimum of 1-inch margins.
Summary Page: Cover sheet stating the applicant name and organization, proposal date, program title, program period proposed start and end date, and brief purpose of the program.
Proposal (5 pages maximum): The proposal should contain sufficient information that anyone not familiar with it would understand exactly what the applicant wants to do.
You may use your own proposal format, but it must include all the items below.
· Proposal Summary:
Short narrative that outlines the proposed program, including program objectives and anticipated impact.
· Introduction to the Organization or Individual applying:
A description of past and present operations, showing ability to carry out the program, including information on all previous grants from the U. S. Embassy and/or U. S. government agencies.
· Program Activities:
Describe the program activities and how they will help achieve the objectives.
· Program Methods and Design:
A description of how the program is expected to work to solve the stated problem and achieve the goal.
Include a logic model as appropriate.
· Proposed Program Schedule and Timeline:
The proposed timeline for the program activities.
Include the dates, times, and locations of planned activities and events.
· Key Personnel: Names, titles, roles and experience/qualifications of key personnel involved in the program.
What proportion of their time will be used in support of this program? · Program Partners:
List the names and type of involvement of key partner organizations and sub-awardees.
· Program Monitoring and Evaluation Plan: This is an important part of successful grants.
Throughout the time-frame of the grant, how will the activities be monitored to ensure they are happening in a timely manner, and how will the program be evaluated to make sure it is meeting the goals of the grant? · Future Funding or Sustainability Applicant's plan for continuing the program beyond the grant period, or the availability of other resources, if applicable.
Budget Justification Narrative:
After filling out the SF-424A Budget (above), use a separate sheet of paper to describe each of the budget expenses in detail.
See section H.
Other Information:
Guidelines for Budget Submissions below for further information.
Attachments:
· 1-page CV or resume of key personnel who are proposed for the program · Letters of support from program partners describing the roles and responsibilities of each partner · Official permission letters, if required for program activities Submission Dates and Times:
Applications are due no later than August 12, 2022 Funding Restrictions:
None Other Submission Requirements:
All application materials must be submitted by email to PDSuva@state.gov.
APPLICATION REVIEW INFORMATION Each application will be evaluated and rated on the basis of the evaluation criteria outlined below.
Quality and Feasibility of the Program Idea – 25 points:
The program idea is well developed, with detail about how program activities will be carried out.
The proposal includes a reasonable implementation timeline.
Organizational Capacity and Record on Previous Grants – 25 points:
The organization has expertise in its stated field and has the internal controls in place to manage federal funds.
This includes a financial management system and a bank account.
Program Planning/Ability to Achieve Objectives – 15 points:
Goals and objectives are clearly stated and program approach is likely to provide maximum impact in achieving the proposed results.
Budget – 10 points:
The budget justification is detailed.
Costs are reasonable in relation to the proposed activities and anticipated results.
The budget is realistic, accounting for all necessary expenses to achieve proposed activities.
Monitoring and evaluation plan – 15 points:
Applicant demonstrates it is able to measure program success against key indicators and provides milestones to indicate progress toward goals outlined in the proposal.
The program includes output and outcome indicators, and shows how and when those will be measured.
Sustainability – 10 points:
Program activities will continue to have positive impact after the end of the program.
Cost Share – 5 bonus points:
Cost share is not required, but proposals with a cost share element can earn up to five bonus points beyond the 100 points allotted in the other criteria.
Review and Selection Process:
A Grants Review Committee will evaluate all eligible applications.
FEDERAL AWARD ADMINISTRATION INFORMATION Federal Award Notices:
The grant award or cooperative agreement will be written, signed, awarded, and administered by the Grants Officer.
The assistance award agreement is the authorizing document and it will be provided to the recipient for review and signature by email.
The recipient may only start incurring program expenses beginning on the start date shown on the grant award document signed by the Grants Officer.
If a proposal is selected for funding, the Department of State has no obligation to provide any additional future funding.
Renewal of an award to increase funding or extend the period of performance is at the discretion of the Department of State.
Issuance of this NOFO does not constitute an award commitment on the part of the U. S. government, nor does it commit the U. S. government to pay for costs incurred in the preparation and submission of proposals.
Further, the U. S. government reserves the right to reject any or all proposals received.
Payment Method:
Payments will be disbursed electronically.
Administrative and National Policy Requirements Terms and Conditions:
Before submitting an application, applicants should review all the terms and conditions and required certifications which will apply to this award, to ensure that they will be able to comply.
These include:
2 CFR 200, 2 CFR 600, and the Department of State Standard Terms and Conditions which are available at:
https://www.state.gov/about-us-office-of-the-procurement-executive/.
Note the U.S Flag branding and marking requirements in the Standard Terms and Conditions.
Reporting Requirements:
Recipients will be required to submit financial reports and program reports in the middle of the period of performance and upon conclusion of the project.
The award document will specify how often these reports must be submitted.
FEDERAL AWARDING AGENCY CONTACTS If you have any questions about the grant application process, please contact:  PDSuva@state.gov.
OTHER INFORMATION Guidelines for Budget Justification Personnel and Fringe Benefits:
Describe the wages, salaries, and benefits of temporary or permanent staff who will be working directly for the applicant on the program, and the percentage of their time that will be spent on the program.
Travel:
Estimate the costs of travel and per diem for this program, for program staff, consultants or speakers, and participants/beneficiaries.
If the program involves international travel, include a brief statement of justification for that travel.
Equipment:
Describe any machinery, furniture, or other personal property that is required for the program, which has a useful life of more than one year (or a life longer than the duration of the program), and costs at least $5,000 per unit.
Supplies:
List and describe all the items and materials, including any computer devices, that are needed for the program.
If an item costs more than $5,000 per unit, then put it in the budget under Equipment.
Contractual:
Describe goods and services that the applicant plans to acquire through a contract with a vendor.
Also describe any sub-awards to non-profit partners that will help carry out the program activities.
Other Direct Costs:
Describe other costs directly associated with the program, which do not fit in the other categories.
For example, shipping costs for materials and equipment or applicable taxes.
All "Other" or "Miscellaneous" expenses must be itemized and explained.
Indirect Costs:
These are costs that cannot be linked directly to the program activities, such as overhead costs needed to help keep the organization operating.
"Cost Sharing" refers to contributions from the organization or other entities other than the U. S. Embassy.
It also includes in-kind contributions such as volunteers' time and donated venues.
Alcoholic Beverages:
Please note that award funds cannot be used for alcoholic beverages.