The purpose of this funding opportunity is for investigators and institutions impacted by Hurricane Sandy and with active NIH grants to request:
1) a 24-month extension of the current budget period, with 12-months of funding at the same funding level as the current year of the grant; and/or, 2a)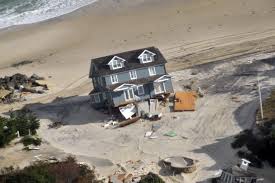 credit: Wikimedia Commons
one-time administrative supplements of up to $50,000 in direct costs (excluding consortium F&A costs) to replace lost and/or damaged research resources; and/or 2b) up to $100,000 to replace a single item of equipment so long as that request is accompanied by well-documented support for the need to replace that item of equipment.
Applicable F&A costs should also be requested.
---
---
---
---
Obtain Full Opportunity Text:
http://grants.nih.gov/grants/guide/rfa-files/RFA-OD-13-199.html
Additional Information of Eligibility:
Other Eligible Applicants include the following: Eligibility is limited to research institutions located in the FEMA declared major disaster states, which are: Connecticut, Delaware, Maryland, Massachusetts, New Hampshire, New Jersey, New York, Ohio, Pennsylvania, Rhode Island, Virginia, West Virginia, and the District of Columbia.
Applicants should first assess the impact of Sandy on a particular project, including time lost and the additional work necessary to restore the project in order to address the approved aims and objectives.
Grantees will need to wait until after such an assessment has been completed before applying.
IMPORTANT: The research proposed by the NIH grantee in the supplement application must be within the original scope of the NIH-supported grant project.
However, for the funded extension option, additional time can be requested.
Non-domestic (non-U.S.) Entities (Foreign Institutions) are not eligible to apply.
Full Opportunity Web Address:
http://grants.nih.gov/grants/guide/rfa-files/RFA-OD-13-199.html
Contact:
NIH OER WebmasterFBOWebmaster@OD.NIH.GOV
Agency Email Description:
If you have any problems linking to this funding announcement, please contact the NIH OER Webmaster
Agency Email:
FBOWebmaster@OD.NIH.GOV
Date Posted:
2013-04-15
Application Due Date:
2013-09-27
Archive Date:
2013-10-27