The Circles of Support and Accountability initiative emerged in Canada in the 1990s as a community-based, restorative justice movement that "focuses on the need to engage the community in the reintegration process." In FY 2012, the SMART Office selected two project sites, Durham, North Carolina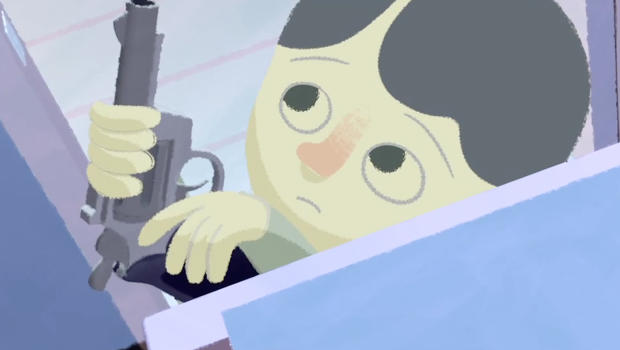 credit: creativity-online
and Multnomah County, Oregon, and a training and technical assistance provider to support its Promoting Evidence Integration in Sex Offender Management:
Circles of Support and Accountability (COSA) program.
COSA projects are now underway or in progress in California, Colorado, Minnesota, Nebraska, North Carolina, Oregon, Pennsylvania, Washington, and Vermont.The COSA model fills a gap in services for some offenders left by criminal justice policy; essentially, those at highest risk of re-offense who are being released at the end of their sentences without a formal process of aftercare.
COSA programs were created, in part, to address the threat perceived by communities that sex offenders pose when they return from prison.
COSA enlists volunteers from the community to aid in the management of sex offenders.
COSA typically targets male offenders who have a long history of offending, failure in treatment, antisocial values and attitudes, are at high-risk for reoffending (for new sex or other offenses), and held until the end of their prison sentence and released with no probation or parole supervision.
Each Circle consists of a Core Member (the sex offender) and four to six community volunteers.
A COSA volunteer meets with the Core Member daily and the Circle meets once a week.
The key to the program is "a relationship scheme based on friendship and accountability for behavior." COSA programs have been initiated and implemented by faith-based organizations, community volunteer groups, and as an adjunct to criminal justice community corrections programs.
The COSA model has an underlying philosophy of restorative justice, in that it focuses on the needs of the victim and offender and involves the community in resolving issues.
In this respect, COSA appears to be a natural fit for Indian Country.
The First Nations in Canada and American Indians/Alaska Natives in the United States have had a strong influence on the North American restorative justice movement.
The holistic philosophy of the Nations and Tribes involves a circle of justice that connects everyone involved with a problem or conflict, with everyone focused on a common center.
In approaching a conflict or problem, all contributing factors are examined to address the underlying issues that precipitated the problem, and everyone affected by a problem participates in the process.
In this process, justice also means setting an action plan for how the wrongdoer and victim can proceed on a path of healing, both spiritual and physical.
An example of restorative justice that is both process and community centered—and one resembling COSA programs in non-tribal/native communities—is the Community Holistic Circle Healing (CHCH) project of the Hollow Water First Nation in Manitoba, Canada.
CHCH staff are involved in the entire healing process; a process that is based on traditional teachings that create the foundation for the Circle.
CHCH uses a contract that requires everyone affected by a crime to take responsibility for keeping a compassionate yet watchful eye on the offender, be supportive of the victim, and bring about changes to their relationships that will minimize the risk of future abuse.
The premise behind this healing and accountability process is that every individual is a whole being, not just a victim, an abuser, or a bystander with no role to play.
This response encourages the entire community affected by the abuse to be involved in changing the norms that allow and even promote abuse.
The spiritual core of CHCH requires the involvement of victims, abusers and their respective families, and focuses on the community affected by the abuse.
A successful CHCH helps to reestablish a spiritual, physical, emotional and intellectual balance that benefits the impacted individuals and addresses the needs of the entire community.A ten-year evaluation of the CHCH program captured its success in preventing sex offender recidivism.
Of the 107 individuals who had participated in the program, only two reoffended.
Goals, Objectives, and DeliverablesThe purpose of this project is to support the development of COSA-type initiatives in tribal communities.
That is, a holistic healing program working in tandem with professionals consisting of tribal community volunteers, a sex offender (Core Member), and trained professionals (Outer Circle).
Additionally, there is a need to provide descriptive information for those Indian Country sites providing services to sex offenders based on the COSA model.
This information will improve the field's understanding of the programmatic, service, and policy needs of sex offenders when released in to tribal communities.
Tribal jurisdictions may apply and must agree to work with a SMART Office designated technical assistance provider to ensure adaptation of the COSA model to the specific tribal community, implementation fidelity, and proper training of community volunteers.
Specific information on COSA volunteer training is available at http://www.csc-scc.gc.ca/002/008/002008-3000-eng.shtml.
Sites will be selected for SMART Office funding based upon their responses to the Selection Criteria listed on page 22 and their commitment to:
• Building knowledge and new evidence.
• Implementing a COSA program adapted to the tribal jurisdiction's traditions.
• Participating in an evaluation at a later date (subject to availability of funds).• Collecting program data.
• Working collaboratively with the SMART Office and the COSA training and technical assistance provider.Project plans must include a monitoring and evaluation plan for information collection and analysis.
Jurisdictions are encouraged to consider and include the following outcomes of interest in monitoring and evaluation plans:
• Descriptive information about the tribal community, including the justice process.
• Descriptive information about sex offenders in the jurisdiction, including those eligible for COSA.• Descriptive information about offenders and community members participating in COSAs.• Recidivism incidents (new charges for sexual, violent, and any criminal offenses, and returns to prison) and resolutions for offenders participating in the program.• Changes in offender criminal behavior, measured as pro-criminal attitudes or antisocial behavior, drug and alcohol use, and participation in sex offender treatment, substance abuse and mental health services.
• Positive changes in offender behavior (i.e., pro-social behaviors and attitudes).• Changes in the tribal community (including victims) as a result of program implementation (i.e., awareness of sexual offending behavior, healing processes, community involvement in the program, sexual violence prevention, and/or victim support).
Program cost effectiveness.A report will be the final deliverable for this project.
The report should contain, but not be limited to, descriptive information on the adaptations made to fit the cultural context of the tribal nation, number and types of volunteers trained, offender profiles (including demographics, risk/needs assessment information, treatment received, and a description of adjunct supervision), frequency of volunteer contacts with Core Members and Outer Circle professionals, a qualitative description of volunteer contacts, as well as any outcome information available (see above).