To implement Congressionally directed assistance for the purposes identified in the Department of Defense ("DoD") annual appropriations act.
The resulting assistance instruments support a variety of Congressional priorities.
DoD awards the appropriate assistance instruments for the Congressionally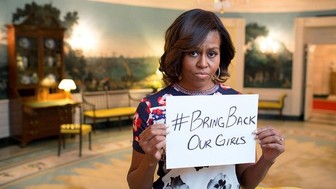 credit: Twitter/@Flotus/Associated Press via Mashable
identified purposes consistent with its authority, including applicable requirements for merit-based or competitive processes.
Examples of Funded Projects
Fiscal Year 2009: Congressionally identified assistance includes awards to organizations that traditionally support DoD families and activities (such as the American Red Cross and United Services Organization, the US Military Paralympics) and military museums, and military related educational institutions.

Fiscal Year 2010: Congressionally identified assistance includes awards to organizations such as Red Cross, US Military Paralympics, the Go for Broke Education Organization, National World War II Memorial, and other awards for military museums and military related educational organizations.

Fiscal Year 2011: This is dependent on Congressional direction stated in the annual Defense Appropriations Act.
---
Agency -
Department of Defense
The Department of Defense provides the military forces needed to deter war and protect the security of the United States through five major areas: peacekeeping and war-fighting efforts, Homeland Security, evacuation and humanitarian causes.
---
Relevant Nonprofit Program Categories
---
Couldn't resolve host 'www.usaspending.gov'