BIODIESEL
To educate governmental and private entities that operate vehicle fleets, other interested entities (as determined by the Secretary), and the public about the benefits of biodiesel fuel use.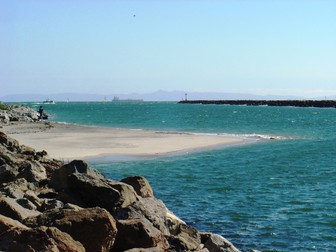 credit: Wikipedia
Examples of Funded Projects
America's Energy Future; National Biodiesel Fuel Education Program.
---
Agency -
Department of Agriculture
Established in 1862, the Department of Agriculture serves all Americans through anti-hunger efforts, stewardship of nearly 200 million acres of national forest and rangelands, and through product safety and conservation efforts. The USDA opens markets for American farmers and ranchers and provides food for needy people around the world.
---
Relevant Nonprofit Program Categories
---
Program Accomplishments
To increase the use of biodiesel fuel nationally, to provide information about the benefits of using biodiesel, to provide consistent information about technical issues related to biodiesel use.
Uses and Use Restrictions
This funding is used for education and outreach activities.

Program funds may not be used for renovation or refurbishment or research space; the purchase or installation of fixed equipment in such space; or the planning, repair, rehabilitation, acquisition or construction of buildings or facilities.
Eligibility Requirements
Applicant Eligibility
Eligibility is restricted to nonprofit organizations or institution of higher education (as defined in section 101 of the Higher Education Act of 1965 (20 U.S.C.

1001)).
Beneficiary Eligibility
Nonprofit organizations or institutions of higher education (as defined in section 101 of the Higher Education Act of 1965 (20 U.S.C. 1001)).
Credentials/Documentation
None.
Aplication and Award Process
Preapplication Coordination
All proposal solicitations are published on the Agency's Web site.

This program is excluded from coverage under E.O.

12372.
Application Procedures
Formal proposals are solicited and should be submitted to the Proposal Services Unit, Competitive Programs, CSREES, USDA, as outlined in the guidelines and/or requests for applications. Application procedures are contained in the guidelines or request for applications.
Award Procedures
Proposals are reviewed by a peer panel of qualified scientists and other appropriate persons who are specialists in the field covered by the proposal. Proposals are funded in order of merit to the extent permitted by available funds.
Deadlines
Specific deadline date is announced in the request for applications in the first fiscal year of the program.
Authorization
Section 9002, Public Law 107-171, 7 U.S.C. 8104.
Range of Approval/Disapproval Time
Notice of action taken on proposals will generally be within 90 days of final date of submission dateline.
Appeals
None.
Renewals
Awards are made as continuation grants, and subsequent annual funding is provided based on demonstrated progress.
Assistance Considerations
Formula and Matching Requirements
None.
Length and Time Phasing of Assistance
Same level of funding for five years.
Post Assistance Requirements
Reports
Quarterly progress reports; annual and summary reports submitted to the Current Research Information System.
Audits
Audits will be conducted in accordance with guidelines established in the revised OMB Circular No. A-133, "Audits of States, Local Governments, and Non-Profit Organizations," and implemented in 7 CFR Part 3052, "Audits of States, Local Governments, and Non-Profit Organizations."
Records
Grantees shall maintain separate records for each grant to ensure that funds are used for authorized purposes. Grant-related records must be retained at least three years; records must be retained beyond the three-year period if litigation is pending or audit findings have not been resolved.
Financial Information
Account Identification
12-1500-0-1-352.
Obigations
(Grants) FY 07 $960,000; FY 08 est $960,000; and FY 09 est not reported.
Range and Average of Financial Assistance
$190,000 and $770,000.
Regulations, Guidelines, and Literature
7 CFR Part 1, subpart A USDA implementation of the Freedom of Information Act. 7 CFR Part 3 USDA implementation of OMB Circular No. A 129 regarding debt collection. 7 CFR Part 15, subpart A USDA implementation of Title VI of the Civil Rights Act of 1964, as amended. 7 CFR Part 3015 USDA Uniform Federal Assistance Regulations, implementing OMB directives (i.e., OMB Circular Nos. A 21 and A 122) and incorporating provisions of 31 U.S.C. 6301 6308 (formerly the Federal Grant and Cooperative Agreement Act of 1977, Public Law 95-224), as well as general policy requirements applicable to recipients of Departmental financial assistance. 7 CFR Part 3017 USDA implementation of Government-wide Debarment and Suspension (Non-procurement) and Government-wide Requirements for Drug Free Workplace (Grants). 7 CFR Part 3018 USDA implementation of Restrictions on Lobbying. Imposes prohibitions and requirements for disclosure and certification related to lobbying on recipients of Federal contracts, grants, cooperative agreements, and loans. 7 CFR Part 3019 USDA implementation of OMB Circular A-110, Uniform Administrative Requirements for Grants and Other Agreements With Institutions of Higher Education, Hospitals, and Other Nonprofit Organizations. 7 CFR Part 3052 USDA implementation of OMB Circular No. A 133, Audits of States, Local Governments, and Non profit Organizations. 7 CFR Part 3407 CSREES procedures to implement the National Environmental Policy Act of 1969, as amended. 29 U.S.C. 794 (sec. 504, Rehabilitation Act of 1973) and 7 CFR Part 15b (USDA implementation of statute) prohibiting discrimination based upon physical or mental handicap in Federally assisted programs. 35 U.S.C. 200 et seq. Bayh Dole Act, controlling allocation of rights to inventions made by employees of small business firms and domestic nonprofit organizations, including universities, in Federally assisted programs (implementing regulations are contained in 37 CFR Part 401). FR Vol 68, No. 189, September 30, 2003, pages 56137-56143 (regulation); FR Vol. 68, No. 135, July 15, 2003, pages 41770-41777 (request for applications).
Information Contacts
Regional or Local Office
None.
Headquarters Office
Plant and Animal Systems, 1400 Independence Avenue, SW; STOP 2220; Washington, DC 20250-2220; Telephone: (202) 401-5877.
Criteria for Selecting Proposals
Within guidelines established for the program, demonstrated knowledge of biodiesel fuel production, use, or distribution; and demonstrated ability to conduct educational and technical support programs; relevance of proposed project to current and future issues, reasonableness of the proposed project, and technical quality of the proposed project.