Central Valley Project Improvement (CVPI) Anadromous Fish Restoration Program (AFRP)
(a) To protect, restore, and enhance fish, wildlife, and associated habitats in the Central Valley and Trinity River basins of California; (b) To address impacts of the Central Valley Project on fish, wildlife and associated habitats; (c) To improve the operational flexibility of the Central Valley Project;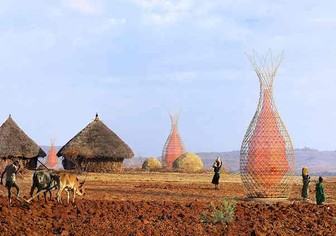 credit: c/o Softpedia News
(d) To increase water-related benefits provided by the Central Valley Project to the State of California through expanded use of voluntary water transfers and improved water conservation; (e) To contribute to the State of California's interim and long-term efforts to protect the San Francisco Bay/Sacramento-San Joaquin Delta Estuary; (f) To achieve a reasonable balance among competing demands for use of Central Valley Project water, including the requirements of fish and wildlife, agricultural, municipal and industrial and power contractors.
Related ProgramsExamples of Funded Projects
Restoration action on Butte and Big Chico Creeks for spring-run salmon; Evaluate the distribution and relationship of resident and anadromous life history types of rainbow trout in the Central Valley; Comprehensive assessment of genetic population structure/diversity of Central Valley salmon; Lower Calaveras River Chinook salmon and steelhead life history limiting factors analysis; Cosumnes River salmonid barrier program.
---
Agency -
Department of the Interior
The Department of the Interior protects and provides access to the Nation's natural and cultural heritage, including responsibilities to Indian tribes and island communities. Departmental goals include resource protection and usage, overseeing recreational opportunities, serving communities and excellence in management.
Office - Potential applicants may contact the local office at: Anadromous Fish Restoration Program Stockton Fish and Wildlife Service Office 4001 N.

Wilson Way, Stockton, California 95205.

Telephone: (209) 946-6400, Fax (209) 946-6355.
---
Relevant Nonprofit Program Categories
---
Program Accomplishments
Since 1995, the Anadromous Fish and Restoration Program (AFRP) within the Central Valley Project Improvement Act, has been pursuing program objectives by helping to design, fund and manage restoration actions, technical evaluations, and monitoring activities that focus on solving or better understanding a wide variety of problems faced by wild anadromous fish populations at all stages of their life cycles. Many of these projects stem directly from the list of proposed actions developed during the AFRP planning process; others have developed in response to new ideas proposed by a variety of program partners. AFRP-funded projects to improve habitat have included removal of artificial barriers to migration, installing or upgrading fish ladders, expanding and/or improving the quality of spawning grounds, improving salmon rearing and riparian habitat, developing and nurturing educational programs, investigating salmonid natural history, and acquiring permanent easements in floodplains and riparian corridors. To ensure project effectiveness, all projects include a monitoring component to document pre- and post- project conditions.
Uses and Use Restrictions
Funds may be used for research to improve management and increase Anadromous fish resources; spawning area improvement; installation of fish passages; construction of fish protection devices, and data collection.
Eligibility Requirements
Applicant Eligibility
Applicants may be State, local governments, Native American Organizations, other public nonprofit institutions/organizations, private nonprofit/organization.

No other Federal agency may apply.
Beneficiary Eligibility
General public.
Credentials/Documentation
None other than completion of the Standard Form 424 set.
Aplication and Award Process
Preapplication Coordination
None.

This program is excluded from coverage under E.O.

12372.
Application Procedures
The application should include the project proposal and be submitted through Grants.gov. The proposal contains the narrative description and budgetary information of the project. Only information that is pertinent to the project should be included. The project proposal should also indicate whether partial funding of the project is practicable, and, if so, what specific portion(s) of the project could be implemented with what level of funding. A project proposal that is part of a longer term initiative will be considered, however, the proposed project's objectives, benefits, and tasks must stand on their own, as there are no assurances that additional funding would be awarded in subsequent years for associated or complementary projects. An incomplete proposal will not be considered for funding.
Award Procedures
The successful applicant will be notified after selection and confirmation of available funding. An applicant should not initiate a project in expectation of USFWS funding, nor should they purchase materials or begin work until such time as they receive the final award document signed by an authorized Service official.
Deadlines
The deadline will be publicized within the grants.gov announcement.
Authorization
Central Valley Project Improvement Act, Title 34, Public Law 102-575; Federal Grant and Cooperative Agreement Act, Public Law 97-258, 31 U.S.C. 6301-6308.
Range of Approval/Disapproval Time
Awards are anticipated within 90 days or less.
Appeals
None.
Renewals
Not applicable.
Assistance Considerations
Formula and Matching Requirements
The matching requirement is based on the project. For specific information see the Central Valley Project Improvement Act, Section 3406 Fish, Wildlife and Habitat Restoration.
Length and Time Phasing of Assistance
Project awards are generally from one to five years, depending on the complexity of the project and availability of funds. The five year restriction on the length of time is due to the Period of Availability of Funds limited to the five (5) year rule.
Post Assistance Requirements
Reports
The successful applicant shall submit a written progress report on the project on a quarterly basis in Adobe PDF or Microsoft Word format presenting the activities that occurred and provide a description of the project accomplishments during each quarter of the calendar year beginning with the quarter covering October through December.

The reports shall be submitted within 30 days following the end of each quarter.

Draft final performance reports are due no later than 60 days after completion of the project.

Final reports will be due 30 days after receipt of the program comments on the draft report.

The successful applicant shall submit, within 90 calendar days of completion of the project, a final financial report.

The successful applicant shall account for any real and personal property acquired with Federal funds or received from the Federal Government according to requirements of regulations referenced in the award.

The final report will be provided in hardcopy using Adobe PDF or Microsoft Word format, and also an electronic copy.
Audits
In accordance with the provisions of OMB Circular No. A- 133 (Revised, June 27, 2003), "Audits of States, Local Governments, and Nonprofit Organizations," nonfederal entities that expend financial assistance ($500,000 for fiscal years ending after Dec.1, 2003) or more a year in Federal awards will have a single or a program specific audit conducted for that year. Nonfederal entities that expend less than ($500,000 for fiscal years ending after Dec.1, 2003) a year in Federal awards are exempt from Federal audit requirements for that year, except as noted in Circular No. A-133.
Records
Records are required to be maintained for three years following submission of the final expenditure report.
Financial Information
Account Identification
14-1611-0-1-302.
Obigations
FY 07 $8,754,544; FY 08 est not available; and FY 09 est not reported.
Range and Average of Financial Assistance
$152,335.
Regulations, Guidelines, and Literature
None.
Information Contacts
Regional or Local Office
Potential applicants may contact the local office at: Anadromous Fish Restoration Program Stockton Fish and Wildlife Service Office 4001 N. Wilson Way, Stockton, California 95205. Telephone: (209) 946-6400, Fax (209) 946-6355.
Headquarters Office
CNO- California Nevada Office, 2800 Cottage Way, Room W-2606, Sacramento, California 95825. Telephone (916) 414-6464.
Criteria for Selecting Proposals
Proposals will be reviewed by a team of Federal staff based on the following criteria: Addresses high priority need as described in the Request for Proposal (RFP) "Purposes and Funding Priorities"; Clearly stated goals, objectives, hypotheses, and relevance of idea; Approach is valid and technically sound; Primary Investigators and/or subcontractors record of performance and expertise; Budget is reasonable and provides good value for funds requested; and Cost sharing or in-kind contributions.