Assistance to State Water Resources Research Institutes
To provide financial support to Water Resources Research Institutes located at designated State universities in each of the 50 States, Puerto Rico, the District of Columbia, Guam, the Virgin Islands, American Samoa, the Commonwealth of the Northern Mariana Islands, and the Federated States of Micronesia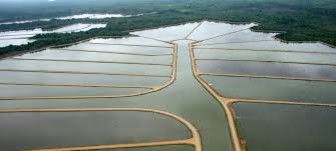 credit: eattilapia
for research, information transfer and student training on one or more aspects of priority water problems.
Examples of Funded Projects
Examples include: Model Development for Conjunctive Use Planning and Aquifer Protection in Semi-arid Regions; Assessing the Effectiveness of Local Water Institutions in Water Management; Characterizing sources and growth potential of indicator bacteria in cold region streams; Treatment of Nitrate in Groundwater with Autotrophic Bioreactors; Imperial Valley Agriculture and Water: A Regional Economic Analysis; Mechanisms and Modeling of Soft-Bed Nutrient Release in Lakes; The Flow Dimension of Groundwater Resources in Northeastern Illinois.

Descriptions of projects funded recently are provided on the Internet at http://water.usgs.gov/wrri/.
---
Agency -
Department of the Interior
The Department of the Interior protects and provides access to the Nation's natural and cultural heritage, including responsibilities to Indian tribes and island communities. Departmental goals include resource protection and usage, overseeing recreational opportunities, serving communities and excellence in management.
---
Relevant Nonprofit Program Categories
---
Program Accomplishments
In fiscal years 2007 and 2008, 54 applications were received and approved under the formula grant portion of the program. In fiscal year 2007, approximately 60 applications were received under the competitive grant portion of the program and 5 grants were awarded using FY 08 funds. Proposals were not sought under the competitive grant program in fiscal year 2008.
Uses and Use Restrictions
This is a mandatory grant program to provide the State institutes with funds to support a State and regional program of water resources research and information transfer.

This may include basic or applied research, setting up conferences to discuss research needs or results, conduct of research, information dissemination, and training of students as a byproduct of research.

In general the funds are used to study regional, State, or local water problems, but the results may often have national significance.

Federal funds cannot be used for (1) formal instructional activities and general education, and (2) the cost of permanent buildings, either directly or indirectly.