Assistance to State Water Resources Research Institutes
To provide financial support to Water Resources Research Institutes located at designated State universities in each of the 50 States, Puerto Rico, the District of Columbia, Guam, the Virgin Islands, American Samoa, the Commonwealth of the Northern Mariana Islands, and the Federated States of Micronesia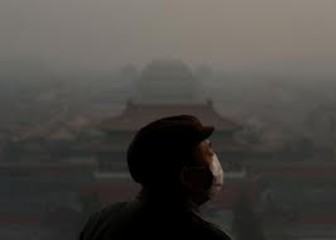 credit: ChinaFile
for research, information transfer and student training on one or more aspects of priority water problems.
Examples of Funded Projects
Examples include: Model Development for Conjunctive Use Planning and Aquifer Protection in Semi-arid Regions; Assessing the Effectiveness of Local Water Institutions in Water Management; Characterizing sources and growth potential of indicator bacteria in cold region streams; Treatment of Nitrate in Groundwater with Autotrophic Bioreactors; Imperial Valley Agriculture and Water: A Regional Economic Analysis; Mechanisms and Modeling of Soft-Bed Nutrient Release in Lakes; The Flow Dimension of Groundwater Resources in Northeastern Illinois.

Descriptions of projects funded recently are provided on the Internet at http://water.usgs.gov/wrri/.
---
Agency -
Department of the Interior
The Department of the Interior protects and provides access to the Nation's natural and cultural heritage, including responsibilities to Indian tribes and island communities. Departmental goals include resource protection and usage, overseeing recreational opportunities, serving communities and excellence in management.
---
Relevant Nonprofit Program Categories
---
Program Accomplishments
In fiscal years 2007 and 2008, 54 applications were received and approved under the formula grant portion of the program. In fiscal year 2007, approximately 60 applications were received under the competitive grant portion of the program and 5 grants were awarded using FY 08 funds. Proposals were not sought under the competitive grant program in fiscal year 2008.
Uses and Use Restrictions
This is a mandatory grant program to provide the State institutes with funds to support a State and regional program of water resources research and information transfer.

This may include basic or applied research, setting up conferences to discuss research needs or results, conduct of research, information dissemination, and training of students as a byproduct of research.

In general the funds are used to study regional, State, or local water problems, but the results may often have national significance.

Federal funds cannot be used for (1) formal instructional activities and general education, and (2) the cost of permanent buildings, either directly or indirectly.
Eligibility Requirements
Applicant Eligibility
One University Water Research Institute is authorized in each State and other jurisdictions specified in Section 104.

Other colleges and universities within a State are encouraged to participate in the program in cooperation with the designated institute.
Beneficiary Eligibility
Researchers at qualified universities and colleges in the State through the designated institute for the State.
Credentials/Documentation
Proposed Research and Information Transfer Program application responsive to instructions issued by the U.S. Geological Survey.
Aplication and Award Process
Preapplication Coordination
Requires each Institute to collaborate with State interests in defining research priorities and to coordinate with other institutes in region to avoid duplication of effort.

This program is excluded from coverage under E.O.

12372.
Application Procedures
This program is subject to the provisions of OMB Circular No. A-110 and the Department of the Interior regulations at 43 CFR Part 401, Subpart C. State institutes must submit proposed annual programs on the Internet at https://niwr.net, as required by the individual program announcement.
Award Procedures
Geological Survey approves or rejects, in part or as a whole, the program submitted by each State institute. The State institutes are notified of any amendments necessary to obtain Geological Survey approval.
Deadlines
For fiscal year 2009, applications under the formula grant portion must be filed on the Internet at https://niwr.net not later than January 15, 2009.
Authorization
Water Resources Research Act of 1984, Section 104, Public Law 98-242 as amended, 42 U.S.C. 10301 et seq.
Range of Approval/Disapproval Time
90 days.
Appeals
Deficiencies noted by the U.S. Geological Survey can normally be corrected by the State institutes.
Renewals
None.
Assistance Considerations
Formula and Matching Requirements
Amount to each State Water Research Institute under the formula grant is on a basis of one Federal share to not less than two nonfederal shares for fiscal year 2008.
Length and Time Phasing of Assistance
Assistance is on fiscal year basis. Payments are advanced at least quarterly upon application and consistent with Financial Plan submitted previously by institute for use of grant.
Post Assistance Requirements
Reports
Each State institute makes a final report on accomplishments with grant, including synopses of research projects.
Audits
Applicants agree to give the sponsoring agency, the Comptroller General or other authorized audit agency access to and the right to examine records related to the award. Awards to educational institutions and nonprofit organizations are subject to the audit requirements of OMB Circular No. A-110, or superseding regulations. In accordance with the provisions of OMB Circular No. A-133 (Revised, June 27, 2003), "Audits of States, Local Governments, and Non-Profit Organizations", nonfederal entities that receive financial assistance of $500,000 or more in Federal awards will have a single or a program-specific audit conducted for that year. Nonfederal entities that expend less than $500,000 or more in Federal awards are exempt from Federal audit requirements for that year, except as noted in Circular No. A-133.
Records
Directors of the State institutes are responsible for conduct of programs and maintaining books and records reflecting financial and technical transactions of the program. Records shall be retained and made available for audit for three years after allottee's last disbursement of funds.
Financial Information
Account Identification
14-0804-0-1-306.
Obigations
(Grants) FY 07 $5,171,000; FY 08 $5,985,179; and FY 09 est not available.
Range and Average of Financial Assistance
$92,335 to $277,005, $95,755 under the formula grant program; $61,312 to $242,508, $162,883 under the competitive grant program.
Regulations, Guidelines, and Literature
Rule, 30 CFR Part 401, 50 FR 27203, June 7, 1993; U.S. Geological Survey Request for Applications under the Water Resources Research Institute Grant Program (Section 104), Announcement 06HQPA0002, October 2007 at https://niwr.net.
Information Contacts
Regional or Local Office
None.
Headquarters Office
Department of the Interior, Geological Survey, MS 424 National Center, Reston, VA 20192. Contact: John Schefter, Chief, Office of External Research. Telephone: (703) 648-6800. Fax: (703) 648-5070. Email: schefter@usgs.gov.
Criteria for Selecting Proposals
Relevance to announced priorities, technical merit, prospect of attaining objectives in period specified and potential for student training.