Education Research, Development and Dissemination
To support the development and distribution of scientifically valid research, evaluation, and data collection that support learning and improve academic achievement.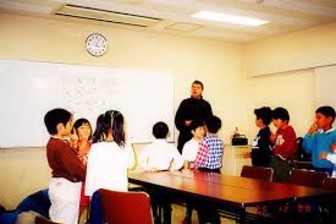 credit: Flickr
---
Agency -
Department of Education
The Department of Education ensures equal access to education and promotes educational excellence through coordination, management and accountability in Federal education programs. The Department works to supplement and complement educational efforts on all levels, encouraging increased involvement by the public, parents and students.
---
Relevant Nonprofit Program Categories
---
Program Accomplishments
The Institute collaborates with other universities and research organizations and works with public schools.
Uses and Use Restrictions
Grants will support basic and applied research, development, dissemination, evaluations, and demonstrations in education.
Eligibility Requirements
Applicant Eligibility
State education agencies, local education agencies, institutions of higher education, public and private agencies and organizations, institutions, and individuals or a consortium thereof may apply.
Beneficiary Eligibility
Institutions and individuals involved with education will benefit.
Credentials/Documentation
None.
Aplication and Award Process
Preapplication Coordination
This program is excluded from coverage under E.O.

12372.
Application Procedures
Standard Form 424, "Application for Federal Assistance," an application narrative, and required certifications must be submitted by the deadline specified in the Federal Register.
Award Procedures
Applications are reviewed by panels of field readers in accordance with 34 CFR 700, "Evaluation of Applications for Grants and Cooperative Agreements."
Deadlines
Contact the Program Office for application deadlines.
Authorization
Education Sciences Reform Act of 2002, Title I, Parts A, B and D, Secs. 133 and 172, 20 U.S.C. 9533, 9562.
Range of Approval/Disapproval Time
The range of approval/disapproval time is approximately 90 to 120 days following the application deadline.
Appeals
None.
Renewals
Renewals are based on the review of annual performance reports and the recommendation of the project officer. All renewals are subject to the availability of funds.
Assistance Considerations
Formula and Matching Requirements
None.
Length and Time Phasing of Assistance
Projects generally may be supported for 1 to 5 years. Funds are granted on a 12 month basis. All grantee obligations shall be liquidated within 90 days following the end of the award period. Payments may be made according to a predetermined schedule or by way of reimbursement.
Post Assistance Requirements
Reports
Annual financial and progress reports must be submitted as required by grant award terms and conditions.
Audits
All expenditures by State and local governments will be audited by the grantee or at the grantee's direction with reasonable frequency, usually once a year but not less then once every 2 years. Other recipients must also have audits conducted at least once every 2 years. The Secretary of Education, the Assistant Secretary, IES, and the Comptroller General of the United States, or any of their duly authorized representatives shall have access for the purpose of audit and examinations, to all applicable records and to any other pertinent books, documents, papers, and records of the grantee.
Records
Each grantee will keep intact, and accessible, records relating to the receipt and expenditure of Federal funds and the expenditures of the grantee's contribution to the cost of the project, if any. Records will normally be retained for 3 years after the date of the submission of the final expenditure report, or for grants that are reviewed annually, 3 years after the date of the award.
Financial Information
Account Identification
91-1100-0-1-503.
Obigations
(Grants) FY 07 $162,552,000; FY 08 est $159,696,000; and FY 09 est $167,196,000.
Range and Average of Financial Assistance
Not applicable because the range and average varies by competition.
Regulations, Guidelines, and Literature
For more information contact the program office.
Information Contacts
Regional or Local Office
None.
Headquarters Office
Institute of Education Sciences, Department of Education, 555 New Jersey Ave. N.W., Washington, DC 20202. Telephone: (202) 219-2079.
Criteria for Selecting Proposals
The criteria for selecting applications under this program are contained in 34 CFR 700, Evaluation of Applications for Grants and Cooperative Agreements. The specific criteria to be used for a particular grant competition are selected from among those in 34 CFR 700, and announced in the application package or the application notice in the Federal Register.