Tuberculosis Demonstration, Research, Public and Professional Education
To assist States, political subdivisions of States, and other public and nonprofit private entities in conducting research into prevention and control of tuberculosis nationally and internationally, especially in conducting demonstration projects for the prevention and control of tuberculosis; in providing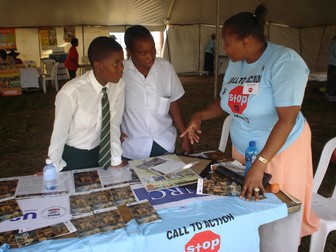 credit: From Wikipedia
public information and education programs for prevention and control of tuberculosis; and in developing education, training, and clinical skills improvement activities in the prevention and control of tuberculosis for health professionals, including allied health personnel.
Related ProgramsExamples of Funded Projects
A project to advance the goals toward TB elimination and a project to conduct conferences to assist in teaching targeted TB control programs about TB epidemiology.
---
Agency -
Department of Health and Human Services
The Department of Health and Human Services is the Federal government's principal agency for protecting the health of all Americans and providing essential human services, especially to those who are least able to help themselves.
---
Relevant Nonprofit Program Categories
---
Program Accomplishments
An award was made during fiscal year 2007 to an international organization to conduct joint conferences, to develop teaching materials and jointly conduct courses in TB epidemiology in developing countries and to conduct demonstration projects of TB control programs in countries of strategic interest to the United States. Another award was made to an international organization to expand efforts and strategies to prevent and control TB and TB/HIV and to implement activities to assist national governments, regional authorities, non-governmental organizations, private and public health care systems, donors and other intrested parters to develop, establish, and coordinate systems and procedures to strengthen TB and TB/HIV treatment and control efforts worldwide. An award was made to an international agency to conduct activities that will provide for long term follow up of patients on treatment for active TB, to study the mortality of TB in HIV infected patients and to assess the annual risk of infection. An award was also made during fiscal year 2007 to a domestic organization to maintain effective communication capacity among the nation's Tuberculosis Control officiels (TB Controllers) and TB nursing professionals. In fiscal year 2007, four awards were made. It is estimated that four awards will be made in fiscal year 2008 and four awards in fiscal year 2009.
Uses and Use Restrictions
Requests for direct assistance (i.e., "in lieu of cash") for personnel, equipment, and supplies directly related to project activities, particularly directly observed therapy, patient outreach, and program assessment will be considered.

Project funds may not be used to supplant State or local funds available for tuberculosis control or to support construction costs or inpatient care.
Eligibility Requirements
Applicant Eligibility
States, political subdivisions of States, and other public and nonprofit private entities.
Beneficiary Eligibility
States, political subdivisions of States, other public and nonprofit private entities, serving persons with TB infection and disease.
Credentials/Documentation
Applicants should document the need for assistance, state the objectives of the project, outline the method of operation, describe the evaluation procedures, and provide a budget with justification of funds requested. Costs will be determined in accordance with OMB Circular No. A-87 for State and local governments. For nonprofit recipients, costs will be determined in accordance with DHHS Regulations 45 CFR Part 74 Subpart Q.
Aplication and Award Process
Preapplication Coordination
Preapplication coordination is not required.

Applications are subject to E.O.

12372.

This program is eligible for coverage under E.O.

12372, "Intergovernmental Review of Federal Programs." An applicant should consult the office or officials designated as the single point of contact in his or her State for more information on the process the State requires to be followed in applying for assistance, if the State has selected the program for review.
Application Procedures
To apply for this funding opportunity, use application form PHS 398 (OMB number 0925-0001 rev. 5/2001). Forms and instructions are available in an interactive format on the CDC web site, at the following Internet address: www.cdc.gov/od/pgo/forminfo.htm. Submit the signed original and five copies of your application by mail or express delivery service to: Technical Information Management, CDC Procurement and Grants Office, 2920 Brandywine Road, Atlanta, GA 30341. The standard application forms 5161 must be used for the program as furnished by CDC and required by 45 CFR 92 for state and local governments and by 45 CFR 74 for nongovernmental applicants.
Award Procedures
Applications that are complete and responsive to the announcement will be evaluated for scientific and technical merit by an appropriate peer review group convened by the NCHHSTP in accordance with the review criteria listed above. As part of the initial merit review, all applications may: 1) Undergo a process in which only those applications deemed to have the highest scientific merit, generally the top half of the applications under review, will be discussed and assigned a priority score; 2) receive a written critique; and 3) receive a second level review by the Science and Program Review Subcommittee (SPRS). Successful applicants will receive a Notice of Grant Award (NGA) from the CDC Procurement and Grants Office. The NGA shall be the only binding, authorizing document between the recipient and CDC. The NGA will be signed by an authorized Grants Management Officer, and mailed to the recipient fiscal officer identified in the application.
Deadlines
Contact Headquarters Office listed below for application deadlines.
Authorization
Public Health Service Act, Section 317(e), 42 U.S.C. 247(bb), as amended.
Range of Approval/Disapproval Time
From three to six months.
Appeals
None.
Renewals
Project periods are for three to five years with 12-month budget periods. Applications must be obtained from Grants Management Officer, Grants Management Branch, Procurement and Grants Office, Centers for Disease Control and Prevention.
Assistance Considerations
Formula and Matching Requirements
This program has no statutory formula or matching requirements. Although there are no statutory requirements, applicants must assume part of the project cost and fiscal information must be provided in the narrative portion of the application pursuant to provisions of Section 317(e).
Length and Time Phasing of Assistance
From three to five years. Budget Period: For 12 months.
Post Assistance Requirements
Reports
Either quarterly or semi-annual narrative and statistical progress reports are required.

Financial status reports are required no later than 90 days after the end of each budget period.

Final financial status and performance reports are required 90 days after the end of a project period.
Audits
In accordance with the provisions of OMB Circular No. A-133 (Revised, June 27, 2003), "Audits of States, Local Governments, and Nonprofit Organizations," nonfederal entities that expend financial assistance of $500,000 or more in Federal awards will have a single or a program-specific audit conducted for that year. Nonfederal entities that expend less than $500,000 a year in Federal awards are exempt from Federal audit requirements for that year, except as noted in Circular No. A-133. In addition, grants and cooperative agreements are subject to inspection and audits by DHHS and other Federal government officials.
Records
Financial records, supporting documents, statistical records, and all other records pertinent to the project shall be retained for at least 3 years or until resolution of any audit questions. Property records must be retained in accordance with PHS Grants Policy Statement requirements.
Financial Information
Account Identification
75-0943-0-1-550.
Obigations
(Cooperative Agreements) FY 07 $1,840,159; FY 08 est $1,790,122; and FY 09 est $1,800,000.
Range and Average of Financial Assistance
$136,303 to $1,334,939; $447,531.
Regulations, Guidelines, and Literature
Regulations governing this program are published under 42 CFR 51b. Guidelines are available in the application kit. PHS Grants Policy Statement No. 94-50,000 (Revised) April 1, 1994.
Information Contacts
Regional or Local Office
None.
Headquarters Office
Program Contact: Heather Duncan, National Center for HIV, STD, and TB Prevention, Centers for Disease Control and Prevention, Public Health Service, 1600 Clifton Road NE. MS E10, Atlanta, GA 30333. Telephone: (404) 639-8131. Grants Management Contact: Roslyn Curington, Grants Management Officer, Grants Management Branch, Procurement and Grants Office, Centers for Disease Control and Prevention, 1600 Clifton Road NE. MS E15, Atlanta, GA 30333. Telephone: (404) 639-8321.
Criteria for Selecting Proposals
Applications will be evaluated on the extent of the tuberculosis problem; the establishment of specific and measurable objectives; and the development of a sound operational plan that will ensure the implementation of each program's elements.