Research and Training in Complementary and Alternative Medicine
To evaluate alternative, complementary, or unconventional medical treatments.
The following objectives support this goal: (1) coordinate and facilitate the investigation of alternative medical practices through peer-reviewed grant solicitations; (2) interface with the Center's National Advisory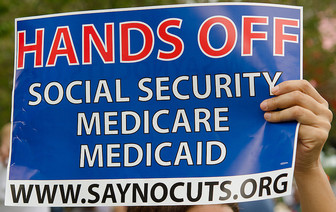 credit: Robert Neff on Flickr
Council; (3) conduct technology assessment conferences for the purpose of establishing areas of Clinical and Pre-clinical research that need to be further developed within Alternative Medicine; (4) maintain a comprehensive bibliographic data base in conjunction with the National Library of Medicine; (5) develop and continue contacts with international programs in complementary and alternative medicine (CAM); and (6) establish an intra- and extra-mural clinical research fellowship program focusing on broad areas of clinical, scientific, and administrative training in CAM.

The major purpose of all of these programs is to foster collaborations between practitioners of CAM and individuals knowledgeable in biomedical research.

The National Center for Complementary and Alternative Medicine (NCCAM) regularly examines and redefines its research priorities.

Priorities are set to fill gaps in the research portfolio, capitalize on emerging opportunities, and leverage resources.

Using a formal semi-annual planning process, NCCAM considers the existing research portfolio, NCCAM's 5-year strategic plan, plans of other NIH institutes and centers, recommendations of the National Advisory Council for Complementary and Alternative Medicine, as well as input from expert panels and other stakeholders to set its research priorities.

Mechanisms of Action: The research portfolio will have an increased emphasis on studies of the mechanisms underlying complementary and alternative medicine (CAM) approaches.

The reasons for this emphasis are: (1) elucidating the underlying mechanisms of action of CAM therapies will facilitate their integration into conventional medical care; and (2) mechanistic studies of CAM therapies will improve the identification of key study endpoints and thus strengthen the design of CAM clinical trials.

Exploratory Clinical Studies and Phase I and II Clinical Trials: The research portfolio will have an increased emphasis on exploratory, Phase I and Phase II studies of CAM.

The objectives of this focus are to: (1) determine active ingredients, pharmacology, bioavailability, and optimal dosing; (2) obtain preliminary data on safety and efficacy; and (3) conduct exploratory clinical studies (e.g., case control, observational, qualitative and experimental studies) to elucidate mechanisms and test models.

The outcomes of these studies will form the basis for designing larger trials with an enhanced ability to detect a meaningful positive effect, if any, of the CAM modality under study.

Research areas currently of special interest are listed below: (1) anxiety and depression--basic and preclinical research on CAM approaches; (2) cardiovascular diseases--preclinical and early phase clinical studies of CAM approaches to secondary prevention and management of hypertension, atherosclerosis, and congestive heart failure; (3) Eehnomedicine-identification, description, and study of potentially valuable, vanishing traditional or indigenous health care practices in geographic areas where there is little preservation; (4) immune modulation/enhancement-basic and preclinical studies of CAM approaches that may enhance or inhibit immune responses, including inflammation; (5) inflammatory bowel disease and irritable bowel syndrome-CAM approaches to these conditions; (6) insomnia-CAM approaches to primary and secondary insomnia; (7) liver-CAM approaches to liver diseases; (8) obesity/metabolic syndrome-CAM modalities, particularly mind-body treatments, as adjuvant therapies, especially with respect to the metabolic syndrome and type 2 diabetes; 9) respiratory diseases-CAM approaches topreventionandtreatmentofinfectiousrespiratory diseases; and (10) NCCAM continues to be highly interested in research on minority and gender health and on health disparities.

NCCAM continues to accept applications in areas not listed.

All investigators are urged to discuss potential applications with the relevant NCCAM Program Officer.
Examples of Funded Projects
The Centers program is supporting a variety of on-going studies including the use of Mindfulness-Based Stress Reduction, a meditative approach, to help reduce stress and better manage emotions, in people with early stage HIV.

Specifically, the effects of meditation on the immune system will be studied to see if meditation can help slow disease progression and delay the need for antiretroviral treatment.

Center investigators will evaluate whether certain traditional Chinese medicines and an electrical acupuncture technique can be used to prevent addiction relapse and craving for alcohol and drugs of abuse.

They will also seek to determine the physiological mechanisms by which these Chinese medical treatments affect addictive behavior.

Several centers will be exploring the mechanisms of action of acupuncture using both animal models and human studies employing state-of-the-art real-time imaging technology.

Other studies will examine the potential use of antioxidant CAM therapies for asthma.

Researchers will investigate whether these antioxidant treatments can minimize airway inflammation in response to common triggers of asthma, such as ozone or inhaled allergens.

Also explored will be the use of mushroom extracts to enhance the immune system's response to tumors, and the healing power of "placebo" particularly strategies to maximize placebo's benefits, improve clinical trial design, and gain insight into mechanisms underlying mind-body medicine.

Finally, center investigators will study the effects of osteopathic manipulation on the musculoskeletal system, lymphatic fluid flow, and reduction of pain from back and neck strain.

NCCAM is supporting several large, multisite trials designed to provide critical information for patients and providers.

(1) Ginkgo Evaluation on Memory Study.

This is a 10-year primary prevention trial testing whether Ginkgo biloba prevents the onset of Alzheimers Disease or other types of Dementia.

(2) Trial to Assess Chelation Therapy.

This is a 8-year secondary prevention trial testing whether EDTA chelation therapy and/or high-dose vitamins prevent the onset of a subsequent MI in people with coronary artery disease.

(3) Acupuncture for Low Back Pain - a 5-year treatment trial comparing individualized acupuncture treatments and standardized acupuncture treatments to both sham controls and usual conventional care in people who have had low back pain for at least three months.
---
Agency -
Department of Health and Human Services
The Department of Health and Human Services is the Federal government's principal agency for protecting the health of all Americans and providing essential human services, especially to those who are least able to help themselves.
---
Relevant Nonprofit Program Categories
---
Program Accomplishments
It is estimated that 326 grants will be funded in fiscal year 2007 and 351 grants in fiscal year 2008. Currently, five developmental centers are supported that incorporate close collaborations between CAM and conventional institutions. One of these developmental centers is at a school of osteopathic medicine, one at a school of chiropratic medicine, and one at a school of traditional chinese medicine (e.g., acupuncture). In addition, developmental centers are funded to study mind/body medicine and botanical products. NCCAM, in collaboration with the NIH Office of Dietary Supplements, supports seven Centers for Dietary Supplements Research. Investigators at these seven centers are investigating the role, if any, of dietary supplements to treat and/or prevent age related diseases, cardiovascular disease including metabolic syndrome, and women's health issues. Several large clinical trials were in progress including: Hypericum for Minor Depression; Ginkgo biloba for Preventing Dementia; Saw Palmento for benign prostatic hyperplasgia; EDTA Chelation therapy for Coronary Artery Disease; Acupuncture to treat chronic back pain; and Soy supplements to treat atherosclerosis. Numerous investigator-initiated research grants were studying the breath of CAM modalities including clinical and basic studies of acupuncture, botanicals, chiropractic, homeopathy, massage therapy, naturopathy, Reiki, and Tai Chi to name a few.
Uses and Use Restrictions
Project grants and cooperative agreements may be made to eligible institutions for the support of various projects in CAM.

The grants may be used for personnel, consultant costs, equipment, supplies, travel, patient costs, animals miscellaneous items, and indirect costs.

For the individual post-doctoral training grant, support is for salary of the trainee, tuition and fees, self-only health insurance, research supplies, equipment, travel to scientific meetings, and related items.