Retired and Senior Volunteer Program
The Retired and Senior Volunteer Program (RSVP) provides grants to qualified agencies and organizations for the dual purpose of engaging persons 55 and older in volunteer service to meet critical community needs; and to provide a high quality experience that will enrich the lives of volunteers.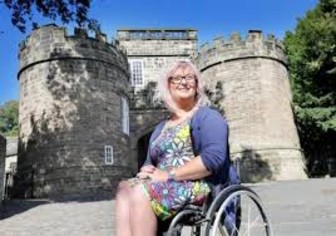 credit: Craven Herald & Pioneer UK
Related ProgramsExamples of Funded Projects
The following exemplifies RSVP: An RSVP service volunteer, who is a retired architect and engineer, designs homes for low-income families displaced by midwestern floods.

Another volunteer, who is bilingual, uses her fluency in English and Japanese to help non-English speaking Japanese-American seniors access community resources and live independently.

Another RSVP volunteer is the coordinator, fund-raiser and supervisor of over 30 other RSVP volunteers who operate an inner-city soup kitchen which feeds more than 250,000 homeless and disadvantaged persons annually.

In another instance, RSVP volunteers organized neighborhood watches for an entire city of more than 45,000.

As a result, the police noted a 58 percent reduction in crime in some areas.

RSVP provides creative opportunities for older people to serve their communities by responding to locally identified needs.

The following statistics suggest the scope of their service: During fiscal year 1997, over 127,000 RSVP volunteers served at 10,400 acute care hospitals, clinics, and other medical care facilities.

Over 30,700 volunteers served in over 6,000 school systems.

Over 100,000 served at congregations and Meals on Wheels programs.

Other volunteers served with police departments, Head Start centers, libraries and ground water protection agencies.

In aggregate, they served over 80 million hours.
---
Agency -
Corporation for National and Community Service
The Corporation for National and Community Service is the nation's largest grant-maker supporting service and volunteering. Through Senior Corps, AmeriCorps and Learn and Serve America programs, the Corporation is a catalyst for change and offers every American a chance to contribute through service and volunteering.
Office - Corporation for National and Community Service State Program Offices as listed in Appendix IV of the Catalog.
---
Relevant Nonprofit Program Categories
---
Program Accomplishments
More than 485,000 older persons participated in the Corporation for National and Community Service and non-Corporation RSVP projects. They contributed almost 77,000,000 hours of service to over 65,000 local organizations. Service opportunities continue in intergenerational activities, education, in-home care, consumer education, public safety, homeland security, mentoring children of prisoners and other health and human service activities. To ensure maximum utilization of program resources, RSVP will provide guidance and technical assistance to other agencies to expand opportunities available to older people.
Uses and Use Restrictions
Volunteers are not to supplant hiring, displace employed workers, or impair existing contracts for service.

No agency supervising volunteers shall request or receive compensation for services of the volunteers.

Volunteers are not to be involved in and funds are not to be used for religious activities, labor or anti-labor organizations, lobbying, or partisan or non-partisan political activities.

Grants may be used for staff salaries and fringe benefits, staff travel, equipment, and related expenses, and for volunteer out-of- pocket expenses, primarily for transportation.

In addition, eligible agencies or organizations may, with a Notice of Grant Award from the Corporation for National and Community Service, receive technical assistance and materials to aid in establishing and operating non-Corporation funded RSVP projects using local funds.
Eligibility Requirements
Applicant Eligibility
Grants are made only to public agencies, including state and local government agencies and private nonprofit organizations.
Beneficiary Eligibility
Persons age 55 and older who are willing to volunteer on a regular basis.
Credentials/Documentation
The applicant must furnish evidence of: capacity to operate direct community service programs; experience and interest in the needs of older adults; and the ability to develop strong community financial and programmatic support. Nonprofit organizations must furnish: proof of nonprofit status, articles of incorporation and certification of accounting capability. Costs will be determined in accordance with OMB Circulars No. A-21 for educational institutions, No. A-87 for State and local governments, and No. A-122 for non-profit organizations.
Aplication and Award Process
Preapplication Coordination
Organizations interested in exploring the possibility of developing a local RSVP project should contact the appropriate Corporation for National and Community Service State Program Office.

The Corporation for National and Community Service issues application forms to applicants who have established their eligibility.

The standard application forms (modified by the Corporation for National and Community Service with OMB approval), as furnished by the Corporation for National and Community Service and required by OMB Circular No.

A-102 must be used for this Program.

This program is eligible for coverage under E.O.

12372, "Intergovernmental Review of Federal Programs." An applicant should consult the office or official designated as the single point of contact in his or her State for more information on the process the State requires to be followed in applying for assistance, if the State has selected the Program for review.
Application Procedures
Applications for new projects are submitted to the Corporation for National and Community Service. This Program is subject to the provisions of OMB Circular No. A-110 and A-102 for State and local governments.
Award Procedures
Grants are awarded by the Corporation for National and Community Service. States will be notified of awards through the Federal Assistance Awards Data System (FAADS).
Deadlines
Contact the Corporation for National and Community Service State Office for application deadlines.
Authorization
Domestic Volunteer Service Act of 1973, as amended, Title II, Part A, Section 201, Public Law 93-113, 42 U.S.C. 5001, as amended; National and Community Service Trust Act of 1993, Public Law 103-82.
Range of Approval/Disapproval Time
120 days after receipt of application by the Corporation for National and Community Service.
Appeals
No formal appeals for denial of initial grant application, but regulations provide for hearings on terminations and suspensions, and opportunity to show cause in cases of denial of refunding.
Renewals
Grant renewal applications, usually required annually, are submitted 120 days prior to the end of the budget period.
Assistance Considerations
Formula and Matching Requirements
This Program has no statutory formulas. The RSVP sponsor is responsible for generating needed financial support for the RSVP project from all sources, Federal and nonfederal, including grants, cash and in-kind contributions, to meet the budgeted costs of the project. The sponsor will supplement a Corporation for National Service grant with other support to the fullest extent possible. As a guide to the level of local support expected, 10 percent of the total budget can be required for the first year, 20 percent for the second year, and 30 percent in any subsequent years. The level of local support negotiated may be higher or lower than these figures, as mutually agreed to by the Corporation for National and Community Service and the sponsor, and as justified by local conditions. Sponsors proposing to contribute local support of less than 30 percent of the total project budget for the third or succeeding years must provide the Corporation for National and Community Service with an acceptable written justification for the lower level of support.
Length and Time Phasing of Assistance
Grant project periods are generally three years, with one year budget periods. Grant payments are through the DHHS Payment Management System.
Post Assistance Requirements
Reports
Quarterly Financial Status Report, Periodic Project Progress Report, Quarterly Federal Cash Transactions Report, Annual Project Profile and Volunteer Activity Survey; Customer Satisfaction Survey.
Audits
Corporation for National and Community Service grants are subject to audit by the Corporation for National and Community Service, the General Accounting Office, other Federal agencies, and contract auditors. In accordance with the provisions of OMB Circular No. A-133, "Audits of States, Local Governments, and Non-Profit Organizations," grantees that expend $500,000 or more in a year in Federal awards shall have a single or program-specific audit conducted for that year in accordance with OMB Circular No. A-133.
Records
All financial records for each budget period, including receipts, disbursements, and vouchers for Federal and nonfederal costs, copies of all contracts, personnel records, and job descriptions must be available for a period of three years from date of submission of the Final Financial Status Report.
Financial Information
Account Identification
44-0103-0-1-506.
Obigations
(Grants) FY 07 $59,685,000; FY 08 est not available; and FY 09 est not reported.
Range and Average of Financial Assistance
From $0 to $847,000; $68,800.
Regulations, Guidelines, and Literature
45 CFR 2553; Retired and Senior Volunteer Program flyers.
Information Contacts
Regional or Local Office
Corporation for National and Community Service State Program Offices as listed in Appendix IV of the Catalog.
Headquarters Office
National Senior Service Corps, Retired and Senior Volunteer Program, Corporation for National and Community Service, 1201 New York Avenue, NW., Washington, DC 20525. Telephone: (202) 606-6715.
Criteria for Selecting Proposals
Program Design: (1) Well- documented compelling community need(s); (2) well-designed activities with measurable goals and objectives that meet community needs (3) well- defined roles for participants that lead to measurable outcomes/impact; (4) effective involvement of target community in planning/implementation; and (5) ability to provide or secure effective technical assistance. Strengthening Communities: (1) Strong community partnerships, including well-defined roles for community partners; (2) potential for sustainability, innovation, and/or replicability of project activities; (3) enhanced capacity of organizations and institutions; (4) mobilization of community resources, including volunteers; and (5) bring together people of diverse backgrounds. Participant Development: (1) Effective plans for recruiting, developing, training, supervising, and recognizing participants; (2)well-designed plan to engage participants in high-quality service-learning as defined by the corporation; and (3) well-designed plan for participants to learn to serve together with people of diverse backgrounds. Organizational Capacity: (1) Ability to provide sound programmatic and fiscal oversight; (2) Sound track record in the issue areas(s) to be addressed by the project; (3) Well-defined roles for staff and administrators; and (4) well-designed plans or systems for self-assessment, evaluation and continuous improvement. Budget/Cost-Effectiveness: (1) Adequate budget to support program design; (2) commitment of applicant organization/host agency to securing resources for program, implementation and/or sustainability; and (3) cost-effective within program guidance.