Amendment 001 replaces the original FOA posted on 3/6/2009 and contains multiple changes.
Applicants should follow the instructions outlined in Amendment 00 1. The FOA has been revised to provide some additional technical details as well as clarify the registration process.
As a result,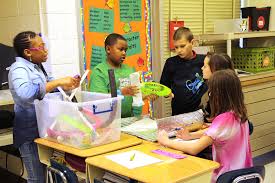 credit: Flickr
the following sections have been revised 1) Section I-Funding Opportunity Description 2) Section IV-Application and Submission Information, and 3) Section V-Application Review Information.
Since these changes do not effect the overall objectives of the FOA, the closing date for receipt of applications remains unchanged.
YOU MUST REGISTER IN FEDCONNECT TO SUBMIT AN APPLICATION, ASK QUESTIONS, VIEW PUBLIC ANSWERS, AND RECEIVE NOTIFICATION OF FUTURE UPDATES AND AMENDMENTS TO THE FOA.
The purpose of this work is to develop, populate, manage, and maintain a Smart Grid Information Clearinghouse website (i.e.
the Clearinghouse).
The Clearinghouse is envisioned as the first-stop shop for public Smart Grid information.
It will contain technical, legislative, and other information on Smart Grid development and practices.
It will also direct website users to other sources for additional information; both sources in the United States and those from other nations leading in Smart Grid development and implementation.
Through direct sharing and dissemination of information on knowledge gained, lessons learned, and best practices, the Clearinghouse will serve to promote and facilitate coordination and collaboration in Smart Grid development and practices.
It will also serve as a decision support tool for both State and Federal Regulators, serve as a public forum for information outreach to all interested parties including the general public, and in general, will support the advancement of the Smart Grid for the benefit of the United States.
All questions must be submitted through FedConnect.
Application preparation Instructions are included in the body of the Funding Opportunity Announcement (FOA) which can be located in the upper right Hand corner of the FedConnect Home Page for this FOA.