Note:
Each funding opportunity description is a synopsis of information in the Federal Register application notice.
For specific information about eligibility, please see the official application notice.
The official version of this document is the document published in the Federal Register.
Free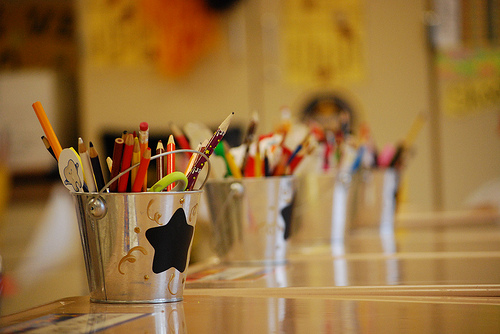 credit: Nick Amoscato/CC/flickr
Internet access to the official edition of the Federal Register and the Code of Federal Regulations is available on GPO Access at:
http://www.access.gpo.gov/nara/index.html.
Please review the official application notice for pre-application and application requirements, application submission information, performance measures, priorities and program contact information.Purpose of Program:
The Indian Education Formula Grants to Local Educational Agencies (Formula Grants) program provides grants to support local educational agencies (LEAs) and other eligible entities described in this notice in reforming and improving elementary and secondary school programs that serve Indian students.
The Department funds comprehensive programs that are designed to help Indian students meet the same State academic content and student academic achievement standards used for all students while addressing the language and cultural needs of Indian students.
Such programs include supporting the professional development of teachers of Indian students.
In addition, under section 7116 of the Elementary and Secondary Education Act of 1965, as amended (ESEA), the Secretary will, upon receipt of an acceptable plan for the integration of education and related services, and in cooperation with other relevant Federal agencies, authorize the entity receiving the funds under this program to consolidate all Federal formula funds that are to be used exclusively for Indian students.
Instructions for submitting an integration of education and related services plan are included in the EASIE, which is described under Application Process and Submission Information in section IV of this notice.
Note:
Under the Formula Grants program, applicants are required to develop the project for which an application is made:
(a) In open consultation with parents and teachers of Indian students and, if appropriate, Indian students from secondary schools, including through public hearings held to provide a full opportunity to understand the program and to offer recommendations regarding the program (section 7114(c)(3)(C) of the ESEA); (b) with the participation of a parent committee selected in accordance with section 7114(c)(4) of the ESEA; and (c) with the written approval of that parent committee (section 7114(c)(4) of the ESEA).Catalog of Federal Domestic Assistance (CFDA) Number:
8 4. 060A.Applications for grants under the Formula Grants program, CFDA number 8 4. 060A, must be submitted electronically using the EASIE application located in the EDFacts System Portal at https://eden.ed.gov.Electronic Application System for Indian Education (EASIE):
EASIE is an easy-to-use, electronic application found in the EdFacts System Portal at https://eden.ed.gov.
The EASIE application is divided into three parts.
Part I, Student Count, provides the appropriate data-entry screens to submit your verified Indian student count totals.
All applicants must submit a current Indian student count for FY 201 6. Applicants must use the Indian Student Eligibility Certification Form (ED 506 Form) to document eligible Indian students; however Bureau of Indian Education schools may use either Indian School Equalization Program (ISEP) count or ED 506 Form count to verify Indian student count.
Applicants that are either an LEA or a tribe must document their Indian student counts by completing the following procedures:
(1) The LEA or tribe must submit an ED 506 Form for each Indian child included in the count; (2) all ED 506 Forms included in the count must be completed, signed, and dated by the parent, and be on file with the LEA or tribe; (3) the LEA or tribe must maintain a copy of the student enrollment roster(s) covering the same period of time indicated in the application as the ``count period,'' and (4) each Indian child included in the count must be listed on the LEA's enrollment roster(s) for at least one day during the count period.
Bureau of Indian Education schools will be required to enter either their ISEP count or ED 506 Form count as an Indian student count in Part I of the application.
In Part I, applicants will indicate the time span for the project objectives and corresponding activities and services for American Indian/Alaska Native (AI/AN) students.
Applicants can choose to set objectives that remain the same for up to four years in order to facilitate data collection and enhance long-term planning.
Grantees that have previously established multiyear project objectives will not have to re-enter information in EASIE Part II if they have no changes to their project objectives, activities, or coordination of services.
Grantees that previously established multiyear project objectives and would like to change the objectives, activities, or coordination of services for FY 2016 will need to indicate in Part I the duration of the new selections.
In EASIE Part II, new applicants or applicants making changes to either the objectives, activities, or coordination of services must:
(1) Identify, from a list of possible programs (e.g., ESEA title I), the programs in the school district that are currently coordinated with a title VII project, or with which the school district plans to coordinate during the project year, in accordance with the statutory requirement to provide a comprehensive program that includes other Federal, State, and local funds; (2) describe the coordination of services for AI/AN students and identify specific project objectives towards the goal of providing culturally responsive education for AI/AN students to meet their academic needs and help them meet State achievement standards and choose the data sources that will be used to measure progress towards meeting project objectives, and on which you will report in the APR after the grant year closes; and (3) submit a realistic program budget based on the estimated grant amount that the EASIE system calculates from the Indian student count you submitted in EASIE Part I.
After the initial grant amounts are determined, additional funds may become available due to such circumstances as withdrawn applications or reduction in an applicant's student count.
An applicant whose award amount increases or decreases more than $1,000 must submit a revised budget prior to receiving its grant award but will not need to re-certify its application.
For an applicant that receives an increase or decrease in its award of less than $1,000, there will be no need for further action.
For any applicant that receives notification of an increased award amount following submission of its original budget, the applicant must allocate the increased amount only to previously approved budget categories.
In EASIE Part III, grantees must submit a performance report.
More information on annual performance reporting is provided later in section V.
of this notice, titled Grant Administration Information under part 3. Reporting.
Registration for Formula Grant EASIE:
Current, former, and new applicants interested in submitting an Indian Education Formula Grant EASIE application must register for Formula Grant EASIE.
Entities are encouraged to register as soon as possible at the registration Web site www.easie.org, to ensure that any potential registration issues are resolved prior to the deadline for the submission of an application.
Through this initial registration, an entity activates or re-activates access to EASIE and ensures that the correct entity information (e.g., NCES or DUNS numbers) is pre-populated into the first part of Formula Grant EASIE.
Registration at this Web site does not serve as the entity's grant application.
For assistance registering, contact the EDFacts Partner Support Center listed under Agency Contacts in section VI of this notice.
Certification for Formula Grant EASIE:
The applicant's authorized representative, who must be authorized by the applicant/able to legally bind the applicant, must certify Part I, Part II and Part III of EASIE.
Only users with the role type ``managing user'' or ``certifying official user'' in the EASIE system can certify an application.
The certification process ensures that the information in the application is true, reliable, and valid.
An applicant that provides a false statement in the application is subject to penalties under the False Claims Act, 18 U.S.C.
100 1.