Galveston Bay Blue Carbon and Ecosystem Services Report:
Blue carbon, the ability of coastal ecosystems (i.e.
salt marsh, mangroves, seagrass, etc.) to sequester and store carbon, is a â¿¿newâ¿¿ ecosystem service to be recognized.
Coastal ecosystems provide many other ecosystem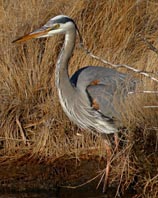 credit: Wikipedia
services, such as shoreline stabilization, improved water quality, key marine habitat for commercial and recreational marine species, and resiliency to flooding and storms.
The purpose of this project is to integrate new blue carbon data from Galveston Bay into a synthesis of ecosystem service research and reports to produce a first of its kind report that captures the full range of the ecosystem service benefits of Galveston Bay.
Restore Americaâ¿¿s Estuaries (RAE) leads the U. S. blue carbon initiative to identify and pursue opportunities to use blue carbon as an additional driver for increase prioritization of and investment in coastal restoration and conservation.
RAE is currently working with researchers at Texas A&MGalveston to quantify carbon storage and sequestration in natural and restored salt marshes.
The overall approach in Galveston Bay is to better understand the blue carbon values provided by the estuary ecosystem and integrate this information into communications with partners who support the restoration and conservation of Bay habitats.
An understanding of the climate mitigation benefits of estuary restoration in Galveston Bay will support stronger outreach and fundraising about restoration projects as well.
A recent report by Resource Media (Puget Sound Blue Carbon:
Assessment of Communications Potential, 2016) was conducted to explore the communications potential and provide recommendations for using blue carbon as a tool for increasing the pace and scale of coastal restoration.
The report found that blue carbon is a concept that offers a way to frame topics of conservation, restoration and climate mitigation in a different way for key audiences.
The report recommendations are to include blue carbon into context with other benefits to allow proponents to promote investment in coastal restoration as a way to achieve multiple benefits, widening the context of anticipated return on investment through the many societal, economic, environmental, and climate benefits these ecosystems provide.
The proposed Blue Carbon and Ecosystem Service report will be the first time to utilize this approach.
Habitat Restoration Network Coalition (HABNET):
Over the agreement period, RAE will partner with the Coastal Program to strengthen and grow the HABNET Coalition.
HABNET is a national alliance of more than 50 conservation organizations working to restore and protect coastal habitats.
This coalition serves to build strategic partnerships and improve information sharing with the Coastal Program to advance the conservation of coastal habitats.
In 2017, RAE will continue to grow the Coalition through strategic national and local partnerships.
Support from USFWS for the HABNET Coalition will support efforts to engage and educate external partners and stakeholders about coastal habitat issues.
HABNET provides tools, educational opportunities, and information about Coastal Program successes and opportunities to advance restoration in priority ecosystems.
Strengthening HABNET outreach to strategic partners will also directly benefit efforts to broaden and diversify its coastal conservation constituency.
RAE will increase communication with HABNET organizations to help cultivate opportunities for collaboration and leverage existing resources to implement local conservation strategies in partnership with the Coastal Program.
Estuaries Expo:
The Estuaries Expo will be a outreach event, separate from the HabNet Coalition, that will highlight the benefits of healthy coastal habitats and the efforts of the Coastal Program to support coastal habitat restoration and conservation.
Each year, Restore Americaâ¿¿s Estuaries partners with the Association of National Estuary Programs and the National Estuarine Research Reserve Association to highlight our nationâ¿¿s estuaries during National Estuaries Week.
Celebrated during the third week of September, National Estuaries Week aims to reinforce the importance and value of estuaries and to involve local communities in restoring and improving their waterways.
While National Estuaries Week is effective at building stewardship at the local level, RAE seeks to increase the visibility and awareness of the importance of coastal habitat at the national level to leverage broad support for restoration efforts and programs throughout the country.
The Estuaries Expo, an educational event for Members of Congress and Congressional staff, will provide a venue to showcase the importance and value of our nationâ¿¿s coastal ecosystems and the multitude of benefits they provide.
This event will provide the Coastal Program, other federal agencies, and NGO partners to communicate directly with policymakers in an informal way through interactive displays, educational activities, and interpretation.
The Estuaries Expo is being supported through a cooperative agreement between RAE and the National Oceanic and Atmospheric Administration.
The Coastal Program staff will participate in the Expo by exhibiting, disseminating information about the Coastal Program to Members of Congress and their staffs, and answering any questions they may have about the program or coastal conservation issues in general.
Authorizing statutes include Fish and Wildlife Act of 1956,16 U.S.C.
742a-c, 747e-742j; Fish and Wildlife Coordination Act of 1958, 16 U.S.C.
661 667(e).