06/12/2014:
This announcement is modified.
In the Overview and in Section IV.
3. Submission Dates and Times, the Due Date for Applications field reflects an extension of 2 days from the originally published due date to accommodate a 2-day scheduled maintenance outage on www.Grants.gov.
Note:
Applicants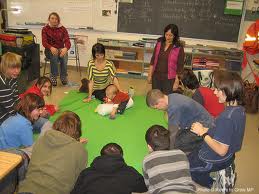 credit: Ashoka
must download (or re-download) the SF-424 (only) in the Application Package.
The SF-424 includes the revised application due date.
Section I.
Program Description, Statutory Authority is revised to correct the United States Code citation for Section 649 of the Head Start Act, as amended by the Improving Head Start for School Readiness Act of 2007, from 42 U.S.C.
§ 9836A to 42 U.S.C.
§ 984 4. The Program Contact listed in Section IV.
1. Address to Request Application Package and in Section VII.
Agency Contacts has changed from Jennifer Brooks to Mary Bruce Webb.
06/09/2014:
This announcement was modified.
The header and language in Section VI.
2. Administrative and National Policy Requirements, referencing the Award Term and Condition for Federal Recognition of Same-Sex Spouses/Marriage, has been removed.
This funding opportunity, originally announced for FY 2013, is published for FY 2014 competition and award.
ACF is funding a cooperative agreement to sponsor the Child Development Research Fellowship that will allow child development professionals from the academic community the opportunity to actively participate in policy-relevant research activities associated with Administration for Children and Families (ACF) programs.
The goal of the fellowship program is to expose researchers to a policy environment and thereby to expand and enrich the field's capacity for policy-relevant research.
The program is intended to stimulate the active exchange of child development research and evaluation information directly relevant to ACF programs and to inform the process of developing long-term research and evaluation agendas across the various ACF programs and in the research community at large.
The public will benefit from the increased availability of researchers highly skilled and experienced in policy-relevant research and evaluation.
Fellows will be able to work on-site in the Office of Planning, Research and Evaluation (OPRE) of ACF, or other offices engaged in research on low income children and families, on a full-time basis for a period of one year, with a possible second and third year at the discretion of the grantee, and depending on availability of funds and continued interest of the placement agency.
The cooperative agreement will require active partnership between the successful applicant and OPRE.