Please note the change in application date and application period, which is increased to 90 days.
The Office of Planning, Research and Evaluation (OPRE) of the Administration for Children and Families (ACF) plans to provide funds for Head Start Graduate Student Research Grants to support dissertation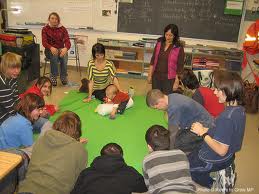 credit: Ashoka
research by advanced graduate students who are working in partnership with Head Start programs and with faculty mentors.
Competitive applicants will 1) demonstrate a collaborative partnership with their program partners, and 2) pursue research questions that directly inform local, State, or Federal policy relevant to early care and education practice.
Applicants are expected to demonstrate an established partnership with their early care and education program partners that should be apparent throughout the research plan, from development and refinement of the research questions through the proposed data collection, interpretation, and dissemination.
For more information about OPRE, please go to http://www.acf.hhs.gov/programs/opre/index.html.
For further information about previous Head Start Graduate Student Research Grantees, please refer to http://www.acf.hhs.gov/programs/opre/hs/grad_student/index.html.
Awards are dependent on the availability of funds and the best interest of the federal government.
Please use the link below to access the full application.