The purpose of this Indian Health Service (IHS) grant announcement is to improve specific behavioral health outcomes of an identified high risk group of patients through a case management model that utilizes the Public Health Nursing (PHN) as a case manager.
The emphasis is on reducing the prevalence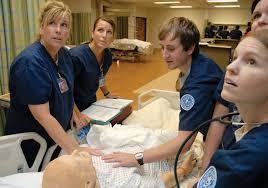 credit: nursingschoolspro
and incidence of behavioral health diseases and conditions and to support the efforts of American Indian / Alaska Native (AI/AN) communities toward achieving excellence in holistic behavioral health treatment, rehabilitation, and prevention services for individuals and their families.
Case management involves the client, family, and other members of the health care team.
Quality of care, continuity, and assurance of appropriate and timely interventions are also crucial.
In addition to reducing the cost of health care, case management has proven its worth in terms of improving rehabilitation, improving quality of life, increasing client satisfaction and compliance by promoting client self-determination.
The PHN model of community based case management utilizes roles and functions of PHN services of assessment, planning, coordinating services, communication and monitoring.
The goals and outcomes of the PHN case management model are early detection, diagnosis, treatment and evaluation that will improve health outcomes in a cost effective manner.
This model utilizes all prevention components of primary, secondary and tertiary prevention in the home and community with patient and family.
The community based case management model addresses the PHN scope of practice of working with individuals and families in a population-based practice to provide nursing care services.
This project will focus on a PHN community based case management model.
The project will be conducted in a phased approach, using the nursing process – assessment, planning, implementation, and evaluation.
First Phase:
Assessment – Complete a generic community assessment (most PHN programs have this readily available as a part of their annual program plans).
Include, if available, pertinent data from local community assessments and behavioral health statistical data in the assessment; include the local behavioral health staff as subject matter experts and any data available.
In addition, obtain input from key stake-holders such as community members, Tribal leaders, healthcare administration and community health groups to determine the health care priorities.
Obtain approval for the establishment of the PHN case management program from the healthcare administration, governing boards and medical executive committees as needed.
Second Phase:
Planning – Based on the community assessment, the high risk behavioral health population is identified and the planning of the case management project begins.
Develop case management services addressing the behavioral health priority health issues identified from the community assessment.
Collaborate with the local behavioral health programs on planning in this phase.
Plan specific guidelines for the case management services of the high risk group of patients such as admission criteria, caseload size, policies and procedures, and an evaluation plan to include data tracking for outcomes generated.
Identify if there is a best practice case management model available to replicate to target the identified high risk behavioral health population (such as the Pine Ridge PHN Case Management community suicide prevention program or the Resources to Enhance All Caregiver's Health, REACH, into Indian Country).
Obtain additional staff training needed for the community based nurse case management model such as evidence based practices, motivational interviewing, nurse competencies and any other training that would be applicable to the behavioral health issues identified.
Identify or develop patient education materials and community education materials for the program.
Develop plans for project sustainability.
Third Phase:
Implementation – The case management program includes admission criteria of the high risk behavioral health population, caseload size, and appropriate health care standards.
Establish patient caseload.
Monitor progress and make adjustments as needed.
Track patient data outcomes.
Continue to plan ongoing sustainability of the program after the award period ends.
Fourth Phase:
Patient Satisfaction – In order to evaluate program services; initiate a patient satisfaction program, such as one that provides patients with an opportunity to provide feedback on their experiences to assess the satisfaction of the services.
Analyze findings so a concentrated effort is made to relate the customer satisfaction results to internal process metrics, and examine trends over time in order to take action on a timely basis.
Evaluate and revise the case management program if needed, review policies and procedures, education materials and staff competencies semi-annually.
To the extent permitted by law, report back to key stake-holders progress of the project, especially to inform clients about changes brought about as a direct result of listening to their needs.
Each site will share program material with IHS Headquarters PHN program.
This information will be shared IHS-wide for replication of the project across IHS with credit given to the organization that developed the material.
Poster presentation or oral presentation will be given at the national meetings and/or webinars.