BLM Colorado fisheries program ensures public access to areas that have more than 60 fish species on 4,300 miles of riparian habitat and 10,000 acres of riparian-wetland habitat.
In order to enhance habitats and maintain recreational fishing areas, BLM Colorado collaborates with federal, state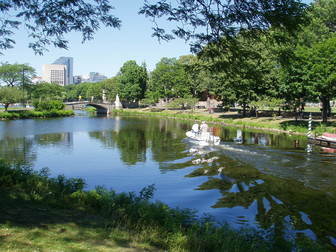 credit: From Wikipedia
and private organizations.
BLM biologists work with a variety of partners to achieve effective monitoring, restoration, and implementation of improvements.
These improvements allow for greater access to public lands, enhance recreational opportunities available, and promote greater understanding of wildlife.
The fisheries and riparian programs are integral components of the BLM's cross-cutting landscape restoration initiatives, supporting projects that enhance aquatic ecosystems and the associated habitat for a variety of fish species.
One threat to recreational access is the spread of aquatic invasive species (AIS), which can make life more challenging for native ecosystems and fish communities.
When an invasive species is introduced, competition for food may increase.
Also, as invasive species begin to establish themselves, their activities may create physical barriers that affect other organisms.
For example, invasive algae may clog pipes that block fish from connected bodies of water.
Invasive species may be introduced through boating or fishing gear.
To combat this growing problem, BLM Colorado, in concert with state and local partners, have implemented an effective aquatic invasive species prevention program, which has kept Colorado waters free from zebra and quagga mussels despite their presence in nearby states.
This Funding Opportunity Announcement is being released prior to the passage of a Consolidated Appropriations Act for FY 2018 by Congress.
Enactment of additional Continuing Resolutions or an Appropriations Act may affect the availability and/or level of funding for this program.