The passage of the 2005 Energy Policy Act has increased interest in renewable energy development on the Pacific Outer Continental Shelf (OCS), and BOEM has already received five unsolicited applications to install floating wind turbines:
two offshore Washington, one offshore Oregon, and one each offshore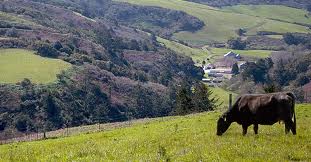 credit: leftcoastgrassfed
northern and central California.
The overarching challenge with the development of new industries or technologies is trying to anticipate their effects on the environment.
The purpose of this study is to collate and analyze existing telemetry data gathered from protected cetacean species along the U. S. West Coast and Hawai'i to better understand how these species use their ocean habitat.
This type of analysis is crucial in supporting more accurate assessment of potential impacts of oil and gas decommissioning activities and offshore wind energy development, as well as providing insight into potential mitigative strategies.