The ONR seeks a broad range of applications for augmenting existingor developing innovative solutions that directly maintain, or cultivate adiverse, world-class STEM workforce in order to maintain the U. S. Navy andMarine Corps' technological superiority.
The goal of any proposed effort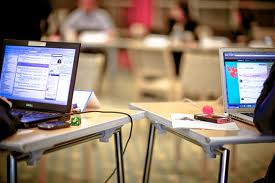 credit: Flickr Dell Inc.
mustprovide solutions that will grow a capable and trained workforce with theskills to defend against emergent cyber and electronic warfare threats.
Funding efforts will be targeted primarily towardprojects addressing the technical skills taught touniversity students enrolled in ROTC programs; these ROTC programs are notrestricted to any particular Service.
While this is effort is targeted primarily toward students enrolled inROTC programs it can also include civilian students.
Project scope mayrange in size and complexity.
Projectsare especially encouraged to consider the following areas:
Expand the technical skills taught to university students,especially those enrolled in ROTC programs Grow the participant's cyber and electronic warfare skills Develop the research capacity of participants Fundswill be earned by participants who will perform research under the guidance ofa graduate student mentor and a professor principal investigator (PI).
Theplan is to pay participants $18 per hour for a maximum of 15 hours per week.
Establish meetings of stakeholders that must seek to connectrelevant people and organizations to explicitly develop broader projects for affectingentire communities.
See complete notice for additional information.