The construction of dams interrupts the continuity of sediment transportation through river basins, resulting in problems such as, decreased reservoir storage, flood risk management, and navigation capacity.
As of 2012, loss of water storage capacity from sedimentation in 20 large federal reservoirs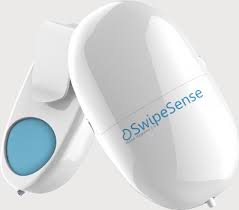 credit: SwipeSense Official Website
in Kansas ranged from 2% to 43% (see Juracek 2015; The Aging of America's Reservoirs:
In-Reservoir and Downstream Physical Changes and Habitat Implications).
Downstream habitat changes also result from sediment deprivation (e.g., channel incision, changes in bedform, loss of lateral connectivity, unnaturally clear water).
Sediment management actions at aging reservoirs (e.g., hydro injection dredging, flushing, hydrosuction) may drive ecological effects in downstream river systems (e.g., changes in biodiversity, water quality, habitat quality) that are not well-known.
Research is needed to understand and document the potential effects of releasing sediment from reservoirs to downstream ecosystems.
The USACE Kansas City District (NWK) is conducting a Water Injection Dredging (WID) pilot project at Tuttle Creek Lake, Kansas that will potentially begin as soon as Summer 202 3. This will be the first time Water Injection Dredging has been conducted in a reservoir anywhere in the world.
Water Injection Dredging uses water jets designed to disaggregate, hydraulically lift, and entrain bed material into a density current.
Factors such as, settling velocity, bed slope, bed roughness, relative densities of sediment and water column, and total jet water discharge influence the distance over which a density current will be transported.
Ideally, sediment is transported in the density currents to reservoir outlets and sediment is passed to downstream the ecosystem in order to restore reservoir pool capacities.
The main objective of the WID pilot project is to test, collect, analyze and document data related to the WID technology.
Environmental data will be collected inside the reservoir and downstream to evaluate the potential effects of moving the sediment inside the reservoir and changing the sediment regime downstream of the reservoir.
The data collected will help future feasibility studies at Tuttle Creek Lake, and will also be used to validate empirical or numerical models and other tools that could be used to assess WID at other lakes.
This Funding Opportunity Announcement seeks researchers with the expertise needed to assess potential ecological benefits or impacts of releasing sediment downstream of Tuttle Creek Lake.
Applicants should have knowledge in monitoring and analysis of data in freshwater ecology, aquatic biology, water quality, behavioral ecology or other related fields.
Brief Description of Anticipated Work:
There is a growing need for information, experimental designs, and tools to assess the ecological impacts or benefits of sediment management actions.
The Tuttle Creek Lake WID pilot project provides an opportunity to study and document the potential effects of releasing sediment as a management action in restoring aging reservoir multi-purpose capacity.
The successful applicant would be collaborating with USACE-ERDC researchers to meet the following objectives:
1. Develop an appropriate monitoring protocol and experimental design to study aquatic organism communities and environmental parameters affected by sediment releases 2. Monitor the river basins affected by the releases (e.g., Big Blue River and Kansas River) before, during, and after WID operational releases 3. Evaluate data through statistical analyses and modeling approaches 4. Document and share findings through peer-reviewed publications and presentations